Submitted by Westport Winery
Westport Winery won big at the 10 annual International Women's Wine Competition held in Santa Rosa, California on June 21. Both Duckbleberry Grunt and Nirvana garnered double gold medals and best of class among 1150 entries.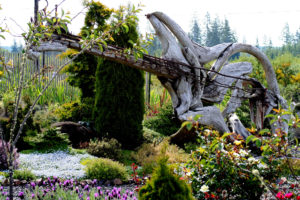 Nirvana is the winery's ultra-premium red blend of Cabernet Sauvignon and Syrah made from grapes grown at Mays Discovery Vineyards in the Horse Heaven Hills AVA. Each of Westport's wines benefits a different local charity and this wine contributes to Grays Harbor PAWS. The label featuring an underwater photograph by Blain Roberts of this daughter Carrie (who is now his partner and CFO) at six months old it is an homage to the local band's most iconic album. Additionally, each of Westport's wines is commemorated in the resort's 15-acre display garden with a sculpture by a local artist. Jeffro Uitto of Tokeland crafted the giant driftwood replica guitar for this label. The tasting notes describe this wine as "a magic, inviting red sunset that feels like fire."
Duckleberry Grunt, the winery's most popular label, is a blend of blueberries and Red Willow Vineyard Gewurztraminer. This wine benefits Grays Harbor Ducks Unlimited with a sculpture by international wildlife carver Vern Jones. The winery suggests this wine be paired with their Hail Caesar! Salad while listening to ZZ Top's Sharp Dressed Man. Described as "a lusty mountain quaff you hide from your friends" it's no wonder each bottle is wrapped in camouflaged tissue.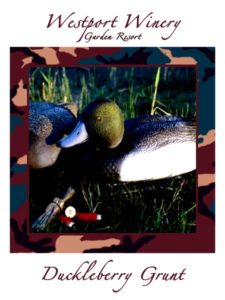 In 2016 Westport Winery was honored as one of the top twenty most-admired wineries in North America by Winery & Vineyard Management Magazine. It was named 2011 Washington Winery to Watch by Wine Press Northwest. They have been voted Best Winery by King 5 Evening Magazine seven times. They were named the Best Washington Family Business Silver Medal winners in 2012, received the Grays Harbor Enestportvironmental Stewardship Award in 2015, and were name Best Winery, Best Wine Shop, and Best Boutique Winery for 2016 by South Sound Magazine.
Family-friendly Westport Winery Garden Resort, is located on the corner of Highway 105 and South Arbor Road halfway between Aberdeen and Westport. The resort (including the restaurant, bakery, plant nursery and 15-acre display garden) is open daily or breakfast, lunch, and dinner from 8:00 a.m. to 7:00 p.m. Westport Winery's second store, TASTING @ Cannon Beach, is located at 255 N. Hemlock. The Oregon tasting room is open daily from 11:00 a.m. to 6:00 p.m. For more information or reservations call 360-648-2224.