Sam Condon quickly attempts to tally up the consecutive summers he's spent focusing primarily on baseball.

"I think it really started picking up around sixth grade," the recent Capital High School grad stated.
Every year since he could usually be found on the baseball diamond between Memorial Day and Labor Day. If you were to add up all the practices, games and camps and combined them with the heavy dose of tournaments sprinkled in all across the map, it wouldn't be farfetched to think Condon and his teammates potentially logged some 1,000-plus innings over the typical summer.
"It's a lot," Condon admitted, "but it's what we love to do."
At the start of last summer, however, that passion started to be tested internally. Condon began to wonder what a summer without baseball would be like.
"I actually really love the outdoors," Condon said. "Camping and hiking, those are two things I really enjoy. So playing baseball did take away from that."
As appealing as it was for him to pencil a handful of outdoor excursions into his summer plans, one thing always brought his focus back to baseball.
His teammates.
Capital's roster was extremely upperclassmen heavy this past season as Condon was one of eight seniors to suit up for the Cougars. Joining him was Peyton Greene, Alex Halstead, Tanner Johnson, Jacob Loose, Aidan Short, Travis Tallman and Trenton Teeter.
"We've either played with or against each other since we were kids," Condon said about the group. "We were so familiar with each other. All of us were excited when we finally became freshmen and got to play baseball Capital."
The Cougars have a rich history in the sport, highlighted by two state championships and a four-year run between 1995 and 1998 where they advanced to the state semifinals in four consecutive seasons, winning one title (1998), finishing as runner-ups twice (1995 and 1997) and collecting a fourth-place finish (1996).
By the time Condon and has teammates reached their senior year it had been six years since the Cougars last made an appearance in the state tournament.
"We're a goofy group. We like to have fun and keep things loose," Condon said," but when it's time to play, we get focused."
The goal for Condon and his fellow seniors this past season was simple. "We wanted to put Capital baseball back on the map," Condon said.
After opening the season with a 2-3 record, Capital kicked off 3A South Sound Conference play against league favorite Gig Harbor. The Cougars won, shutting out the Tides, 2-0.
"That game is one of my favorite memories of this past year," Condon said. "(Pitcher) Aiden Short was incredible. I've never seen anyone pitch like he did that game. I think that was the game that proved to us we could play with anyone in the state."
The momentum appeared to be shifting greatly in Capital's favor. Knocking off one of the state's top teams tends to have that effect. The Cougars, however, responded differently.
"After beating Gig Harbor we lost five out of our next six games," Condon said a slight laugh. "I think we got a little too cocky after the win."
A 4-2 loss to the Tides in the rematch may have been more valuable to the squad than its victory over the eventual 3A state champions as it proved to be a much-needed wake-up call. They would close out the regular season by winning seven out of their last eight games to secure the SSC's final postseason berth into the district tournament.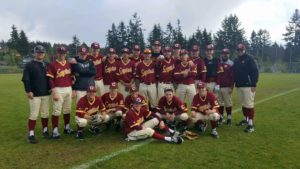 Condon and his team opened the playoffs against Mountain View, the top seed out of the 3A Greater Saint Helens league. Trailing 7-1 late in the game, the Cougars rallied, scoring two runs in the sixth and three in the seventh before losing 7-6.
The loss placed Capital with the unenviable task of having to win four consecutive loser-out games to reach their goal of making it to the state tournament, but it also installed a new sense of confidence in the team.
"Even though we lost (to Mountain View), the way we came back to make it a game really showed what this group was made of," Condon said.
The fire was lit and the Cougars rolled through their next four opponents, defeating Stadium (14-0), Peninsula (10-0), Prairie (8-4) and Central Kitsap (4-0) to secure a trip to state.
Capital would drop its first round game at state to Mercer Island, but the defeat did little to take away from what Condon and his fellow seniors had accomplished in their final year.
A two-time all-league selection with the Cougars, Condon's play didn't go unnoticed by colleges. Pacific University, Pacific Lutheran and a handful of others expressed interest in him playing at the next level.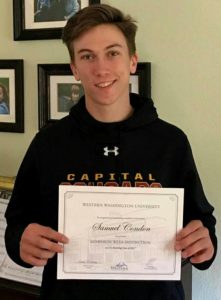 Instead, Condon will attend Western Washington University where he has been accepted to the Distinguished Scholars in Chemistry program, an honors program with a 25 to 30 student cohort. The program will be be the perfect platform for Condon's hope to major in engineering or chemistry. Bellingham, too, will provide him with access to the outdoor recreation he loves. Baseball, however, will still be present as he plans to play for the Vikings, who, as a member of the National Club Baseball Association, are considered a club sport in Bellingham, potentially freeing up more time for the talented infielder.
"For the longest time I thought I was going to go to Pacific and play baseball," Condon said. "I think my priorities just changed. I still want to play baseball. It's a sport I will always want to be involved with, but I am really excited about the academic side of Western."