The Evergreen State College is built on a tradition of sustainable value. Students find themselves not simply experts in one field, but explorers, scientists and humanitarians of many fields. Through its innovative learning environments, cross-curricular programs and promotion of hands-on experiences, The Evergreen State College remains a leader in integrated, diversified teaching and learning.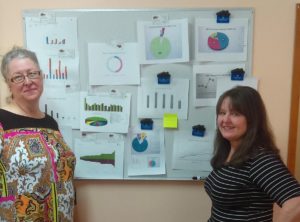 Kevin Andrew, assistant director for internships and employer development at Evergreen, gets to work first hand with students looking for opportunities to take their learning outside of the classroom.
"Student interns are able to work directly with businesses, governmental agencies and non-profit organizations where they engage in activities that integrate knowledge and theory learned in the classroom with practical application and skills development in the professional setting," Kevin explained.
Participation through internships is one of the many ways Evergreen supports its core theme aimed at engaging individuals in the community. To find out more about the intern experience, I met with current Evergreen interns, Madeline Xi Cui Friedman and Julia Hicks.
Madeline came to Evergreen by chance.
"It was actually while touring another college and talking about my interests and goals that I was encouraged by the guide to check out Evergreen," she said.
Madeline's focus spans environmental sustainability, photography and environmental media.  Every new interest and new discovery does not change her path, as it might at a traditional university.  Instead, her journey is allowed to expand and unfold.
"One of the greatest things about Evergreen is the chance every student is given to build their own learning contract with specific objectives that meet their individual goals and the staff, even those outside your area of focus, jump at the opportunity to help you reach those goals," she said.
This spring, Madeline worked with Media Island International in Olympia, a resource and networking center for people of all ages, groups and movements aimed at making the world a more peaceful place.
While her internship has helped her hone valuable skills in communication, networking, journalism and videography and photography, there is something that excites her even more.
Madeline began to see the creative possibilities of digital story telling during an earlier internship with Sidewalk, a local organization aimed at ending homelessness in Thurston County. Much of her work today aims at refining and better understanding the mediums in which a story can be told.
"I am learning every day ways to share and tell about the human experience. I want to be able to tell a story from the way my subject sees and feels it, rather than from my point of view alone," shared Madeline.
Across town, Evergreen intern, Julia Hicks has spent her spring quarter at Homes First! in Lacey.
"I originally came into this wanting to know how I would create my own low income housing business-creating a feasibility study, if you will," Julia said. "Each day I am researching, interviewing, attending conferences and studying current and future economic trends. What I am learning is all of the intricacies of how to structure a self-sustainable affordable housing business. The way I thought I would originally do it is very different from how I would do it now."
Julia connected with Homes First! at an Evergreen Career Fair. She found herself drawn to their mission to provide safe, affordable rental homes for the people in our community who need them the most. With the help of the Evergreen Internship Office and a sponsoring faculty member, Julia was able to create the individualized learning plan that would connect her internship experience to her academic focus of economics and business management.
"I certainly have become more confident in my abilities since taking this internship," she said. "The classroom is a safe environment to experience what I am learning. Evergreen's teaching-style of integrated courses, seminar and projects, rather than testing, has allowed me to experience what I am learning rather than to memorize information. Because I had already experienced the information I needed to successfully complete this internship, I was able to step right from the classroom into the life experience with success."
What comes next for the interns of Evergreen? Both Madeline and Julia have their eyes set on the future.  Madeline is working toward an internship at Thurston Community Media while Julia is looking forward to exploring further programs of study and/or employment with a local non-profit or the Department of Commerce.
To find out more about Evergreen and its dynamic internship programs contact Kevin Andrew or click here to find them online.
Sponsored