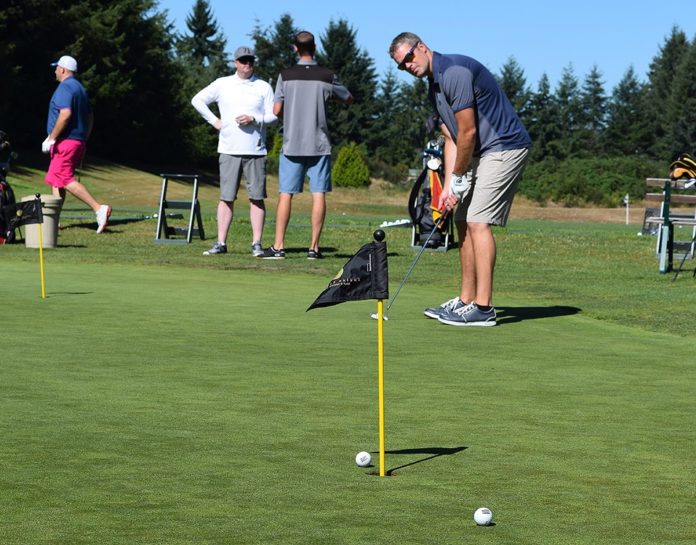 "In the immortal words of Jean Paul Sartre, 'Au revoir, gopher'."            – Carl Spackler
It's time again for the Big Brothers Big Sisters of Southwest Washington's (BBBS) BIG Swing Golf Tournament, taking place Friday, July 28 at the Olympia Country & Golf Club with a shotgun start at 10:30 a.m. Registration is now open for teams and they are still accepting sponsors for this year's event, which is promising to be their most fun tournament to date.
The tournament is for teams of four on an 18-hole course. They do not do handicaps. Instead, they want the focus to be on fun and friendly competition and for anyone to feel like they can participate.
"This year especially we are gearing it to be extra fun and less serious," explains Leslie Shahan, VP of Operations for Big Brothers Big Sisters. "We are doing a scramble format, so it's friendly for avid golfers as well as those who are new to the sport."
A Themed Day of Fun
For the first time in the over 25 years they have been holding the golf tournament, BBBS decided to have a theme to make the day more festive. They appropriately chose Caddyshack as this year's theme.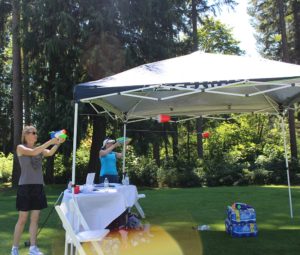 "We have a committee of about ten people that work really hard on the tournament. This year they were brainstorming ways to think outside of the box to make our tournament stand out from the many golf tournaments in the area," explains Shahan. "A lot of the people on the committee are golfers and thought that Caddyshack would be a great idea."
To tie-in to the movie, there will be fun things on the course, including props. They are encouraging golfers to come dressed as their favorite character from Caddyshack, and BBBS will be handing out awards for costumes.
After the tournament, they are also planning on something different than the typical "dinner, awards, home" format. Instead, they are planning an after party with more themed-fun. Some of the awards include Best Team, Longest Drive, and Best Dressed.  There will be contests on the course that have prizes available as well.
"We always have a 'hole in one' contest on the course sponsored by a local dealership where participants have a chance to win a car," Shahan says. "We will have this as well as a few other contests throughout to add to the fun of the day."
Sponsors Needed
Big Brothers Big Sisters relies on sponsors to make this event possible. They are currently looking for sponsors at all levels, Hole Only ($1,000), Hole with Team ($1,500), Ring of Honor ($2,500), Premier ($5,000) and Tournament Sponsor ($10,000). Hole with Team and Ring of Honor sponsorships include a team of four, so these two levels are perfect for businesses with golfers.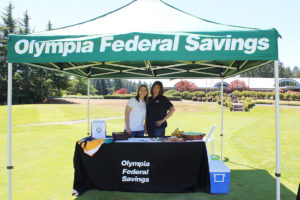 All of the sponsors have the opportunity to be at a hole for the day, giving them the chance to interact with about 150 people during the event. "It's a benefit to those who are playing to get to know some of the business that are supporting us and then for the business to get to network in that way," says Shahan. "It's a way we can give back to the businesses that support us."
The tournament is a critical fundraiser for the non-profit organization. Because they don't charge families to be part of their programs, all dollars raised go toward supporting the kids and their mentors. The impact these matches have on the kids (and the adults) is apparent in the feedback the BBBS gets from those who have been in the program. Below is an excerpt of a letter from a past Little Sister to her Big Sister:
"For the longest time, at least in the mind of a 13-year-old, I had believed that I couldn't laugh again. That was till I met you, and the world became an amazing treasure trove of possibilities and I felt that my life was just beginning…

To anyone who doesn't appreciate you, respect you, adore you, they are missing out on the best that life has to offer…a friend that will always be there. But then again, there may be hope for these people yet, because you have taught me to never turn my back on anyone, even if they push me away. You have urged me to see the best in people. Most importantly, you have taught me to see the best in myself."
Without the sponsors, the tournament would not be possible, Shahan says. And of course, there would be no tournament without the golfers either. Golfers must be over 21 years of age. They have room for just 34 teams, so it's best to sign up early. You can sign up as a team ($700), or as a single ($175) and they will place you into a team. To sign up for teams or sponsors, visit the Big Brothers Big Sisters website.
Sponsored