If you walk into T Spa Nails Tumwater the first thing you'll notice is how everyone is smiling and talking, like one big friendly family. And that's exactly what owners Tram and Lily Phu want their business to be. Although there are four other T Spa nail salons in town, each one is individually owned by their family members and has its own personality. "I want everyone to feel relaxed because we all have stress and we all have hard days. This is time to just have a good experience. I take pride in that and I take pride in making people look and feel good," Tram explains to me.
He's just finishing up with one of his long-time customers, Barb Hoonan, when we sit down to talk. She tells me she first started coming to his salon eight years ago because she wanted to do something more to honor herself. "One of my favorite things to do is walk here and just kind of treat myself, I have a little bit of time to take care of only myself. When I'm here I tend to just relax and decompress." And the benefits are obvious in the way she feels. "It is so much better than dealing with my feet myself, it is so much better. I feel like it's almost a health issue, my feet are healthier. The calluses are non-existent, I just feel really good about it."
This doesn't come as a surprise considering the many years of experience Tram and Lily both have. "My family has always done nails, my mom, my sister. I was basically around nails all my life," he says laughing. On many days as a child he would even accompany his mom to her salon and got to know all the women. Tram says he considered other careers, but decided to try his own hand at nails and eventually married Lilly and became a part of the T Spa family. "We're almost a household name, we've been in the community for a very long time. We're one of the original nail salons."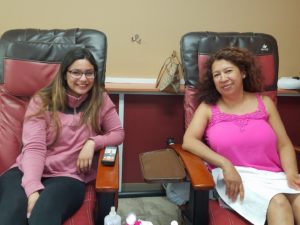 The T Spa name comes with large shoes to fill, so Tram really strives to maintain his image of being a top notch nail salon in the area. "We do all the innovative stuff, the newest and latest in the salon business. We're truly the pioneers in our industry. T Spa salons always try to be the first to bring new products and ways of doing things to Olympia." To do this, he says Lily will often travel to California for conventions to make sure they know all the latest techniques and styles.
And with long-time customers like Barb, they are more than getting the job done. "I've tried several other places, but I just feel like the quality is really good here. I've never not been satisfied." At T Spa Nails Tumwater, Tram says they always try to go the extra mile to provide for their guests, whatever the service. He tells me he is the only nail salon in town to offer complimentary mimosas and wine during your visit and plans to add ice cream to the list for summer.
But it's not just about providing outstanding service to customers, here at T Spa Nails Tumwater they do much more. "We build friendships from our customers. I want to know what's going on in your life. We have conversations like friends and catch up after weeks of not seeing each other. We just have fun," Tram explains. Looking around the salon, it's obvious people are very happy to be here. And that's what makes it all worthwhile for Tram. "When your designs come out nice and you do a good job people are so happy, it just makes you feel good. It's a form of art and when you look at it on someone's nails you know you created that."
Although Tram says he truly enjoys his career, it can be a bit of a balancing act with kids ages three, twelve, and thirteen at home. Their salon is open seven days a week all year, with very few days taken off. "We sacrifice ourselves for the kid's future. Because college, dental, everything in life costs money. We figure if we work hard our kids won't have to work so hard later in life. We'd rather work to the bone so they have more opportunities, so they have above what we have." Not that he won't be proud if they take over the salon someday, but he's hoping for a surgeon or lawyer in the family.
So if you've never experienced the relaxation of sitting back in a massage chair while someone rubs your feet, or simply are ready to try some place new, it's time to give T Spa Nails Tumwater a try. Bring a friend or family member, grab a magazine and let your cares be eased away. You don't even need to make an appointment, just walk on in and leave the work to Tram. He and his team will make sure you always leave with a smile on your face.
You can find T Spa Nails Tumwater just across from Safeway at 408 Cleveland Ave. For hours of operation, a list of services, and current prices, just visit T Spa Nails Tumwater on Facebook.
Sponsored