If you have ever written in a diary or a journal, penned a note to a friend or jotted a grocery list on a scrap piece of paper, you know that words have power. Writing your thoughts can help you remember and process them. Words can also heal. Barb Wakefield knew the power of the written word from her long career in journalism. She was working at Community Youth Services (CYS) as the former development associate and still using her writing to create and edit documents and was affectionately known as the "word person" in the CYS community.
One day Wakefield received a call from a caseworker at the Thurston County Juvenile Detention Center. The caseworker had a resident who was awaiting trial on a very serious charge. Although he had committed a horrible crime, he was still a child and struggling to process how his life had progressed to this point. He told the caseworker he wanted to write down some of his thoughts. The caseworker asked Wakefield to visit with him and talk to him about his writing. She spent the next year meeting with this young man for an hour or two a week. He began to process a very difficult childhood that included significant trauma and abuse. Slowly the young man began to come to terms with his life choices through the poems and essays he wrote during his time with Wakefield.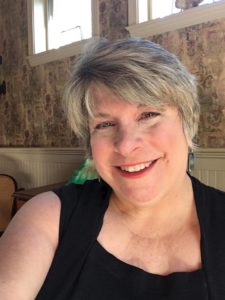 Wakefield remembered meeting Richard Gold, who had founded the Pongo Poetry Project in Seattle. The Pongo Poetry Project is over 20 years old and has been used in many settings from youth detention centers to refugee camps in Syria. She thought a Pongo-inspired project belonged at CYS. Research has proven that processing trauma and pain through creative expression like music, art and writing can be "a catalyst for healing," according to Wakefield.
She went to the training, sought funding and the CYS version of the project, named InkWell, was born. The program begins with a Mad Libs style, fill-in-the-blank format and quickly progresses to poetry and creative writing as the participants begin to get comfortable with the writing process. Typically, five to ten kids attend each session. The theme of each session varies and teens are exposed to the writings of various authors such as Maya Angelou and George Orwell. Most significantly, the young writers can immediately print out their work. Seeing their thoughts printed on paper gives them value and pride, and they often gift their work to a friend or hang it on the wall.
"Many of these kids have never been told that they are good at anything," explains Wakefield. "InkWell makes them feel good about themselves, sometimes for the first time ever," she adds. InkWell is now available in three of the programs that reach our youth through CYS, Haven House, Rosie's Place and the detention center. Ironically, although many of the kids who participate in the InkWell classroom are incarcerated for not attending school, they feel comfortable in the program. Terrance Caldwell, a detention officer says, "InkWell is therapeutic, honest, supportive, organic, inspirational and so much more."
This year, InkWell has published a book of work by the teens at the detention center. "The ability to show a kid, who doesn't think he is a good writer or that his words have value, that his words have been published in a book is amazing," shares Caldwell. The book, entitled Force Fields, is a raw, endearing and sometimes difficult read. An initial look through a few of the poems with my own teenage daughter gave us a window into a life neither of us could imagine. As Caldwell explains, "Our youth, although incarcerated, are making a difference through the program and this book."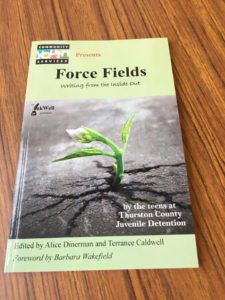 The InkWell program is a fairly inexpensive undertaking that makes a huge difference, but funds are needed for paper, pens and printers. "It's not rocket science," says Wakefield. "Sometimes the best ideas in society are the simplest."
Another commodity always needed at CYS is adult volunteers. "An hour with a pro-social adult can be as valuable as an hour of therapy," shares CYS Chief Executive Officer, Scott Hanauer. If you are interested in volunteering with the InkWell program or any other program at CYS, please contact Carolyn Vaagen via email. To purchase books or for any other questions about the Inkwell program, contact Megan Lobdell at mlobdell@CommunityYouthServices.Org or by calling 360-918-7844.
Force Fields is available for purchase at CYS for $8, and all proceeds go directly back into this very important program. As Leilani, age 13, writes in the book, "I can be strong and change the world. I can make a difference. I can inspire others."