It remains one of the best performances of Heidi Sowers' high school track career, and she didn't even win – a rarity among the Northwest Christian High School athlete.
Two years ago at the Class 2B state championship meet, Sowers, then a sophomore, blazed through the finals in the 300 hurdles, stopping the clock in a blistering 45.87 seconds – a time which remains her personal best in that event to this day.

She finished second, nipped at the wire by Northwest Christian Colbert senior Isabel Clark, who claimed the state title with a final time of 45.46.
While Sowers failed to ascend to the top of the podium that day it's that race she points to as one of the main reasons she's been so successful.
"I've finished second in so many races by like .02 (seconds) or something like that," said Sowers, who also finished second at state as a freshman in the 300 hurdles and was the runner-up as a sophomore in the 100 hurdles. "It just makes you want to win all the more next time."
Motivated, Sowers returned the next year and avenged her narrow defeat by winning the state championship in a race that was the polar opposite of the previous year's final.
It was a walkover.
"Her sophomore year was so close. I think that got to her," Northwest Christian coach Mike Michael said. "Her junior year, I was across the track, she came out of the bottom corner and she had such a huge lead right. I knew she had it. All she had to do was not trip."
In addition to taking home the state title in the 300 hurdles as a junior, Sowers also was the runner-up at the state meet in the triple jump, posted a third-place finish in the 100 hurdles and joined the Navigators' 4×400 relay team in grabbing fourth.
All totaled, she has placed among the top 10 finishers at state a combined 12 times through her first three years, and should have no problem adding to that gaudy total this year.
Strong performances and the Sowers name, however, are nothing new and have been a Navigators' tradition for more than a decade now as Sowers is the fifth member of her family to compete in track at Northwest Christian, following in the footsteps of three sisters and a brother.
"I had a lot of siblings before me who were very good at track so the expectations were pretty high coming in," Sowers said. "My freshman year I was just figuring out where I fit in and what I could do. After that we really established what events I was doing and I could just focus on them."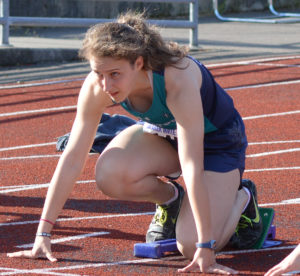 All three sisters – Betsy, Joanna and Allison – placed at least once at the state meet with Joanna being on the Navigators' state champion 4×400 team during her senior year in 2011 and Allison winning the state high jump title in 2013, the same year she finished second in the 300 hurdles.
"We knew coming into high school Heidi was going to be good," said Michael, who also coached Sowers while she was in middle school when she attended the Community Christian Academy. "I wouldn't be surprised if they used her as a heptathlete in college. She can pretty much do whatever you want her to do."
Sowers proved just truly how versatile she is at the Pacific League Sub-District championship where she swept the four events she competed in – winning the 100 and 300 hurdles, long jump and triple jump.
She enters the district meet as the state 2B seasonal leader in the both the 100 hurdles (15.14) and triple jump (35 feet, 8 inches), second in the 300 hurdles (46.63) and fourth in the long jump (16-4.5).
"It was kind of rough at the start this year," Sowers said. "The beginning of the season I had a lot of injuries and I came in really out of shape because of basketball and I wasn't doing as well as I wanted to. It took a long time to get back to where I was at the end of the last year.
Whatever rust she had was certainly shaken off at the 53rd annual Shaner Invitational at Tumwater High School where she was named female athlete of the meet for a third consecutive year after equaling the meet record in 100 hurdles. Her time of 15.14 matched the meet's benchmark set in 1988 by Olympia's Shannon Bryan.
"I did not think it was that fast," Sowers said. "This is really encouraging. Now that I know I can run that fast hopefully I can win the 100 hurdles (at state)."
Regardless of whether she adds another state championship (or two) to her resume, Sowers is headed to Southern California in the fall to attend Biola University – a Los Angeles-based private evangelical Christian college – on a track scholarship.
"It's a little different than living outside South Bay," Michael said, "but it's a great fit for her. She took her recruiting trip and just loved it. They're getting an incredible athlete and an even better person."
The 2B state track and field championships will take place May 25-27 at Eastern Washington University.