With summer just around the corner, dreams of hot days, barbeques with friends and family or lounging on the beach with a cocktail in hand may soon become a reality. For festive beverage inspiration, look no further than family-owned Sandstone Distillery in south Thurston County. The Bourdon family is not just passionate about distilling great spirits, they also love a good cocktail. With more than one mixologist in the family, they have devised original recipes that complement their whiskeys, gins and vodkas, often featuring Jennifer Bourdon's line of decadent shrubs (drinking vinegars) and syrups.
The Jennifer Rosemary
A quintessential summertime cocktail with hints of herb and lime, the Jennifer Rosemary can be served over ice, with club soda or even margarita style. This cocktail would pair well with fish, chicken or your favorite Mexican dish.
The Jennifer Rosemary is inspired by Jennifer Rose Bourdon. One day, Sandstone distiller, John Bourdon, was out of Juniper berries to make gin and Jenni had the idea to use rosemary instead as it is abundant on the farm. The result was Rosemary Vodka. Jenni, ever the mixologist, came up with a recipe of lime, lime-infused simple syrup and the Rosemary Vodka. When John tried it he invoked Jenni's middle name, Rose, in the way you might with a disobedient child. "You gotta call that a Jennifer Rosemary," he said, "because that will get you into trouble!" He is right. The Jennifer Rosemary is that good. This summer favorite is available as a premix or you can mix your own.
2 ½ oz. Sandstone Rosemary Vodka
½ oz. fresh lime juice
¾ shot Artisan Lime Syrup
Sprig of rosemary
In a cocktail shaker, gently muddle the fresh lime juice and rosemary.
Fill the shaker with ice and add the Sandstone Rosemary Infused Vodka and Artisan Lime Syrup.
Shake vigorously and pour into a martini glass.
Garnish with a sprig of fresh rosemary if desired.
Bacon Chaos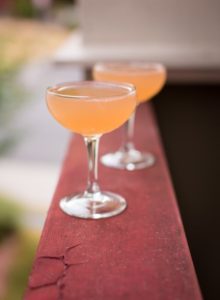 This cocktail contains two unique ingredients: Stone Carver Bacon Whiskey and an Apple-Cinnamon Shrub. The bacon infused whiskey is a closed system creation. When a grain mash is made to produce alcohol, the grain is broken down into two components, carbohydrates (sugar) and protein. The sugar becomes the alcohol and the left-over protein goes down the road as feed to a pig farm. That farm produces Sandstone Distillery's bacon. Combined with the Apple-Cinnamon Shrub and a bit of lime juice, and you have created Bacon Chaos.
It takes several sips of Bacon Chaos for taste buds to sort out what is going on. It starts with smokiness and a bit of cinnamon but finishes with sweet apple. Bacon Chaos pairs well with pork or steak. In fact, steaks marinated in bacon whiskey come out tender and with a hint of bacon. So, at your next barbeque, go bold with Bacon Chaos.
4 oz. Stone Carver Bacon Whiskey
2 oz. Apple-Cinnamon Shrub
½ oz. fresh lime juice
Combine in a cocktail shaker with ice.
Shake well and pour into highball glasses over ice.
Garnish with a slice of bacon if desired.
Lemon Basil Gimlet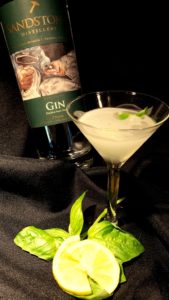 This light and refreshing beverage for a hot day is available premixed or you can mix your own. It features Sandstone Gin which contains nine botanicals. John suggests, "If you want to impress your friends, pour some in a shaker with ice and come walking out of the kitchen shaking it up martini style." Or you can add some club soda to make it festive. The lemon in this gimlet lends to a fish or chicken pairing.
4-6 fresh basil leaves
2 oz. Sandstone Gin
1 oz. Artisan Basil Syrup
1 oz. fresh lemon juice
In a cocktail shaker, gently muddle the basil and lemon juice.
Add the Sandstone Gin, Artisan Basil Syrup and ice.
Shake vigorously until slightly frothy, pour into a highball glass over ice  and serve with a sprig of fresh basil.
Coffee Martini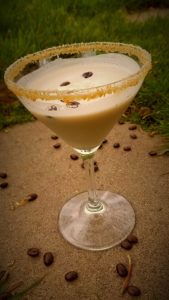 The decadent Coffee Martini is reminiscent of a creamy iced coffee with a kick. This martini features a coffee-infused syrup ideal for slow sipping as a dessert or, as John jokingly suggested, it would be great for breakfast with an apple fritter. The Artisan Dark Coffee Syrup is available at the distillery. The award-winning White Whiskey is a real treat having won a Double Gold medal from the Seattle International Spirits Competition.
2 oz. Stone Carver Vodka or White Whiskey
1 oz. Artisan Dark Coffee Syrup
1 oz. half-n-half
Combine in a cocktail shaker with ice.
Shake well and pour into martini glasses rimmed with brown sugar.
Stone Carver Blues
In midsummer, blueberry-laden bushes produce the blue in Stone Carver Blues. This cocktail calls for their Blueberry and Thyme Shrub. The shrub as a stand-alone is nonalcoholic, tastes of fresh blueberries and evokes a blueberry cider. Add the Stone Carver White Whiskey to create a rich cocktail that pairs well with steak or any meal that typically calls for red wine.
2 oz. Sandstone White Whiskey
½-1 oz. fresh Oh!Shrubs Blueberry Thyme
½ shot simple syrup
dash of fresh lime juice
Combine all in a cocktail shaker filled with ice and shake vigorously until slightly bruised.
Pour into a martini glass, garnish with a twist of lime or fresh blueberries.
Apple Vanilla Cocktail
This cocktail is ideal for imbibing around the campfire on a starry summer night. Even when it is cold, it tastes like a belly-warming apple cider with a hint of vanilla. If an easy, hot- toddy style beverage hits the spot, heat up your apple cider first and pour it in a mug, then stir in the Speakeasy Vanilla Infused Vodka and enjoy.
1 oz. Speakeasy Vanilla Infused Vodka
4 oz. Lattin's Apple Cider'
Visit Sandstone Distillery in Tenino where you can procure all the spirits, shrubs and syrups for these perfect summertime cocktails. Then mix, match and kick back.
Sandstone Distillery
842 Wright Rd SE in Tenino
360-239-7272
Tasting Room Open Thursday through Monday, Noon to 5 p.m.