Before TRA Medical Imaging was founded in 1943, a group of pioneering radiologists in Pierce County worked out of one medical office building in Tacoma. These radiologists interpreted exam images for the hospitals in the south Puget Sound, from Tacoma and Puyallup to Aberdeen and Ketchikan, Alaska. In the early 1940s, some of these radiologists formed what would later be called TRA Medical Imaging. The following decade, Medical Imaging Northwest was founded. "Historically, the two groups started out together," says TRA-MINW Marketing Manager Jill Makowichuk.
In the early 2000's the groups split off into different areas, but as their 75th anniversary approaches, TRA and Medical Imaging Northwest have merged, coming full circle. "We came back together to strengthen what we can offer to the community," says Makowichuk.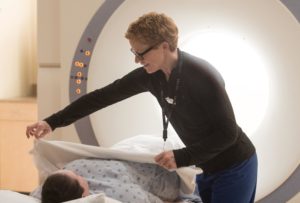 The merger was a natural fit in several ways. Both companies employ sub-specialized radiologists who are highly focused in areas like breast imaging, neurological imaging, pediatric imaging, plus many more. "Anyone who visits one of our locations will have a board certified, sub-specialized radiologist looking at their scans," says Makowichuk. "If your child needs an Ultrasound, TRA-MINW is one of few groups in the state who have dedicated pediatric radiologists. If you tore your ACL, one of our musculoskeletal radiologists will interpret your MRI.  As a result of joining forces, we now have over 90 sub-specialized doctors."
Since going into effect on January 1, 2017, the merger has had little effect on patient experience other than to offer them a greater pool of expertise, she says. "Patients shouldn't see any impact in terms of staffing. The only thing that will change will be the resources available to us, which will only have a positive impact on our patients' care."
TRA-MINW has relationships within several hospitals north of Thurston County. "Between outpatient imaging facilities and hospitals we serve, we are able to provide continuity of care to patients where they work, live and play," she says. "We'd like to focus on providing this same high level of care to our patients in Thurston County and surrounding areas. There's a huge population there that will benefit from having access to the level of service we provide."
TRA-MINW serves both CHI Franciscan Health and MultiCare Health Systems and provide over 1.2 million interpretations annually, servicing 11 area hospitals, 12 outpatient sites – including TRA Medical Imaging located at Memorial Medical Center on Lilly Road in Olympia –  and related medical clinics across the systems, including urgent care facilities.
TRA-MINW is now ranked the 8th largest radiology practice in the country. "The scale of the combined groups allows us to provide expanded subspecialty services across the care continuum to a larger population of patients. With that comes the opportunity to standardize care across this region based on best practices and best available evidence, as well as to provide continuity of care across the population we serve," said Douglas Seiler, M.D., radiologist and president of TRA-MINW.
Dr. Katherine Choi-Chinn, radiologist and co-vice president of TRA-MINW, adds, "Coming together allows us to create security in this shifting health care landscape, to collaborate in support of a shared purpose, and to remain focused on what is most important to us – providing the highest quality patient care in our area."
For more information, please visit www.tra-minw.com.
Sponsored