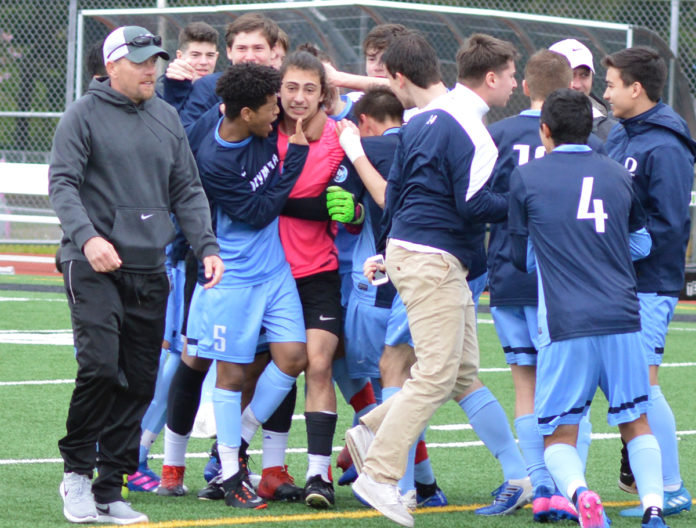 The Olympia High School boys' soccer team walked off the field following its regular season finale believing their postseason hopes had been squandered.
A goal in the closing seconds by 4A South Puget Sound League champion Puyallup against the Bears resulted in a tie, seemingly sealing Olympia's doom as they needed a victory to prolong their season.
Or so they thought.
Thanks to two late season loses by Emerald Ridge, the Bears were given new life and with it came a berth into the 4A West Central/Southwest District tournament.
Olympia entered district play as the sixth-place team out of the 4A SPSL and surprisingly exited as a the No. 1 seed into the state tournament after three stunning triumphs.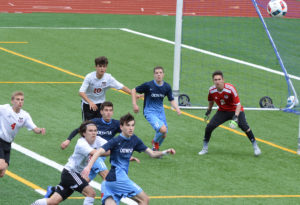 "No one expects a 4-10-2 team to ever take over the one seed and win districts," Olympia coach Ty Johnson said. "That never happens. This is the toughest district in the state. Camas, Kentwood, Sumner, Puyallup. The best teams in this state are out of this district and for us to be a one seed, I'm speechless."
Johnson didn't need to say much as the Bears' defense behind senior goal keeper Matteo Delguidice has done all the talking the team has needed during their surprising postseason surge.
Olympia claimed the No. 1 seed out of District 3 with a thrilling 2-1 shootout victory against 4A Greater Saint Helens League champion Camas.
The win over the Papermakers came on the heels of back-to-back loser-out wins. The Bears opened the district playoffs with a 3-0 victory over Auburn, then blanked 4A North Puget Sound League Cascade Division champion Kentwood, 2-0.
"A new fire was lit," Delguidice said, "and we came out ready to play and now we have a first seed in state."
Delguidice has spearheaded Olympia's stellar play, giving up just one goal in 240 minutes of playoff soccer.
He stepped up big against Camas during penalty kicks, turning away three Papermaker shots as the Bears won the shootout, 4-3.
"All you can ask out of your keeper is to make one (save during PKs) and he made three," Johnson said. "(Camas) is the type of team we're going to be playing the rest of the way out, but when you have someone like Matteo in goal you have a lot of confidence. I think we have the best keeper in the state."
Olympia junior Khalil Bredeson ended the scoreless tie in the 69th minute on a penalty kick. Camas was able to find the equalizer in the 76th minute to send the contest into overtime.
Following two 5-minute overtime sessions where neither team found the back of the net, the game was decided in PKs.
Bredeson, Dawit Kiley, Adam Rapacz and Julian Desmond were all successful on their PKS to send the Bears back to the state tournament for the first time since 2015.
"A week and a half ago we had to win to get to districts and we gave up a goal in the last three seconds to tie. I thought our season was over," Johnson said. "I got an email noon (the next day) saying we had a chance to get into a play-in tie-breaker game. I got the guys to practice and since then we've been dialed in and playing some quality soccer."
Olympia limped through a 4-10-2 regular season due in large part to a rash of injuries.
"We suffered through (the regular season) losing a lot of players," Johnson said. "As the season continued to progress we started to get guys back. Two or three guys were out with concussions, and the league we play in if you're not playing a strong 11 every game you're going to get beat. We've lost games we should have won, but tribute to these guys for stepping up and playing their best soccer at the right time."
One player lost during the early stages of the season with a concussion was Adam Rapacz. The freshman has been a force for the Bears during the postseason. He scored a goal and added two assists in Olympia's win over Auburn, then added another goal against Kentwood.
"He's playing way above his years," Johnson said. "He's an important part of this team. He puts a lot of pressure on the backline of the other team."
The Bears, like they have all season, wore black armbands featuring the initials of former assistant coach Austin Kelley during the match
The 26-year-old Kelley, who was an all-state player for Olympia during his senior year in 2008, drowned in September after he tried to swim across the Salmon River in Idaho and was swept away. He had joined Johnson's staff after playing collegiately at Saint Martin's University.
"We've turned it around big time. All our players are motivated now," Delguidice said. "We're playing for Austin right now."