South Puget Sound Habitat for Humanity (SPSHH) has been building and nurturing community in Thurston County for nearly three decades. Now, they have expanded their capacity to serve even further by purchasing a new location at 207 Yelm Avenue East.
This is an exciting move for Habitat. It will provide them with approximately 1,000 additional square feet and will double the amount of window space seen from the main road. The city of Yelm will also benefit as the store will improve the area's visual aesthetic and bring more business to downtown.
While new to SPSHH, the Habitat Store building has been a part of Yelm for a long time. "We're absolutely thrilled to be in what used to be a hardware store that was built in the 1940s," said SPSHH Executive Director Curt Andino. "The fact that we're in a long term fixture of Yelm is very important to us because we intend to be a long term fixture in Yelm as well. This store is really our first step in solidifying our presence out here because our next step is to start building houses for the community." After completion of the interior remodel, the SPSHH Team will also remodel the exterior of the building to resemble an old fashioned hardware store.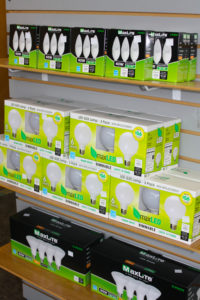 This hardware theme is a good fit for the Habitat Store which offers new and gently used items, and anything you could use to build, repair or furnish a home. "The store is what makes our building program possible," said South Puget Sound Habitat for Humanity Marketing Development Manager, Shawna Dutton. "Our store sale proceeds are part of what fund our building program. One hundred percent of the items in the store are actually donated by individuals and local businesses." Customers can even pick up energy efficient light bulbs and good old fashioned screws and nails at the Habitat Store for a fraction of the cost.
"We try to sell great items at deep discounts so shoppers are getting a great deal," Dutton said. "At the same time, every dollar that they spend is going toward helping build a stronger community because it's helping fund our building program. And it's keeping local items out of landfills."
In addition to their retail offerings, the Habitat Store embodies the ideology of the old-fashioned hardware store. It will be a place for people to gather, chat about their projects and make connections. The Habitat Store's staff will continue to be a large part of that. "One of the things that really sets this location apart is our staff," Dutton explained. "They know half of the people who walk in on a first name basis. Our store manager is referred to as 'Linda from Habitat' all around town. It's just phenomenal."
"If you don't know Linda, Mary or Rich, you're probably not from Yelm," laughed Andino. "That's the kind of city Yelm is and that's the kind of organization Habitat is."
This sense of community is what Habitat is all about. One example of this is SPSHH's free donation pick up program. This is open to everyone and is especially helpful for downsizing seniors who aren't able to pick up and haul their furniture. "It's volunteer members of our community helping older members of our community donate things to build housing for very low income members of our community," Andino said. "So the whole thing is community centered which is also very powerful to us.  From the beginning to the very end and everything in between, it's all about the community."
Through free pick up and in-store donations, SPSHH diverted over 3,500 tons from the landfill last year alone. "It would be garbage and instead it funds our entire program," said Andino. "Everything that comes in here would probably otherwise be headed to a landfill and instead it's building owner-occupied, affordable housing for very low income families. To me that's beautiful."
They build 100 percent new construction, environmentally friendly homes with a focus on community and community spaces. Neighborhoods like these lend stability and strength to the families they house and the communities in which they are built. SPSHH will continue to participate in other community endeavors as well. In total, the organization contributed over 15,000 community volunteer hours last year. They are excited to increase their volunteer efforts in south Thurston County moving forward.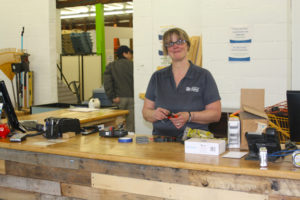 SPSHH offers wonderful opportunities for those looking for a way to serve and make a positive difference in the community. They are always looking for volunteers to help out at the Habitat Store, driving and assisting with pick-ups Monday through Saturday from 9:00 a.m. to 6:00 p.m. It's an excellent way to build community, give back, and make our area even better.
The Habitat Store opened for business on April 19 but it will celebrate its Grand Opening on May 20 from 9:00 a.m. to 3:00 p.m. The celebration will be marked by a ribbon cutting with key city officials, the Chamber and chamber members and is open for everyone to attend. There will be promotional giveaways including umbrellas, reusable bags, and native, bee-friendly seed packets. There will also be hourly giveaways, free barbecue, raffles, and more.
For more information, visit the South Puget Sound Habitat for Humanity's website, call 360-956-3456, or stop into their locations at 207 Yelm Avenue East in Yelm or 400 Cooper Point Road SW in Olympia.
Sponsored