Rad Cunningham's path to public service was an adventurous one. After graduating from Western Washington University with a degree in Cultural Anthropology, he was not quite sure what to do next. He took a leap and joined the Peace Corps, serving in Paraguay as an Environmental Sanitation Volunteer, which, according to Rad, "is a fancy word for toilet builder." However, the volunteers did not just build toilets, they also dug wells and built brick ovens to improve the ease of collecting water and cooking for rural families.

When his service was over in 2006, Rad intended to find a job in Seattle but ended up in South Sudan instead. Working with The Carter Center, he and his colleagues worked to eradicate guinea worm parasites from drinking water. They distributed filters and coordinated the drilling of safe wells. Along with his team, he also treated stagnant water sources to kill guinea worm and mosquito larvae, which also helped manage other issues, like malaria. In the first year that Rad was there, there were 1,600 cases of guinea worm parasites reported. By the time he left two years later, only ten cases were reported and  they have since been at zero for the past two years.  
From there, Rad decided that since he had been working in the public health field for five years, he might as well go back to school and make a career out of it. He attended the University of Washington and earned both a Master's degree in Public Health and a Master's degree in Public Administration. He had seen firsthand how strong leadership skills impacted his ability to affect positive change, so combining the two skill sets was a logical next step.
With his dual degrees in hand and as a newlywed, Rad made his way back to Africa, this time to Equatorial Guinea, to work with a maternal and child health program. His work focused on assessing both the obstetric capacity of local hospitals and clinics as well as the health of local village children. With their mobile clinic, they tested the children for parasites and malaria and provided anti-parasite medication.
Midway through this work, his wife, Whitney, became pregnant. The living conditions were not ideal, as they were essentially couch-surfing, so they made the decision to move to Los Angeles, where Rad took a job with a non-profit organization advocating for equitable implementation of the Affordable Care Act for underserved populations. Rad says, "It couldn't have been further from what my work and school background prepared me for. International health work is very hands on, and you have a lot of autonomy to do what you want. This job was dealing with Medicaid policy, which is like this immovable bureaucratic behemoth."
He eventually made his way back to the Pacific Northwest in 2012, taking a job with the Environmental Health Division at the Washington State Department of Health, first working on Healthy Homes and Childhood Lead Prevention and most recently on Healthy Communities. For Rad, this has been a better fit. "It is a really nice combination of getting to work with statistics and data but also community outreach. Of the statisticians I know, I'm one of the most sociable – I'm really good at being able to communicate about data with people," he says.
His roles have also offered him a lot of variety. Rad says, "One week I am investigating an outbreak of Legionnaires disease at a hospital and the next week I am helping the Board of Health analyze the effects of dust from cattle feeding lots. I love working for the state because I get to work on a broad set of issues with a team of people who really care about making a difference." 
While working on healthy community design at the state level, Rad grew increasingly interested in how his own community was planning for a healthy future, so he applied for and was selected to be a member of the City of Olympia Planning Commission. He says, "I just got started, but I am looking forward to bringing a health perspective to the issues facing Olympia today and to providing a service to my city. We are looking at the capital facilities plan next and I can't wait. I get to work on something that I'm passionate about, which is what kind of city Olympia is going to be for my kids growing up."
Rad also explained that, "It's a really exciting time in Olympia. Downtown Olympia is experiencing a renaissance. With more people moving downtown, that's going to pave the way for more activities and services. Participating in building things is kind of a once in 50 years chance to make the right choice and truly impact public health."
Rad can use his access and understanding of data to help with challenging decisions on the Commission. The issues can be contentious, so he will use his public administration background to systematically go through options and make recommendations.
He realizes that his time investment may not yield an immediate return. He says, "Planning has a very big time horizon, like the isthmus is something people have been discussing for a long time, so progress can be slow. I think that's appropriate in a democracy, to give everybody a chance to weigh in. The isthmus is the most beautiful piece of property in Olympia, with views of the sound and the lake. It's going to take skill and input and compromise to get to a plan that people accept."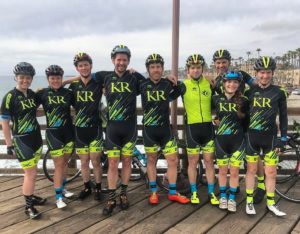 Yet Rad sees this as an achievable goal. "If you put a park there, that would be great. If you put mixed-use housing there, that would be great. If you put businesses there, that would be great. All of it would be better than what is there now. There is no path that is not an improvement. I'm really hopeful in my ability to help broker a compromise, because I'm not vested in one outcome or another, but I am vested in getting something going."
He is not alone in that desire. The City of Olympia recently presented four concept designs for an interim plan for the currently vacant lots on the isthmus. Public comment is being collected, which the city council will review at the May 16, 2017, council meeting. A full public engagement process for the long-term use of the isthmus will happen in 2018.
Rad says he can see the impact of the work of past planners. He is an active bike commuter, and the city's recent attention to increasing bike safety makes that more enjoyable. He says, "I love my bike commute. The roads are quiet, the drivers are (mostly) respectful and it gets me out in all types of weather, which helps me commune with nature as part of my regular schedule."
Lest you think Rad is all work and no play, he takes his love of biking further, having raced bikes since 1997. He trains often, using a high-tech set-up in his basement when it is not safe to be out in the weather. He says, "I love training, I love my team, I love bikes but mostly I love racing." He even won a race at The Ridge Motorsports Park, a track near Shelton, a couple of weeks ago.
Having the time to enjoy his hobby, and especially his family, is one of the perks of being a Washington State employee. He says, "One thing that I appreciate, maybe more than anything else as a state worker, is that my supervisors and co-workers will tell me to go home if it looks like I am staying late. Right now, I get to see my kids for a little bit in the morning and evening, which is really special."
This article is one of a four-part series about the contributions of public employees to our community. The series is sponsored by WSECU, in part to support Public Service Recognition Week, which runs May 7 – 13, 2017.