Superintendent Dick Cvitanich has been named the 2017 Crystal Apple award winner by the Washington School Public Relations Association (WSPRA).
Cvitanich received the award, along with a standing ovation, at an awards banquet on April 27 at the WSPRA annual conference in Leavenworth. His wife, Diane, as well as several members of the district's Communications and Community Relations department, joined him at the recognition ceremony.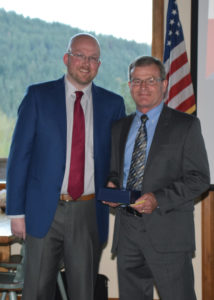 A Crystal Apple award winner is someone who has given tirelessly of themselves to enhance positive stakeholder perceptions of K-12 public schools and/or has empowered school public relations professionals to be their best. The award goes to an individual who does not currently serve in a formal role of school public relations.
"Olympia School District Superintendent Dick Cvitanich has spent the past 42 years supporting K-12 public education, including serving as a mentor to other school superintendents, a cheerleader for school public relations, and an advocate for statewide legislation in support of students and staff," according to the award nomination.
The nomination continues, "His teaching and administrative career, which comes to a close with his retirement this June, empowered school district colleagues and communities across the state ranging from Sequim, Silverdale, and Shaw Island, to Vashon, Highline, Puyallup and Olympia."
In his acceptance remarks, Cvitanich recounted how communications has changed over the past four decades. He also thanked public relations employees statewide for their work in telling the story of public education.