If you have been to the Lacey Department of Licensing while Jay Watson was on a duty, chances are you left with a smile on your face. In my case I entered the DMV with a nervous teenager and walked out with a licensed driver bantering back and forth with Jay about high school rivalries. Jay will side with Timberline High School every time. This happened to me not once and not twice but several times over the course of the past five years when taking kids into the Department of Licensing for their permits and tests. When I went in for a renewal of my own license and Jay called out to me, "How are those kids of yours doing with their driving?" a full year after I had been in with any one of them, I knew that he was someone special.

I eventually went into the Department of Licensing to talk with Jay and to find what he likes about working in public service. I heard him before I spotted him. His voice boomed across the room to a customer just heading out in his wheelchair. "Stay safe," Jay called. "Do you need any help getting out?" he quickly added, despite the line of customers waiting for service. Jay makes time for everyone. When you get to Jay's window, he is eager to help you and quick to make a friendly joke.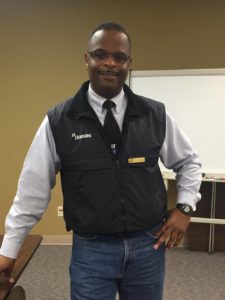 It is this genuine care for his customers that resonates with everyone who is lucky enough to come into the Lacey Department of Licensing on one of Jay's workdays. He has worked part time at the DMV for 11 years and enjoyed every one of them.
Jay was one of 11 children. His mother grew up in the South during a time of deep racial division and segregation. She dealt with racism and hatred much of her 1930s childhood, but she refused to instill racism in her children. Jay gives all the credit for his positive attitude and love of serving others to his mother. "No matter what walk of life you come from, we learned from our mother to treat everyone the same, with kindness and respect," Jay shares.
Jay was raised in New York where he learned the importance of taking time to listen. "My mother always stopped and asked questions and listened," shares Jay. "It didn't matter who you were; she always took the time," he adds with pride. Jay's father was active in his church, and his parents instilled the value of giving back.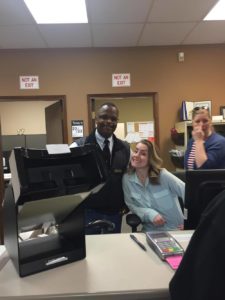 Jay's desire to give back to others began with his parents and continued during his time serving in the US Army. It takes a service-minded person to volunteer to serve his country, and Jay did just that until he retired at the age of 38. Still a young man, he completed his undergraduate education at Saint Martin's University and explored a career in the Washington State Patrol. He was inspired by the sight of troopers helping out stranded motorists on the side of the road. He enjoyed his time at WSP and was impressed by the professionalism exhibited by the agency. Ultimately Jay decided that being a state trooper was not his career path.
Jay spent a few years working with veteran's affairs at the Washington State Department of Transportation and then took a three-year break from public service. He stayed home with his son, who was then six-years-old, and coached youth football, soccer and track, continuing to give back to the community. Volunteering was just one more way for Jay to interact and help out others. He enjoyed his time home immensely but was ready to get back into public service on a part-time basis, and that is when he landed at the Department of Licensing.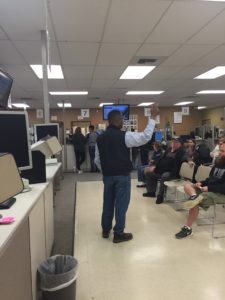 Working part-time has allowed him to spend time with his wife and help raise their children who followed in their parents' footsteps of service. Their son is a junior at the University of Washington, serving in the Air Force ROTC program. Their daughter, now 23, is currently in the US Air Force and serving her country while being stationed in Germany.
Jay is always engaging his customers and co-workers alike while at work. He loves to tease the kids to put their minds at ease. "It's amazing what an impact you can have on a person with a simple smile when they step up to the counter," shares Jay.
Perhaps surprisingly, Jay spends much of his free time solo, walking the trails of Thurston County. He enjoys riding his bike on the Chehalis-Western Trail and quiet time at home with his wife of over 25 years. "I love where I live and enjoy my time at home and at work," says Jay.
"When I no longer enjoy it, that's when I'll know it's time to go," explains Jay. Fortunately for the rest of us, that time does not seem to be coming soon.
This article is one of a four-part series about the contributions of public employees to our community. The series is sponsored by WSECU, in part to support Public Service Recognition Week, which runs May 7 – 13, 2017.