When you walk into the Procession of the Species studio during the weeks leading up to the parade, you'll find a buzz of activity, like bees in a hive flitting from cell to cell. People of all ages and artistic abilities flock to the space to create one-of-a-kind costumes and props for the annual celebration of the earth and our community.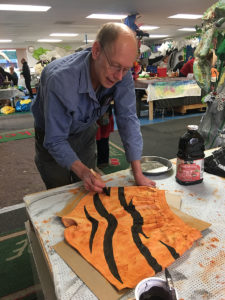 Paul Bakke, who has been participating in the parade along with local dance troupe Samba Olywa since 2011 says, "It's the most amazing parade in the whole world, in the universe! It's all about connecting with community and connecting with the living world in a way that I don't think any other parade does. It's like this big party. The people that are in it have fun and the people watching it have fun. You can kind of lose yourself in it." He and other troupe members have been using the studio this season to make tiger costumes.
The studio is open specifically for Procession prep seven days a week for the seven weeks leading up to the parade and according to Earthbound Productions director and lead organizer Eli Sterling, there have been 8 different locations for the studio over the last 22 years. In the past, there has been both a temporary studio space and separate storage space to keep all the supplies and larger creations safe during the off-season. But now, the group has a year-round spot that serves both purposes.
The location at 406 Water Street is roughly 1/3 the size of previous studios, so rather than seeing upwards of 1500 different people coming through, Eli expects it will be closer to 500 by the time we hit Procession day. Yet, having a year-round art studio open to the public, supported by donation, allows Earthbound Productions to support the success of other local non-profits, schools and community groups. They can offer space and materials for large projects like wedding preparation, art workshops and other events like the April 22 March for Science.
Supplies and materials used at the studio largely come from donations. The Procession team encourages the use of recycled materials as much as possible, so donations of fabric, cardboard, packing materials and other odds and ends are welcome. "Grab the stuff that's been sitting in your garage and make it available for others," Eli says. "Part of the inspiration for Procession costumes is often the materials."
This year's Procession theme is "A Kinship with the Earth," which came about as organizers reflected on how to continue to stay relevant with all that's going on in the world around us. "There is not just a need, but a receptiveness in our community, and I think nationwide, for pockets of kinship. That's the feel that we're trying to extend and make available. The Procession is an invitation and as long as we keep the overarching attitude as one of acceptance, then when people appear, we've done our part."
When it comes to the costumes, it's up to each participant. The only rules are no written words, no pets and no motorized vehicles. The rules are designed to inspire, rather than constrain, your imagination. "What's that aspect of nature that you want to honor?" Eli asks. "The idea is not to come in a costume, but to come in an expression of your awe and appreciation for the natural world."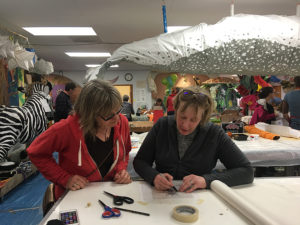 If you want to participate, but are not sure how to get started, there's help to be found at the studio. Kris Geringer has been participating in the Procession for about 11 years and this year, she's helping by putting on a beetle costume workshop. "People come into the studio and they don't know what they want to make and they really don't know how to make costumes. It's a good way for them to come in and learn different techniques like batik and paper maché and have some guidance and help," she says. "They interact with the other people and share ideas." Anyone can join the beetle group during the parade, whether they've participated in the workshop or not, just show up and hop on in.
Jerry Berebitsky's first Procession was about 10 years ago. He only had to see it once and was hooked, participating the following year as a family of beavers when his daughter was just a few months old. From there, he used his experience as a prop-maker for opera and theater companies to begin making large-scale puppets. His pink elephant, oversize spider and web, and large giraffe are parade favorites. Last year he created the large peacock that was a highlight and this year he's working with volunteers to create a muster of peacocks of all sizes to accompany it. Students from Olympia Waldorf School and Reeves Middle School are also designing peacocks.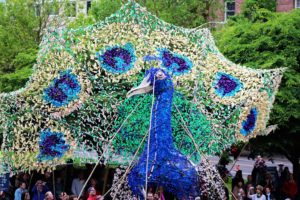 It takes a team of twenty-five people to operate the peacock during the parade and last year they had very little practice to figure out how to make it work. "Only about forty-five minutes before the Procession did we stand it up whole for the first time," Jerry recalls. "We walked back and forth, set it down, made a few changes, and then worked on it as we walked. [With a large puppet], the second year is better because we have a better idea of what it can actually do. Last year, I wasn't sure it was going to work. I like that part about the process. Failure is an option – I love that."
Jerry says it takes a couple of weeks to put together one of the large-scale puppets. He likes the community atmosphere at the studio, sharing, "It really came together with the peacock – when I started it and I knew how big the span would be, I thought there was no way I could get it covered, but I started anyway. As I laid it out and took up a good portion of the studio, people showed up and started helping. It was a beautiful gift."
Eli agrees about the community spirit at the studio. "When everyone is in a collective setting, the energy isn't about your particular identity, but in effect, identifying that amazing glint of nature that bounces off our daily life," he explains. "You don't feel inhibited about doing art in front of other people because it's not about you, you don't have to feel self-conscious. That joy can't be compared or diminished and that's what makes Procession special."
This year, the Luminary Procession will take place on Friday, April 28 at 9:30 p.m. and the Procession of the Species will be held on Saturday, April 29 at 4:30 p.m. If you'd like to participate in a costume-making workshop or utilize the studio for your own creation, stop by during open hours. You can also sign up to help carry the large peacock.
To celebrate and showcase the Procession of the Species, now in it's 22nd year, Eli Sterling participate in an interview on Thurston Community Media's Mission Non-Profit series with host Andrea Capere. TC Media takes you behind the scenes with Eli in the following videos.