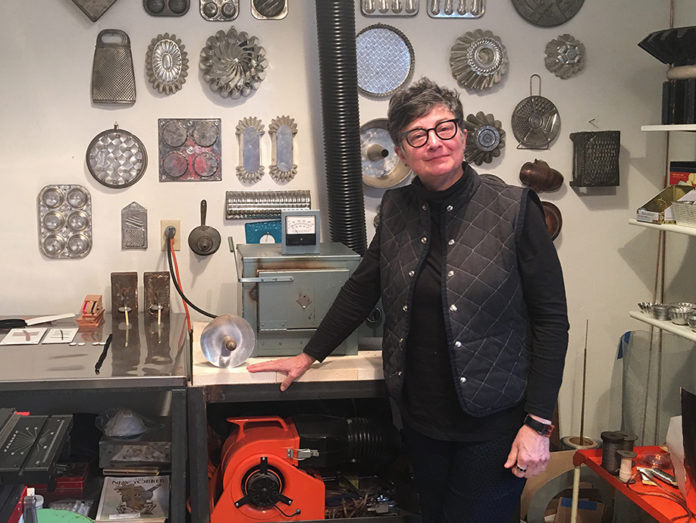 When you walk through Jean Mandeberg's West Olympia neighborhood, you would never guess what's behind the door at the end of her open garage. When I stepped through into her home studio, I was instantly charmed. From the collection of antique cake molds on the wall to the stacks of found metal tins, you can tell it is an artist's space.
Jean moved to Olympia 35 years ago to take a job at The Evergreen State College teaching metal smithing, sculpture and design. During that time, she became increasingly interested in how artists influence community. She took that interest and turned it into advocacy – first on the Olympia and Washington State Arts Commission Boards, and now as Vice-Chair for the Olympia Artspace Alliance.
Jean is now retired from Evergreen, but she's not done teaching. I had the pleasure of getting a mini-lesson during our visit on the need for safe, accessible studio space in downtown Olympia. She knows well that not every artist is as fortunate as she is when it comes to space to do their work. Her studio is well lit and well ventilated, with inspiring views of her garden and the water beyond. But she doesn't take it for granted and wants to ensure that all artists in our community have access to safe and inspiring places to create.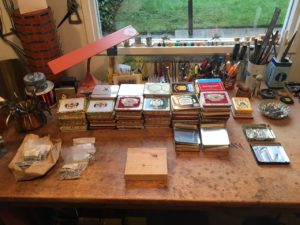 Jean's work with the Artspace Alliance is around increasing access and awareness for the needs of our artist community. In their 5th year, they see themselves as a bridge between artists and landlords, advocating for things like ventilation, light, maintenance, storage, sound proofing and safety. The need for appropriate and safe studio space feels even more relevant after last year's Ghostship fire in Oakland. Jean says, "People suddenly realized what's at stake for artists when we just patch together where we work."
The Alliance also sees itself as a means for artists to connect with one another. According to Jean, "There really is a strong artist community in Olympia. We mostly leave each other alone to do our work, but when we need each other, it's nice to know where to look."
To keep building those connections, the Alliance recently conducted the first of what they hope will become an annual survey of studio space downtown. They started with 13 buildings they were aware of and asked artists what their spaces are like. They discovered that there is more studio space than previously thought, but much of it was not designed for creative work and Jean says, "We can do better."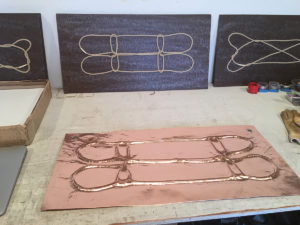 At the "Art Needs Space" Community Forum on April 20 at the Washington Center for the Performing Arts, Jean and the Alliance will be taking what they see as a step toward creating those improved spaces. They will be presenting the results of their survey, with discussion and Q&A facilitated by Board Chair Kris Tucker. Heather Joy, the Manager of Spaceworks in Tacoma, will also be presenting about their unique joint effort of City of Tacoma & Chamber of Commerce to provide both studio space and professional training for artists.
Jean is looking forward to the conversations that come out of the Forum, sharing, "There's a lot of change going on in downtown and I happen to think, as somebody who's lived here for a long time, that a lot of that change is really exciting and encouraging, especially if artists and designers and makers in town influence it and let their needs be known. We hope that we can help be a voice and an advocate for they would like to see here."
Jean hopes to see a good turnout from the artist and non-artist community alike. She believes it's important for all of us to support working artists, both during spring and fall Arts Walk, when their work is being highlighted, but also year-round. She says, "Some of our effort is just to highlight the activity of people who are working quietly, patiently, for long periods of time here."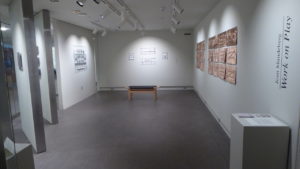 Though Jean is clearly passionate about the work the Alliance is doing in Olympia, she's equally invested in her own art. She recently finished installing an exhibit of her current series, "Work on Play" at the University of Michigan, which is where she did her undergraduate studies. The work is visually about games, but the content explores the manipulation of rules – who makes the rules, who changes the rules and how to bend the rules, as well as who cheats and why.
According to Jean, "There's a playfulness that I think artists bring to their world that's about creative imagination, that's about imagining possibilities. And I hope that the playfulness that this show highlights helps people shift their thinking to see things that they didn't pay attention to before."
The show allowed her to bring together several bodies of old and new work, from mixed media, to large format enamel on copper. One large installation is made up of copper rubbings of string figures – another image of play that's present all over the world and that Jean finds compelling. She says, "On the one hand they're really simple, it's a piece of string, on the other hand they're very complicated. Mathematicians study these."
The work also includes a certain amount of repetition, as Jean believes that play requires repetition. She says, "That's part of learning, that's part of winning, or part of thinking you can win. It's part of getting it right and seeing what happens next."–
The show also includes photos of her home studio, as it comes as no surprise that Jean wants to remind people that there needs to be a space where the work gets made.
Her show in Ann Arbor runs through April and she says, "It was a real pleasure for me to be able to return to the University of Michigan as an accomplished artist and to have a show, and it was a delight to see my work in a different space, in a different location, with a different audience."
Though Jean has no current plans to show her work locally, she has lots of ideas percolating, and I for one look forward to seeing what's next.