Obviously, there will be a change in seasons as the Oly Town Artesians transition to a new league, going from winter to spring as they continue to play soccer. And there will be a change in venue, moving from indoor to outdoor.
But for Ray Finn, coach of the Artesians, the results will be the same as they transition to a new league. It's still all about having fun.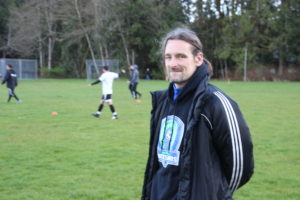 "This is pure joy to me," Finn said as he watched his players scrimmage at a recent practice. "I love this. It gives me a lot of joy to stand out here and coach."
After reaching the semifinals in the indoor Western Indoor Soccer League in late February, the Oly Town Artesians will play their first game in the outdoor Evergreen Premier League on April 30. Their first game will start at 2:00 p.m. against Yakima United at The Evergreen State College. For season tickets, visit www.olytownfc.com.
"It's a solid league," Finn said. "The level of play is going to be high."
Finn should know. He grew up in New Jersey where he played in some of the area's top leagues before shifting to coaching soccer. Then several years ago he made an important phone call. He called John Purtteman, the head coach at Evergreen. And that's how he became an assistant coach at Evergreen.
For the past couple of weeks, Finn has been holding tryouts for the new outdoor team. Many of interested players were on the Oly Artesians indoor team, helping in this transition.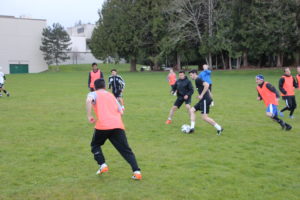 "That has definitely helped," Finn said. "We have a core of guys who are in. It's made it easy to start. It's helped us get things going. Having the Pavilion has allowed us a place for training. That's been beneficial, too."
Finn figures he'll keep between 18 and 20 players on the roster.
The motivation for many of the players is simply an opportunity to continue to play a sport they love to play. For others, it's a chance to springboard to a higher league. For Kyle Wiese, who played soccer at Evergreen, it's all about an opportunity to continue to play a game he's played all his life.
"I just want to continue to play at a high level," Wiese said. "I want to continue to play here. We get some players who maybe didn't get to the play for the team they wanted to and they come here for a year and get some more experience and get picked up by that team or someone else."
Nate Boatright is another player on the Oly Town Artesians with a local connection. He was an all-state player at Capital High School. After graduating from Capital in 2011, he played soccer at Evergreen. Now, the Oly Town Artesians give him a chance to keep playing soccer. But it's not just about kicking game winners.
"I would argue that the biggest part personally is to be able to play with guys from Olympia from different generations," Boatright said. "That's really cool. I enjoy that."
For Wiese, it's also not just about scoring goals and winning games. It's about staying active and making friends.
"The camaraderie you have with your teammates is something that's hard to find elsewhere," Wiese said. "I've made a lot of good friends in the past couple of years playing soccer."
Besides the challenge and competition, there's a high five with a friend. "That's correct," Wiese said. "It's a lot of fun."
Finn, who is in his early 40s, will still scrimmage with his players, but he's not dreaming about playing in another higher level league.
"The ship has sailed for me," said Finn, who is manager of the Evergreen gym. "I love what I do here. I love being John's assistant at Evergreen. I love coaching this team. It's been awesome."
During the recent tryouts, Finn had an unexpected candidate – John Purtteman. He's been coming out, playing and scrimmaging. And at 54, he still has the moves, stamina and speed, but he did Finn a favor. "He withdrew himself from consideration," Finn said with a smile. "He's doing me a favor. He's on the cusp of making it. He played really well in the tryout."
But Finn knew there'd be a glitch in keeping him on the team.
"It was always going to be a challenge to ask guys to sub out for a 54-year-old," Finn said with a chuckle. "It would have been something I'd be happy to do. I play with John regularly. He's quit effective still."
Finn is busy creating a community of support for the Oly Town Artesians, finding sponsors to pay the bills and players to score the goals. It's a busy and rewarding job.
"I love it," he said.
Info about the outdoor season is available by visiting www.olytownfc.com/tickets. Oly Town Artesians practice at The Evergreen State College on Mondays and Wednesdays evenings for two hours, starting at 6:30 p.m. Games will be played Saturday and Sunday afternoons.