Submitted by The City of Olympia
Explore the creative and spirited arts community of Olympia, WA and help celebrate our 54th Arts Walk! Olympia is home to a vibrant mix of musicians, filmmakers, writers and visual and performing artists. Arts Walk is the largest festival of this type in the region – an unparalleled opportunity to embrace the arts and meet the artists! Dates for the event are Friday, April 28 from 5-10 p.m. and Saturday, April 29 from 12-8 p.m.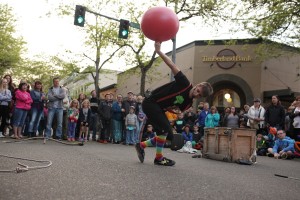 Arts Walk brings together 115 businesses and over 400 visual and performing artists with over 30,000 visitors in Olympia' historic downtown as they welcome the arts in all forms during this twice-yearly event. 
Meet artists from all career levels: pre-school through professional.
Listen to a variety of live music including Old Time Country Tunes, Samba, Mbira Music from Zimbabwe, Jazz Blues and Funk.
Learn to Yoga Trapeze, make Fish Puppets or Banana Slugs at the many family arts activities.
Check out a Screening Festival, live Sand Sculpture, Puppet Shows and Shadow Play, The Seattle Rock Orchestra or the Poetry Workshop.
Take in impromptu street performances, all kinds of dance and of course, exhibition of fine art from photography, painting and drawing to sculpture, textiles, ceramics, printmaking and more!  
The festival also includes the spectacular Procession of the Species, an artistic and environmental celebration presented by Earthbound Productions, procession.org. The event is a colorful and joyous street pageant using the languages of art, music and dance to inspire cultural appreciation, understanding, and protection of the natural world; the Procession begins at 4:30 p.m. on Saturday. Due to the popularity of the Procession, it is extremely important for individuals to pay close attention to street closures and tow away zones.
The Arts Walk map cover this spring features Aquapia, a celebration of the rain created by Loralin Toney. Aquapia is a fanciful mythic figure embodying an aspect of Olympia. The work is porcelain with copper, wood and glass. A fan of the Symbolist and Art nouveau movements, Loralin produces her own mythic creations in the woods of Tenino, WA. She currently shows her work at a local artist co-op, Splash Gallery. The 2017 Spring Arts Walk cover piece will be shown with its sister sculptures in a series called, "Rise", at the Splash Gallery (location #5 on Arts Walk map) from April 28 through May 28.
Arts Walk is sponsored by the City of Olympia Parks, Arts & Recreation Department and Olympia Arts Commission, with support provided by ALAFFIA, Art House Designs, Capitol City Press, Capital Heating & Cooling, Heritage Bank and MIXX 96fm. Arts Walk maps are available at participating locations after April 14, and at Olympia City Hall, 601 4th Ave. East and The Olympia Center, 222 Columbia St. NW. A digital map will be available after April 14 at olympiawa.gov/artswalk. For more information, contact Olympia Parks, Arts & Recreation at 360.753.8380.