The Tumwater High School dance team participates in a number of fundraisers throughout the year. The large majority of the time these events are used to support the team's travel expenses as their seasonal schedule is colored with a variety of competitions.

The next fundraiser, however, should be dedicated solely to the purchase of a new, larger trophy case because there's no way the one the Thunderbirds currently have can comfortably house all the additional hardware the squad recently picked up.
In yet another extraordinary display, Tumwater swept all three divisions it competed in at the 2017 Dance/Drill State Championships on March 25 at the Yakima SunDome, claiming top honors in dance, hip hop and pom.
"The weekend was amazing. The team was focused and driven," coach Kim Hille said. "They wanted the trifecta and they worked to make that happen."
The strong showing at the state level is nothing new for the T-Birds as the team has now won at least one state championship in each of the past 11 years.
The decade plus of dominance at the state championship features a combined 24 state titles since 2007. The breakdown includes nine pom, eight dance and seven hip hop.
The program upped the ante at this year's state meet, posting scores of 298.7 in dance, 298.6 in pom and 288 in hip hop out of a possible 300.
"It is the highest score I have ever seen," Hille said. "Our highest was 289 up until last weekend. I wasn't sure it was even possible. The team was ecstatic. We knew we won the three divisions before we got our scores. When I told them (the scores) they all broke down crying tears of joy."
The T-Birds earned superior ratings in all three categories and were the only team to receive the honors in both hip hop and pom.
"No words can explain it. They were so happy that all their hard work and effort paid off," Hille said. "On the bus ride home, they were already talking about what we need to do next year. I am not certain we can score that high again, but we are going to enjoy the moment now and celebrate our success."
It's been a whirlwind March for the team as the state championships came on the heels of Tumwater's appearance at the Contest of Champions Cheer Nationals at Disney World in Orlando, Florida.
Competing against the top high school dance and cheer programs in the nation, the T-Birds more than left their mark, placing in the top four in four divisions.
The team finished second nationally in hip hop, third in pom and fourth in both contemporary and kick. Tumwater's previous best placing at nationals was an eighth place in the hip hop division in 2015.
"Nationals was an incredible experience," said Heather Lapham, whose daughter, Kyler Reid, is one of four captains on the squad. "The team got up early each morning to run and practice before most of the parents were even up. We knew they felt really good about their routines because they came off the floor with so much happiness on their faces."
In addition to Reid, Tumwater team captains also included Rachel McDaniel, Tia Matautia and Katherine Welch, while the remainder of the roster includes Peyton Stephens, Chloe Boyer, Morgan Schlottmann, Emma Gonzales, Mary Kate Parsons, Katherine Smith, Kaitlyn Yeager, Nalani Matautia, Jane Lowery, Mia Laposky, Isabel Armour, Ethan Bryant, Maddy Martinez, Delaney Roy, Taylor Pease, Rachel Tilson, Hailey Crawford, Jordyn Kelley, Kiersten Tarter, Alie Horton, Kiana Fontaine and Natalie Williams.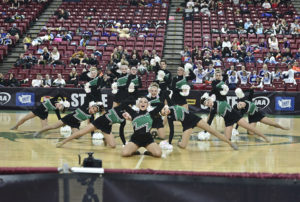 "We have tryouts in May and start all over again," Hille said. "I have a strong group of eighth graders coming up so I am excited about them. Our Tumwater Dance Program, which includes Tumwater Parks and Rec Midway and Junior Dance Teams, Bush Falcon Dance and Tumwater High School Dance, have come a long way, especially in the past three years. I can definitely see a difference in the team because of the experiences we can provide when they are younger. It is exciting to watch."
Local Teams Shine at State Dance/Drill Championships
Tumwater wasn't the only local high school to enjoy a successful state dance/drill championships as Capital, River Ridge, North Thurston, Black Hills and Timberline all were recognized for their performances.
Capital took home two second-place finishes in the 3A classification, finishing as state runner-ups in both military and pom. The Cougars received superior ratings in both divisions, collecting a 285.5 in military and 288.5 in pom. They also earned an exceptional rating (255.7) in dance.
River Ridge was second in the 2A pom division with an exceptional rating of 251.1. The Hawks also received a good rating in hip hop (204).
North Thurston received an exceptional ratings in 3A pom (248.8) and excellent ratings in kick (234.3) and military (224.25). Black Hills posted a trio of excellent ratings, earning the honors in hip hop (215.40), kick (215.65) and pom (215.3).
Timberline earned an excellent rating in hip hop (220.8), while junior Carolynn Torve-Williams was the state champion in the drill down competition. Teammate Breanna Dorling finished third in the event.