Living in Washington, you may feel that coffee is coffee and a pastry is a pastry. You choose where you get your caffeine fix based on location more than anything else because it may seem offers the same thing. However, nothing is 'standard' at Olympia's Drip Espresso Bar. Besides using the local favorite Batdorf & Bronson coffees, the downtown coffee shop specializes in unique, house-made items crafted from high quality ingredients that will make your taste buds sing.
If you have never tasted the difference between from-scratch bakery items and those that are mass produced, you are in for a real treat. Since Drip Espresso Bar owners Robin Vaughn and Maria Meconi are also affiliated with Meconi's Subs, they are the only coffee shop in the area with their own dedicated bakery. This allows them to serve up fresh baked goods daily that not only tastes good, but are made from the best ingredients they can find.
"When we opened, we didn't want to cut corners and be that '32 ounce, super sugary,' place." Vaughn says. "We wanted to go the other direction and be more hand-crafted, serving only the finest items made with the best ingredients." This included using local and organic ingredients whenever possible.
Delectable Delights
Everything in their pastry cases is house-made. Along with coffee house staples such as breads, scones, muffins, croissants, donuts and cupcakes, they offer seasonal favorites as well.
"It's awesome that we are 'all in the family,'" says Jenn Harrington, a barista at Drip. "We have our own exclusive baker that no one else has. Plus, it's fun that we have an ever-changing menu of seasonal items. The owners are constantly experimenting to bring customers new items, which is so nice. Yes, we have the items everyone expects to find at a coffee shop, but we will surprise you with unique items you won't find anywhere else."
One signature item is the yogurt and granola. The scratch-made granola is a blend of oats, organic honey, coconut, almonds, coconut oil, and house made vanilla extract. "We used to buy our granola but the supplier was always running out," Meconi says. "That's when we said 'hey, we are resourceful, let's do some research and make our own.' It really makes a difference in taste to have it fresh."
To make the house-made vanilla, whole vanilla beans are infused in jars of alcohol for six to eight weeks to extract the flavor. Vaughn and Meconi researched and discovered that, like wine or coffee, there are many types of vanilla beans with different flavors depending on the region they are from.   "We use a blend of Madagascar and Tongan vanilla beans because our daughter is part Tongan," Vaughn says. "I personally prefer the Tongan, it has a bolder flavor than the Madagascar and is less sweet."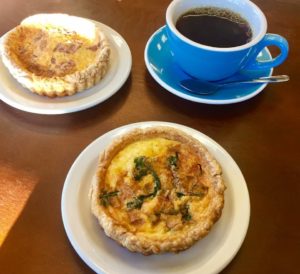 Seeking something savory? The ham and Swiss and bacon and cheddar croissants, quiches (vegetarian option available daily), and new hand pies will do the trick. Hand pies are best described as a gourmet hot pocket says Harrington. These items were created to offer quality options for quick meals.
"We really wanted to create something that was easy for people to 'grab and go,' but was still a hearty meal," Vaughn explains.
With their own bakery, Drip's owners can take customer requests and create a menu based on customer preference rather than what a wholesaler is selling. For this reason, they now offer gluten free options including donuts (seasonal), cookies and their famous raspberry bar. Katie D., a Drip customer, says, "The raspberry bars are refreshing and delicious, with just the right amount of sweetness. It's hard to believe they are gluten free."
Another popular item is their stellar coffee cake, which the baristas admitted is their favorite pastry item.
Artisan Coffee with House-made Flair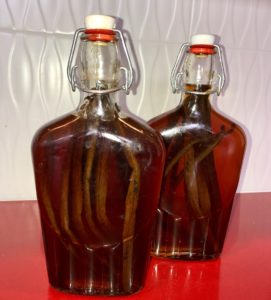 Drip Espresso Bar serves locally roasted Batdorf & Bronson coffee because the two companies share the same passion for quality.  "I've worked at a lot of coffee places and you can't go wrong with Batdorf because of their high standards," says Robin Houde, a barista at Drip. "You never have to worry about the quality."
For those who like a bit of sweet, Drip is famous for their house-made syrups. House-made syrups include vanilla and honey-vanilla, which are always available, along with seasonal offerings such as Irish cream and pumpkin spice, made with organic pumpkin. "The syrups are really savory and full of flavor, instead of being overly sweet," says Vaughn. Other syrup flavors are from Monin, a high-quality brand that does not use artificial flavorings.
For iced coffee lovers, Drip Espresso Bar has a specially brewed toddy, handmade in small batches. Ground coffee beans sit in cold water overnight before being strained, creating an iced coffee concentrate that is smooth and never watered down by melting ice. "You are left with this concentrate that is amazing," says Vaughn. "The process gives you a much more in-depth, rich flavor and strips all the bitterness out of the beans, so it's super smooth." Their cold brew can be served by itself or used in blended frozen drinks.
While there are many places you can get coffee, Drip Espresso Bar offers quality ingredients and house-made, unique flavors you won't find elsewhere. One sip or bite will change your expectations for your regular coffee shop. "It is always delicious with lots of variety," says customer Emma M. "They don't just speak coffee lingo, they're making their own dialect."
To taste the difference for yourself, visit Drip Espresso Bar on Facebook, call 360-870-5207, or stop by their location at 1018 Capitol Way S, Olympia. They are open 6:30 a.m. to 4:00 p.m. Monday-Friday.
Sponsored