There are many first signs of spring in Thurston County including the blooming buttercups that begin to align yards and the sun finally peeking through the rain clouds. Another sure indication is the sound of joyous children playing at the park in the middle of the day because they are all on spring break. Not sure what to do with your children for a whole week? Keep those kids entertained all break long with some seasonal fun in virtually your own backyard.
Day Camps for Kids

Our local parks and recreation departments are aware of the struggle that many families go through to keep their kids busy during break especially when many parents do not have the time off. Check out the day camps available at both Lacey Parks and Recreation and Olympia Parks and Recreation. Day camps include outings to some of the best local parks, Lattin's Cider Mill, Northwest Trek, mini-golf, Point Defiance Zoo and more. Both recreation department camps last from 7:30 a.m. – 5:30 p.m., ensuring your child is enjoying an exploration of the world around them all day long. Be sure to register for these activities as soon as possible as they tend to fill up fast.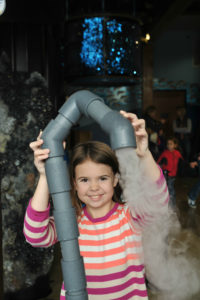 Camps will also be available throughout spring break at the Hands On Children's Museum. Museum members get a discount on the camps, which are either half-day or a full-day in length. There are age groups of three-kindergarten and 1st – 4th grade. The youngest group of kids will get to experience fairy tales through crafts and stories. This age group may also attend a camp titled, "Splish, Splash, Splosh." This camp is all about water play. For elementary-aged students, the camps available even include learning gardening skills and inventing toys!
All of the Boys & Girls Clubs of Thurston County are offering day camps during spring break. A breakfast and afternoon snack are provided each day. Drop in times begin at 10:00 a.m., but for an additional fee, parents can drop in as early as 7:00 a.m. The structure provided will include play, crafts and activities. For more information and registration forms visit the website for Lacey, Olympia, Tumwater, or Rochester branches.
For more details on a variety of spring break camps, click here.
Outdoor Activities
If the weather is cooperating, head outside. Thurston County boasts some of the most beautiful parks, hiking trails and beaches in the Puget Sound. Enjoy the lush green of spring before summer hits with this expedition guide. Bike your way through the Capitol State Forest or paddle your way around our spectacular waterways by kayak.
Want to learn to be a master gardener? Attend a class with the WSU Master Gardeners of Thurston County over break. Admission is $5, and classes include learning to grow fruits and veggies, container gardening, pruning, composting and more. This learning experience is open to all gardeners with a variety of experience.
If the sun is shining, that means it is time to go out and play. Take the kids to some of the best playgrounds in our area. Many of them include a variety of play toys for children of all ages. The best part about this activity is that it is completely free.
Indoor Fun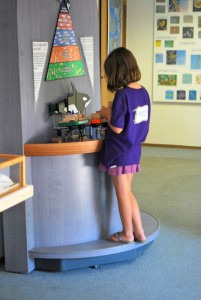 Rain showers got you down?  Have fun inside.  Prep for Procession of the Species by working on your costume.  The Community Art Studio lists open studio hours.  Staffed by volunteers, you can get help making your creation.
Explore a local museum during spring break.  Your kids may not even recognize they are still learning even when school isn't in session.  Our Thrifty Thurston article about local museums includes details on what you can expect when stepping inside each cultural space.
Boomshaka will be overrun with kids during spring break but it's still an excellent way to shake off the extra energy.  Learn more about the trampoline fun house here.
Bookend your spring break with an indoor visit to the South Sound Estuarium.  Open on weekends, the marine life discovery center features aquariums, interactive activities and interpretive exhibits. It's convenient downtown Olympia location also means easy access to the Olympia Farmers Market.  The market shifts to being open Thursday – Sunday from 10:00 a.m. – 3:00 p.m. on April 6.
Day Trips
If you are lucky enough to be home with your family during this week but do not want to break the bank, check out one of many day trips in our area. Explore the awe-inspiring Hood Canal with just a short drive north of Olympia. The hiking trails found there are some of the best in the Olympic Peninsula.
Head west and dip your toes in the sand in Westport. This little beach town has a lot to offer. Stunning state parks, shopping, breweries and wineries can all be found there. The best part of your visit will include taking in the crashing waves and the sounds of calling seagulls as you perch upon a piece of driftwood. It is a go-to place for relaxation on a nice day.
For more spring break activities, check out ThurstonTalk's event calendar.