The Washington Center for the Performing Arts is proud to welcome Black Violin for a one night only performance on March 28 at 7:30 p.m. on their Main Stage located at 512 Washington Street SE. Along with the evening performance, The Washington Center has arranged for a special student-only matinee on the same day featuring music and an educational talk by Black Violin.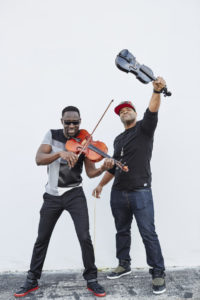 Attendance for the performance is arranged through the Olympia School District and is part of The Washington Center's Creative Connections program. Creative Connections was created to provide educational outreach performances to students of all ages in the Olympia School District. The program allows The Center to apply for grants and offer two to three educational opportunities a season. Thanks to funding, these events are extremely affordable, with tickets just $2 to $4 per student.
In January of this year, students were invited to the "Wonderful World of the Wurlitzer Organ" concert at The Washington Center. 450 elementary students came to hear the organ live and then learn about the amazing instrument. Also this year, they had their most involved program yet, a dance workshop that happened over four weeks. Performers from BodyVox in Portland visited Olympia to work with a group of high school students, the Boys & Girls Clubs of Thurston County, and local dance studios. When it was time to select a third student event, Black Violin seemed a natural choice.
"Jill Barnes, our executive director, has had her eye on Black Violin for a while," says Michael Cordier, marketing director for The Washington Center. "They came to Tacoma last year and did two shows and they were very successful, sold out shows, so she knew it was the right time to bring them to Olympia as well as to get them in front of our school children."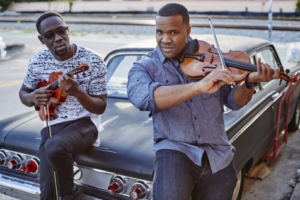 Wil-B, viola, and Kev Marcus, violin, the musical duo known as Black Violin, will be playing from their new album, Stereotypes and talking to the students about the importance of overcoming adversities, sticking with your dreams and, of course, the importance of musical education for every student.
"It's important to show kids, not only that there are successful performers who have gone through trials and tribulations, but that there is a strength in combining two things that might not seem very similar at first," Cordier explains. "When you think of hip hop, you don't instantly think classical music, for example, but the resulting mix is incredible."
Students will hear the duo's story, including why they decided to merge the classical and hip-hop genres, and who it connects to their journey as black men growing up in America.
"We really love the reaction on the kids' faces during our concerts," Kev Marcus says. "It's one of the only times where you could see kids and teachers on their feet dancing to the same song. It's truly a sight to see. We are beyond excited to come to The Washington Center and perform for everyone."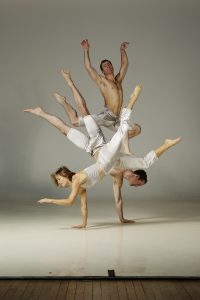 In addition to the performance, Black Violin provides faculty with a music study guide that includes information about the group and their mission, why studying music is important and worksheets and lesson plans for use in the classroom.  Black Violin loves to involve kids in their work and often have student orchestra groups playing on stage with them.
"We feel it's important to perform for kids because it allows them to see something they didn't believe was possible," says Marcus. "Our show is not just about exposing children to different types of music, it's about allowing them to see the world from a different perspective and to encourage them to think outside of the box.  Ultimately, we want kids to leave a Black Violin show feeling entertained, educated, and inspired."
Two hundred students from sixth through twelfth grades have already signed up to attend the Creative Connections educational performance. If your school is interested, there is still time to sign up, but you need to contact The Washington Center immediately and fill out their educational outreach packet. Home-school groups are welcome as well. They will be taking forms up until the week of the performance.
Although this is the last student event for this season, Cordier says they are really hoping to grow and expand the Creative Connections program as part of The Washington Center for the Performing Arts' mission.
"We have many parts of our mission, but one that Jill Barnes really wants to grow is our education component," he says. "We want to take these terrific, world-class performers that are already coming to The Center and get them in front of classrooms, the senior center or in front of students through our stage – whatever manner is most appropriate to engage in that work for the community. We are the local performing arts center and we want to be a resource for education."
The public evening performance is all most sold out, with 800 of the 900 available tickets already purchased. Tickets can be purchased here.  They do have a waiting list as well, so if you are unable to get tickets and would like to be on the list, contact the center directly via their website or by calling 360-753-8586. For more information about Black Violin, visit their website.
Sponsored