If you have a dog with lots of energy and no easy way to burn it, you may want to check out flyball. Although the sport has been around since 1984, it has not enjoyed the popularity of other dog sports like the ones focusing on agility or disc dog. Recently, however, the sport has started to gain more momentum as owners find it is a great way to exercise their dogs while having fun. Sue Lynch is the team captain of Puget Hounds Flyball Club, the only club of located in Thurston County.
"It's a really fun sport that let's dogs be dogs," Sue says. "They get to bark, run as fast as they want, and play with toys. It's very positive. And for me, I like that it's a team sport. I've done a lot of other sports with my dogs, and they all require individual participation. I like the camaraderie that comes with flyball."
Sue got started in flyball a few years ago when someone in her local agility club suggested they all head that direction. Originally, Puget Hounds was based in Seattle, and so Sue, along with some other dog owners, drove to and from Seattle each week for practice. "Soon, there were more of us driving to Seattle than there were people from the area, so we split into north and south clubs," Sue explains. "Now just our club remains." 
Flyball is a team sport comprised of four to six dogs each. The actual game involves a relay match race with four dogs on a team. Two teams race side-by-side over a 51-foot course. Each dog jumps over four hurdles, leaps onto the trigger box at the end, releasing the ball they must catch, and then returns back over the jumps with the ball still in its mouth. The next dog in the relay is released before the other dog finishes, but it cannot cross the start/finish line before the dog currently on the course. This involves crazy timing on the part of the handlers, who have to release their dogs at precisely the right time. They want the fastest time for their dogs without a fault along the way.
Tournaments are grouped into races with each having heats. In one day one dog could run 30 times. This is why the handlers have extra dogs on their team – they are allowed to switch dogs out to give them a break during the tournament. There are two types of points given. First, the tournament points establish placing and awards at the event. The other points are earned individually and go toward titles that a dog can earn with the North American Flyball Association (NAFA).
Does Your Dog Have What It Takes?
"The events are loud and exciting," Sue says. "Not only just because of the noise of the trigger boxes, but also the people cheering and the dogs barking add to the chaos. The dogs that participate really do love it." Of course, not all dogs love such things. She says that because of the noise, sound sensitive dogs do not enjoy flyball. Surprisingly, however, a dog does not have to love to fetch, or even know how to do it, to learn the game.
"We can teach a dog to fetch," Sue says. "What's important is whether a dog has a really high food or tug drive." This is because, with all the distractions going on around them, the hardest part of the sport requires teaching dogs to run back over the jumps to their owners after retrieving the ball. For most dogs there is a lot of temptation to take the ball and run around, chase the other dogs, etc. That does not even take into account having to run straight at another dog that is coming to start his run.
While herding breeds may be a natural choice for this sport (as they are for many), any breed or mix of dog is allowed to compete, and many are successful at flyball. The Puget Hounds have a wide range of breeds on their team including mixes, Australian shepherds, cattle dogs, Great Danes, Dobermans and Corgis. Sue says that one Great Dane, Trooper, is famous in the region and is a beloved member of their team in spite of the fact that he cannot turn or run as fast as a smaller dog.
How to Get Involved 
As far as dog sports go, flyball is one of the most inexpensive in terms of training. The Puget Hounds meet every Monday at 6:00 pm at Fido's Farm in Olympia. To start, they offer a six-week introduction class for $100 that Sue teaches, where you and your dog will learn the basics of the sport including how to do what Sue calls the "swimmer's turn" on the trigger box.
"Learning how to turn correctly is really important because the dogs can get injured if it's done incorrectly," Sue explains. "They are running hard and fast at that box and need to know how to trigger it properly."
Although a trigger box is quite spendy, Sue shows owners how to make a turning board to practice at home that she says typically costs only about $20.
After the six-week introduction, the team may invite you and your dog to join. Sue says that in the past they have pretty much invited everyone who goes through the training to participate. At that point, practice on Monday nights costs just $5.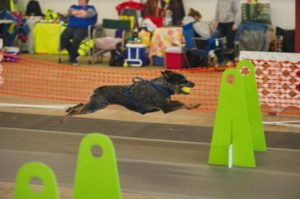 The region that Puget Hounds belong to runs from British Columbia through Oregon with many of the tournaments being held in British Columbia and Salem, Oregon. As a result, the major expense is travel (gas, food, hotel rooms). The cost of entering is only $110 for each day you compete per team, so when split between six people, it ends up just above $18 a person.
If you are interested in watching a competition, which is almost as fun as actually participating, they have an upcoming local tournament at the end of May in Bremerton. For more information, contact Puget Hounds Flyball Club via their Facebook page.