Scott Carey came to Brian Delay with a story. One of his clients was an older woman who had fallen on hard times. His general contracting company, Caretek, had been commissioned to create a small cottage for her but he needed to keep costs as low as possible.
Delay, owner of VJ's Bargain Barn in Rochester, didn't hesitate. "Once I told him what was going on he decided to pitch in the flooring and carpet at cost," says Carey. "He's a solid, honest guy. He's won my business and my loyalty."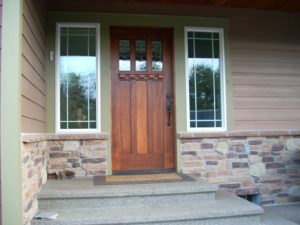 Carey uses VJ's for many of his company's projects, passing the savings on to customers who are working with limited budgets. "The majority of our revenue is generated by remodels," he says. "We get as many materials as we can from Brian and also recommend him to our customers." Caretek purchases everything from kitchen and bathroom installations to cabinets, windows, floor coverings, and carpet from VJ's.
The Bargain Barn offers new building materials purchased at a substantial discount based on minor flaws such as scratches. Much of the stock is also comprised of surplus inventory or orders gone wrong, which allows Delay to sell items like windows at dealer cost. Carey advises taking the time to thoroughly examine what's available in the store. "If you walk around long enough, you can find everything you need to buy for a home," he says.
The resulting savings can be a lifesaver for local couples, like the senior citizens Carey recently built for who had to downsize due to a reduced income. "They were retired and living on a fixed income and the husband had cancer," says Carey. "We built a 700 square foot house for them and were able to meet their budget. Shopping at VJ's saved them thousands of dollars."
In a similar case, another older couple on a fixed income needed to downsize to a two-bedroom home. "I told them, 'Here's how we can cut costs,'" says Carey. "They were incredibly satisfied with the house." The regional economy is rebounding, but housing for seniors remains at a premium, meaning that such scenarios are likely to repeat.
Caretek also works frequently with landlords. "I tell them to make VJ's their first stop," says Carey. "Their competitive advantage is that they can save people a ton of money. It makes me look good when I can pass that on to customers and other contractors." Many of those clients are repeat customers that returns to both Caretek and VJ's when they need another remodel, help with a rental or materials for a new home.
Delay started in the business during high school, when his father Vern owned the store along with his friend Joe. "They started it back in the 80's with each of them putting in $5,000," says Delay. "My dad was a purchasing agent at a mobile home factory and Joe was in charge of assembly at a local plant." When the factory closed, Vern had the industry connections, and knowledge of the common practice of throwing out surplus building materials, to start VJ's.
Carey remembers those days. "When his father owned the company back in the early 90's, what I remember about Brian is his really long hair and his mullet," he chuckles, although Delay firmly maintains his hair was feathered, not a mullet. "That, and he's always had a wicked, funny laugh."
In the early days, rent at the Rochester site was just $400 per month, and low cost has remained a factor keeping VJ's in its original location even as the store has expanded. "Now that this building is paid for, we don't dare move," says Delay. "I'm 20 minutes from a few different towns, but if you come to us, it's worth the drive."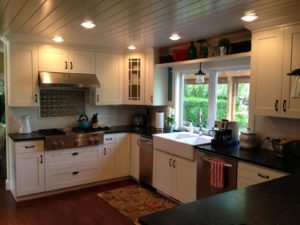 The elder Delay sold the business to his son in 1997 and moved to Arizona, where he's kept his hand in the industry. "He retired from here and went and built houses," says Brian. "He's probably built between 200 and 300 houses in Bend and Lake Havasu."
The company has grown tremendously since Vern and Joe started it with two sawhorses and a piece of plywood and Delay continues to stock new and in-demand products. His reputation keeps spreading thanks to loyal customers and word of mouth. "My advice to people is to make VJ's your first stop if you're remodeling or renovating," says Carey. "We literally make it our first stop. It's going to save you 35% on building costs."
VJ's Bargain Barn
6525 – 196th Avenue SW in Rochester
800-600-6903
Hours: 8:00 a.m. – 5:30 p.m. daily
Sponsored