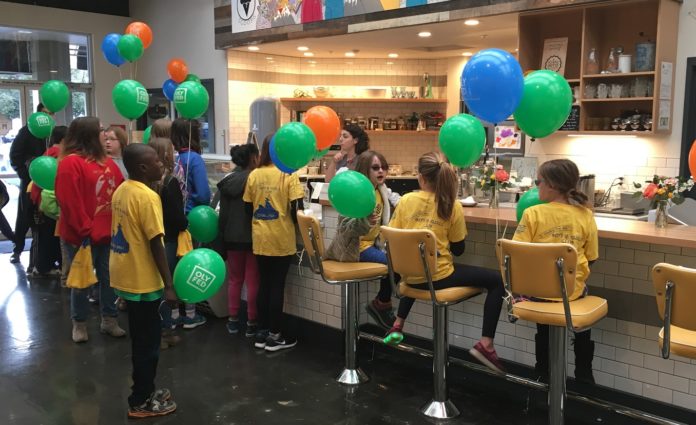 Forget flash mobs. Olympia Federal Savings (Oly Fed) has come up with something even sweeter. On Thursday, February 23, they hosted a "Cash Splash" at Sofie's Scoops in downtown Olympia's new 222 Market where they surprised members of the Olympia Boys & Girls Clubs of Thurston County with free gelato. The quick event was created to be a "celebratory shopping spree" that simultaneously thanked an Oly Fed commercial business customer and helped a local non-profit. This will be the first of many Cash Splashes hosted by the local bank.
The Cash Splash is just one of the ways Olympia Federal Savings is supporting their new small business offerings. "Our goal is to create a little economic stimulus for one of our business customers while also supporting one of our community's most vital non-profit organizations," said Lori Drummond, Oly Fed CEO.
Lori was a board member for the Boys & Girls Club for over 11 years and Oly Fed has supported them for 15 years doing everything from volunteering to sponsoring their annual events and awards. "I was lucky enough to have my mother around when I got home from school," Lori says. "So, I like to support groups that give kids a safe place to go and that encourages them to do their best. The volunteers are incredible. Their support really helps the kids thrive."
When they decided to host the Cash Splash at Sofie's Scoops, it seemed natural to partner with the local Boys and Girls Clubs. "They have members that come every day to the Club to do their homework and who are role models in the community," explains Ryan Betz, Marketing and Public Relations Manager at Olympia Federal Savings.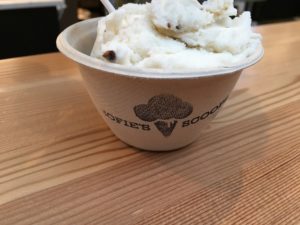 "The Club chooses several of these kids each month to be acknowledged and rewarded with a special treat. We thought this could be a cool way for them to reward these members for their accomplishments in school and the community."
Thirty kids from the Boys & Girls Clubs along with 20 team members of Oly Fed were present, making for a large crowd at the small gelato shop. Oly Fed employees came in early and decorated with colorful balloons, adding to the party atmosphere. The kids had no idea what was in store and the looks on their faces as they entered the shop were priceless.
"I saw my mom sign a field trip form, but she wouldn't tell me where I was going," said one of the girls from the Boys & Girls Clubs of Thurston County. "I've never had gelato. This was a great surprise and treat." Many of the kids had not tried gelato, an Italian style ice cream, and loved every spoonful. The laughter, smiles and talking that filled the store said it all.
"It was such an amazing treat for these kids," says Kym Greene, Branch Director for Olympia Boys & Girls Club. "These kids work very hard and it was wonderful to surprise them with this generous treat."
If you haven't been to Sofie's Scoops, you are missing out. Owned by Sofie Landis and Christopher Proctor, their gelato is made from scratch every day. They even pasteurize their own milk, sourced from a local dairy in Tenino. They have Vegan and dairy-free options available that taste every bit as good as their gelatos made from cow or goat milk. The flavor is incredible – rich and vibrant. Sofie says they rarely use extracts and never anything artificial. You will find flavors here you have never seen at any other shop including lemon lavender and coconut ginger. And, if you leave your email and a flavor you'd love to try, they will email you when they craft it. How's that for customer service?
Christopher and Sofie were happy to serve up the scoops themselves for the event. "The kids in the front of the line were so excited," Sofie says. "They were just all smiles and couldn't stop talking. It was a wonderful thing to see and a great experience. We are so pleased we could be a part of their day."
Going Above & Beyond  
For just about two years now, Oly Fed has been serving business customers through Carrie Whisler and Ken Pekola, two highly experienced and knowledgable commercial banking professionals. Carrie handles small business loans and setting up deposit accounts while Ken deals with commercial real estate, including facility purchases.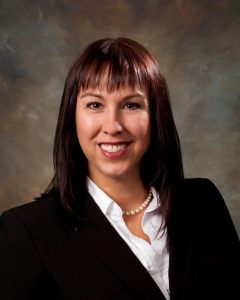 "With our Cash Splashes, we are trying to build awareness for shopping local and the benefits it has for our community and thanking those business owners for what they do," Betz says. "And, at the same time, acknowledging the work of our non-profits and thanking them for what they do as well."
It's another unique trait setting them apart from national banks. "We are different than some financial institutions because we are a local community bank and we have been here for 110 years," Betz shares. "And we are a mutual bank, so we are owned by our account holders."
"For us, as we grow, we want to make the same generous investments into the community that our customers are making with us and so there is a culture of generosity, gratitude and community here at Oly Fed that is unique," Betz adds.
Oly Fed encourages community members to support small businesses by attending future Cash Splashes and making  purchases during the events. It's also a great time to meet business owners and Oly Fed's business team.
For more information about Olympia Federal Savings and upcoming Cash Splashes, visit their website or call360-754-3400. For information on Sofie's Scoops, visit their website or Facebook page. More information on the Olympia Boys & Girls Club can be found on their website or by calling 360-956-0755.
Sponsored