Most days, we are lucky if we remember to breathe. Our lives are typically full of stress, we are busy with family, and time just seems limited. Noticeable more in the winter months, this dilemma leads us to run out of minutes each day and causes us to feel overwhelmed and exhausted. While many of us get busy and sometimes forget to take a moment for ourselves, there is a solution right in Olympia, allowing inner peace to wash over your body.

Yoga keeps stretching the limits of its popularity. People have discovered the benefits of mindfulness and health. Yoga has been studied for decades, and its findings always show a direct correlation between participation and good health. Even Harvard University got in on the action, discovering in a study that being active in yoga helps with a myriad of things. Yoga helps soothe tension and anxiety, lowers your blood pressure, encourages a better body image and even guides you to eat with more focus on your health. While you can do yoga in front of your television, getting out and enjoying the benefits of the community will help you make these positive lifestyle changes for good. Spotlighting a handful of awesome downtown locations for yoga, Olympia can help you find your center and achieve a sense of calm and happiness.
True Self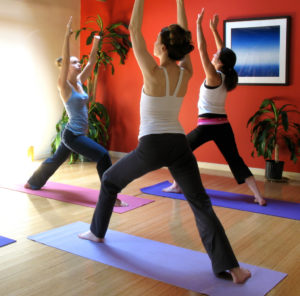 Inspired by mindfulness and passion in order to, as they say on their website, "connect to the essence of our infinite nature which is brilliant and authentic," True Self Yoga is becoming one of Olympia's favorite yoga spots. Providing two, free community classes each week or expecting only a $30 pass for two weeks of unlimited classes along with eight different styles of yoga to try, their studio is sure to make you much more centered after a few weeks there. The staff is passionate, dedicated and incredible, so make sure you stretch yourself out at this location.
Hot Yoga
Literally the hottest place to practice yoga in the area, Hot Yoga Olympia will warm up your mind, body and soul. Set in a room that is between 98 and 105 degrees Fahrenheit, the classes and the temperatures help with seven main areas: an increase in muscle tone, balance, weight loss, stress reduction, vitality, flexibility and strength. Offering an 8-day unlimited pass for just $20 with three to four classes each day, Hot Yoga Olympia will leave you sweating, happy and less stressed.
Yoga Loft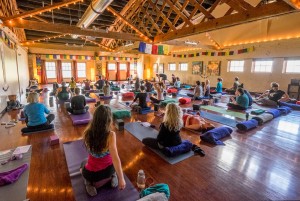 One of the cornerstones of the Olympia yoga scene, the Yoga Loft near Capitol Lake is the perfect place to find a relaxing and inspiring class. What makes the Yoga Loft so perfect for everyone is the wide range of classes they offer. From gentle basics, dynamic flow courses and even one for gentle back care, the Yoga Loft has something for every level of yoga enthusiast. Whether you are just starting out or need to be challenged, their practices each day will leave you feeling refreshed, positive and energetic. Classes cost just $8, with unlimited passes available for $80 a month or $195 for three months. With plenty of light in the room and instructors who inspire, Yoga Loft needs to be experienced.
Oly Yoga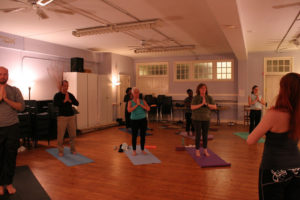 As the South Puget Sound's first yoga studio, Oly Yoga has been helping the community become calm, flexible and centered for over 20 years. What makes this place so great is the community yoga along with an 8-week series, which is perfect for those who crave more structure in their practice. The 8-week sessions (which cost around $80) help you connect with a community as well as ensure you are dedicating yourself to a new activity. The community yoga classes are a great introduction for all because they offer practices that also have a focus on meditation and breathing technique, helping you become calm and centered.
Firefly Yoga
Focusing intensely on you and your needs, Firefly Yoga is a unique and enriching place to find a yoga community. Offering small class sizes so you can get the attention you deserve, Firefly is extremely welcoming to yoga enthusiasts of all levels. Classes are designed to help align your body, mind and spirit, while still allowing you to exude your personality and maintain your comfort level. Offering kids' yoga, chair yoga, back care yoga, as well as gentle, recovery meditation and restorative yoga, Firefly Yoga is an incredible place to start finding inner peace. Drop-in classes cost just $12 while an unlimited monthly pass is $100.
Fusion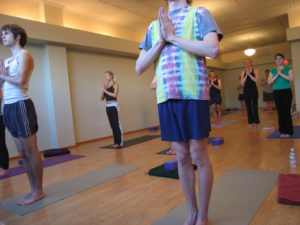 Similar to yoga, pilates is a fantastic way to strengthen your muscles, work on your balance and find a slice of peace in your daily routine. Fusion Physical Therapy and Pilates is where you should go to experience awareness of breath and fluid movement. Pilates is more intense than some styles of yoga but offers the same, if not more, health benefits. Fusion also offers Tai Chi, Zumba and dance classes, providing you numerous options to build a community of healthy, inspiring individuals. Pilates classes are $15 for a drop-in, with eight mat classes costing just $88, making this an amazing deal to find inner peace and increase your health and flexibility.