The plumbers at Olympic Plumbing Technology are experts in the service, installation and replacement of electric, conventional gas, and tankless water heaters. Yet the most pressing question becomes whether to go tankless or not. While Olympic Plumbing Technology suggests to be a partner in the discussion, Ron Boeckmann co-owner of Olympia Plumbing Technology shares his typical response.
"We are frequently asked about traditional versus tankless water heaters. This is a tricky question," he says. "If you are replacing an electric water heater and would like an electric tankless water heater we would advise against it. This is due to the inefficiency of the traditional style for whole home service. There has been great progress in the efficiency of traditional style electric water heaters."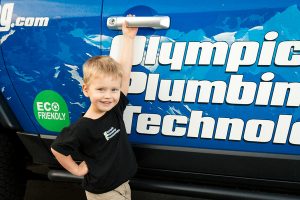 However, when comparing tankless water heaters to conventional gas water heaters, Ron says tankless cannot be beat. "On a traditional tank heater, the temperature is controlled by an internal thermostat. This means that even at night while you sleep your tank could fire up to maintain that constant temperature. You are spending money to heat water that you are not even using. However with the tankless technology, you just heat the water that you are using," he says.
"By heating only what you are using this leads to savings on your gas bill and an endless supply of hot water when you need it. Tankless heaters do require an annual flushing maintenance so you have to take into account the extra money to pay a technician to service the tankless heater or perform the maintenance yourself," adds Ron.
"When customers ask this frequent question, we share our thoughts but always encourage them to do a little investigation on their own to find out what is right for them. Each individual situation is different," he says in summary.
If debating between a tankless or traditional water heater contact the experts at Olympic Plumbing Technology to help pick the water heater that best fits your water usage, lifestyle and budget. Visit their website or call 360-352-5164.
Sponsored