Located in Lacey, just off of I-5 at exit 111, where Martin Way and Marvin Road intersect, you'll find Forrey's Forza. Tucked between Les Schwab and Key Bank, this coffee shop boasts more than just good coffee.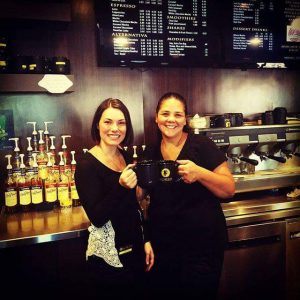 Christine Forrey, owner of the Lacey Forrey's Forza and new Forrey's Forza in Dupont, knows all too well what it takes to run a successful business. Beyond the consistent quality and taste of the handcrafted coffee beverages and home made baked goods, Christine knows that patrons want a little something more. And, you can find that "more" in the wide variety of unique live events, special guest performers and weekly scheduled gatherings for the community. Add a great wine list and beer on tap and you have a neighborhood location perfect for gathering.
One popular event is the weekly trivia night, held every Wednesday. "Trivia nights are a lot of fun. It's a great night for everyone," said Christine. Categories vary and include things like "advertising slogans in other words". This free event is open to everyone, so grab a group for a fun night out or go solo and be paired up with a team. Competition is team against team with 5 rounds of 6 questions each. Prizes are awarded in each round so everyone is a winner! There is also a final prize of a $25 Forza gift card, which everyone can use.
Paint and Sip is Forrey's Forza's most widely attended event. Recently started at the Dupont location, this event allows you to learn how to paint and connect with friends while enjoying a glass of wine or other beverage. "Paint and sip is very successful. We have a full house of 25 to 30 people at the Lacey location and around 25 at the Dupont location," said Christine. Forza offers a $12 appetizer platter and a glass of wine to enjoy. Each attendee is led through the painting techniques taught by Jillian with The Merlot Canvas. The event is $35 and registration must be done online. Guests will get to take home their 16×20 inch canvas at the end of the night.
Do you enjoy live music? Then there's no better place to enjoy free entertainment than at Forrey's Forza in Lacey. "We have live music on the second and fourth Saturdays each month and it's a different group every time," said Christine. Also unique to the Lacey location is Beer and Wine Night, held every second Thursday of the month. Guests will enjoy seasonal brews and each event features local brewers and wine makers to try. Grab a friend or special loved one and take advantage of the $12 special that includes five pours of featured wines, appetizers and chocolate fondue. Appetizer specials include a cheese and cracker plate, meat plate and fruit plate. This night also includes live music to set the ambiance.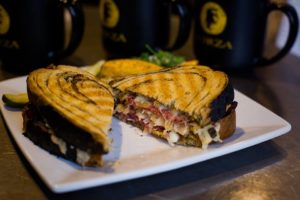 Forza is not just a place to grab a fabulous cup of coffee or a fun evening out. When you visit, come hungry. The Lacey Forza offers a full menu. Popular sandwiches include the beef blue au jus, house reuben, grilled turkey pesto, Mom's grilled beef and cheddar and pulled pork, just to name a few.
Enjoy a caprese or mediterranean flat bread pizza or lighter fare like a cobb salad or classic bleu cheese wedge. Children can order a peanut butter and jelly or a grilled cheese from the kids menu. Do you enjoy breakfast? Breakfast is served all day at this location. Enjoy a breakfast sandwich, burrito, homemade quiche or yogurt parfait.
But really, for many of us it's all about dessert. Forrey's Forza offers their own bakery, making everything from scratch, in-house, fresh and ready for patrons to enjoy. TC Pies and Bakery, named after Thomas, the owner, will satisfy your sweet tooth. Enjoy a slice of one of the many homemade cakes and pies or a fresh cookie. Each month features a "pie of the month", giving you a $1 off a slice of that particular pie.
If that's not enough, the Lacey Forza offers their menu for delivery, dine in, drive thru and catering. In addition, the Lacey location offers a 100-person capacity conference room that anyone can rent for business meetings or group gatherings. The space includes tables and chairs and a presentation screen. With the Forza drinks and food on-site, catering your event is easy. Smaller group? Book the "Board Room" for free and enjoy a private space to gather for up to 16 people.
With so many ways to enjoy Forza, everyone is sure to leave a happy customer.
The next special event on the Forrey's Forza calendar is a Mother's Day Tea for mothers and daughters at the Lacey location.
Stop by the Lacey Forrey's Forza at 130 Marvin Rd SE, visit their website or follow their Facebook page for updates and specials.