Learning to swim is a rite of passage for many of us. As adults, we are ready to share the experience with our children, both for the joy of the water and for safety. We are surrounded by water in this beautiful part of the country. Fortunately, we have plenty of choices for indoor swimming lessons in Thurston County.

The Center for Disease Control (CDC) lists drowning as the second leading cause of death for one to 14 year olds. It takes only seconds of time and only a few inches of water. The good news is that formal swim lessons can reduce that risk (though constant supervision is still advised). With all of the choices available, you are sure to find the right lessons for you and your family.
Discover Aquatics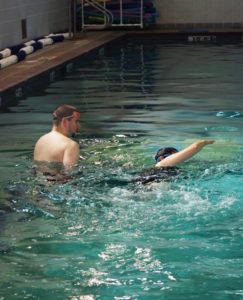 The warm (about 88 degrees!) saline pool offers lessons, hydrotherapy, and water fitness for all ages. Open seven days a week, Discover Aquatics believes that teaching families to swim is a priority.  Parent-tot classes can start as early as four months. Classes for students that are homeschooled are also offered. Member classes start at $70/month with open/lap swim available to non-members starting at $7/session. Call 360-867-9283 for more information or email at info@discoveraquatics.com.
Location: 110 Delphi Road NW, Suite 102 in West Olympia
The Valley Athletic Club
The Valley Athletic Club is a sprawling complex with four pools, three of which are used for lessons (the outdoor pool is open seasonally). Lessons are available for all ages, beginning with parent-tot classes for six months and up. Each session lasts for six weeks and varies in frequency from 1-2x a week, depending on the student's age. Class sizes are kept small for maximum learning and safety.
Safety is a priority for this program, in general, with each class beginning with a three to five minute safety talk covering such topics as walking on deck, putting on a life jacket, and calling to a lifeguard for assistance. Candice, The Valley pool manager, explained that in addition to safety, lessons are designed, "for little kids to get over their fear" and "encouraging people who have struggled in the past not to give up."
Currently enrolled students and members have priority, but non-members are welcome to try out the lessons up to 12 times with an added guest fee. Prices range from $40-99, depending on the age and skill level of the lesson. Private and semi-private lessons are also available for purchase. For more information contact the Aquatics Director at 360-352-3400 ext. 106 or email at kerri@valleyac.com.
Location: 4833 Tumwater Valley SE in Olympia
South Sound YMCA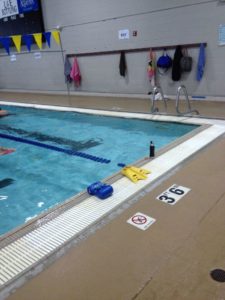 The South Sound YMCA has two branches of the Y serving the community. Both the Briggs Community branch and the Olympia Downtown branch offer swim lessons continuously throughout the year. The swim programs are designed for children ages six months to 14 years. Adult and private swim lessons are also available. Sessions last for four weeks (twice a week lessons) to eight weeks (Saturday only lessons) and begin at $46 per session for a Y member and $76 for an aquatic-program-only membership. Contact the Briggs branch at 360-753-6576. The downtown branch can be reached at 360-357-6609. You can also register online.
Downtown Olympia branch location: 510 Franklin Street SE in Olympia
Briggs Community branch location: 1530 Yelm Highway SE in Olympia
Lacey Parks and Recreation
Lacey Parks and Recreation offers swim lessons at Timberline High School on weeknight evenings and Sundays. Lesson groups are arranged by age from Sea Horse (ages 1-4) to teen (ages 12-17). Adult swim lessons occur Wednesday evenings. Each four week session is $51. Registration is available online or by calling at 360-491-0857.
Location: 6120 Mullen Road SE in Lacey (Timberline High School)