Even with a growing population, Lacey still feels like a small town. Businesses and community members care about what happens in Lacey and many business operators strive to constantly improve the city. Local attorney Harold Carr has been a personal injury attorney in the area for more than 30 years and is a great role model to other business professionals. Carr's strong belief in giving back to the community make him an invaluable asset to Thurston County.  
Attorney Michael Montgomery works in his office, but is also Carr's son-in-law. Michael knows firsthand what The Law Offices of Harold D. Carr stands for. "He's always maintained that small town presence, that connectedness to the local community. It's something that Harold has worked hard at for all these years to see those local connections," Michael shares.
Michael says they have formed a multi-year sponsorship to ensure the longevity of Crime Stoppers of Olympia/Thurston County. "We really care about the community around here and good organizations that have been a vital part for a long time. When they get involved in something you can see the passion that goes on behind the scenes about protecting people and the cause that is there. And this is one of those causes where we agree these good people are passionate about what they do," says Michael.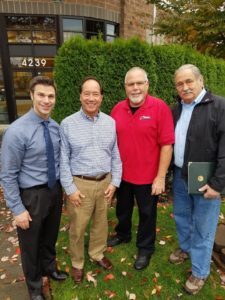 Founded in Albuquerque, New Mexico 40 years ago, Crime Stoppers is a household name for most people. John McCarthy, the local chair, says the all-volunteer organization is a well-rounded mix of law enforcement professionals and community members. "It's wanting to get involved and seeing a value for the quality of life. And one way of doing that is helping law enforcement solve crimes to make our community safer," says John.
With an 800-number tip line and an online option, people can tell what they've seen and remain completely anonymous. Instead, the caller receives a unique identifying number, used in the future to check back on the status of a case. Crime Stoppers also offers a monetary reward for these tips, but John says they often have money go unclaimed. "I think one of the most unique things about the tip payouts is people don't collect the rewards. They actually do call out of a sense of pride to get the criminal off the street."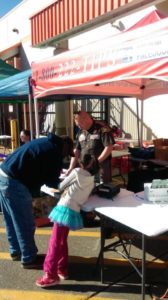 Lacey police offer Ed Sorger co-founded the local Crime Stoppers chapter in 1991. Now retired, Ed is the law enforcement coordinator for the organization. "The work we do by taking these anonymous tips and forwarding them to each agency wherever the tip applies is what it's all about in a nutshell," he says. 
Crime Stoppers of Olympia/Thurston County relies completely on donations and it's imperative to have community support, such as what the non-profit organization receives from Harold Carr. "It's actually a partnership between the police, the community, and the media. That's the three components that make Crime Stoppers work. We want to make sure that we're partnering with good people who can bring about justice," says Michael. 
Both Ed and John say technology advancements have made Crime Stoppers stronger. In addition to the tip line, the organization also hosts a website and manages a Facebook page. And they are always looking for new people to help Crime Stoppers grow into the future. "We have a pocket of excellent people on the board, but fresh faces, new ideas takes you to the next level. And you're only as good as what you see down the line. You can't always stay back here because everything is progressing," John says.
"I think with any community you're going to see the crime element," adds John. "I don't think it escapes any corner of our state, county, or even our nation. And there need to be good people that are willing to step up and be involved by supporting organizations like Crime Stoppers."
It's because of people like Harold Carr that our local Crime Stoppers is a thriving organization doing so much to help our community. "You do not see any other law firm in this county that does the things these guys do," Ed says. And with their help, Crime Stoppers can continue to put away criminals, provide free child I.D. cards, distribute signs to neighborhoods and do minor car checks for the elderly along with so much more.
As John summarizes, "Bottom line, we're one family, it's called Crime Stoppers. And that family can be anybody that has a sense of pride for their community, for their city."
If you think you may have witnessed a crime or have information which may help with a case, please call 1-800-222-TIPS, where you will always remain anonymous.
Sponsored