Editor's Note: You have reached the 2017 Valentine's Day article for Quinault Beach Resort and Casino. For current specials, please contact the resort at 888-461-2214.
Shades of red, pink, and white bring much-needed color to our drab Northwest February.  Chocolates and roses are the norm, but to others different traditions reign on Valentine's Day.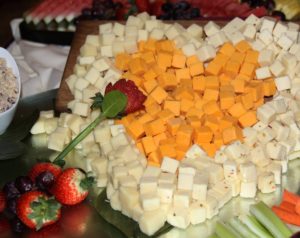 Whatever your nationality, our fabulous mixing-pot culture means choosing which customs to embrace.  Start a new tradition with a Valentine's getaway at Quinault Beach Resort and Casino.
An easy 90 minutes from Olympia, Quinault Beach offers exciting opportunities for every whim, budget, taste, or holiday.  This year, treat your loved one to a Romantic Getaway package which includes a two-night stay from February 13-15, champagne, strawberries, and an opulent Valentine's Dinner.  There are a limited number of these rooms available so book yours online or by calling 888-461-2214 and mentioning Room Code VPA1.
If your hectic schedule won't allow an extended escape, consider their Valentines Dinner Special, running from February 10-14.  Emily's boasts stunning ocean views and award-winning meals like the featured Filet and Lobster special for only $60.  Combining bacon-wrapped filet mignon with Maine lobster tails, it'll be challenging to save room for the Triple Chocolate Ganache Torte with strawberry and Grand Marnier.  Reservations are suggested but not required for this decadent holiday feast.
Stretch your legs after dinner with a stroll through the bustling gaming floors. Monday February 13 you can Buddy Up and play for your share of more than $50,000 and Tuesday February 14 is Ladies Day. Give the ultimate gift to your Valentines with the Break Our Hearts $14,000 giveaway. They're giving away up to $1,000 an hour on Valentine's Day only.
Q Club members can spend gaming points like cash towards food, merchandise, and even gas for the trip home.  They also receive a 10% discount off hotel stays and receive bonus multipliers.
Can't wait until Valentine's to enjoy all Quinault Beach has to offer?  Download their Quinault app for casino promotions, offers, and upcoming concerts and shows.  You can also enjoy video and slot games anywhere and anytime.
And, don't forget a sunset stroll on the beach. While it may be wintertime, the fresh air and spectacular sunsets make Quinault Beach Resort and Casino a perfect place for lovers. Cozy up next to the fireplace in your room afterward to warm up and enjoy some downtime and serenity only the beach can provide.
For even deeper relaxation, visit the spa where seasonal specials are featured including a chocolate scented body polish, scalp treatment and full-body massage are a perfect Valentine's Day treat.
In eighteenth century England, single women pinned 5 bay leaves to their pillow in hopes they'd dream of their future husband.  Slovenian custom involves walking barefoot through the fields on February 14 to watch the birds propose and get married.  Other reports tell of wearing your heart (the name of your loved one) on your sleeve…literally…in South Africa or carving Welsh love spoons for your beloved.
Whether you celebrate with silly Danish Gaekkebrev poems or solitary bowls of Korean Jajangmyeon noodles, treat yourself to something extra this Valentine's Day.  Attributed more to Chaucer than Saint Valentine, a day spent with those we love is never wasted.  As Chaucer said, "The life so brief, the art so long in the learning…by all this I mean love, which so sorely astounds my feeling with its wondrous operation, that when I think upon it I scarce know whether I wake or sleep."
Thankfully you can wake, sleep, and more thanks to Quinault Beach.
Visit them at 78 State Route 115 in Ocean Shores or www.quinaultbeachresort.com