Timberline High School's Erik Stevenson is one of the top-scoring high school juniors in the state.
A versatile 6-foot-4 shooting guard with seemingly limitless range who earlier this season went off for a school-record 45 points in Timberline's 78-74 victory over crosstown rival North Thurston.

The kid is fiercely competitive, an offensive dynamo given the green light to attack the rim almost at his own discretion.
His scoring prowess is one of the main reasons why he's already received scholarship offers from a handful of Division I programs.
On his new team, however, Stevenson may never score a single point. Heck, he may never even get a shot off during a game, and he couldn't be happier about it.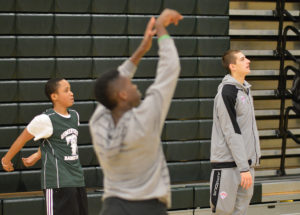 Stevenson is one of several players on Timberline's Unified basketball team, a first-year program for the Blazers that promotes social inclusion between individuals with and without intellectual disabilities through shared sports experiences.
The formation of the Unified basketball team comes on the heels of the Blazers' first Unified soccer team, which competed during the previous spring sports season. The positivity generated by the soccer team quickly spurred the thought of adding Unified basketball – a sport North Thurston had successful inaugurated in the area one year ago.
"At a program leaders meeting, the principal asked us to talk to people in our departments to see who would be interested in helping out because we would love to get it started," said Renee Kilcup, who shares coaching duties with fellow Timberline teachers Jeb Dorn and Nicole Hayes. "I've never played in a basketball game or even practiced, but this has been so rewarding for everyone involved. It's been an amazing program."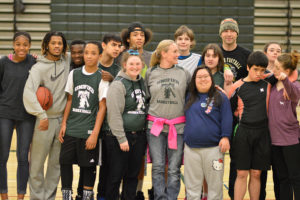 Timberline's Unified basketball team will be hosting a "Pack the Gym" fundraiser on February 4.
Admission is free, but the event will feature concessions and additional fundraising opportunities for those in attendance to participate in.
"We're planning on having some fun things during the game that will allow us to make money for the program. The ASB is fronting all the money for us during the season. All the jerseys they are wearing came out of ASB funds," Kilcup said. "We want to see our Unified programs here grow and hopefully this event will help us out with that, but the truth is if we made zero dollars off this event and just had a large crowd come out to applaud them as they are playing, it would make everything worth it. These athletes deserve to be cheered."
The event, which will feature games between the Blazers and Unified programs from North Thurston, River Ridge, Olympia and Lakes, begins at 9:00 a.m.
Each team will play three 20-minute games.
"It's just great to be able to give back to the school. I've never done anything like this before," Stevenson said. "I knew about (the Unified sports program), but hadn't been involved with it. (Timberline Athletic Director Nick) Mullen came up to me before the basketball season started and asked if I was interested in helping out. He said this would give me my (required community involvement) hours that I need to graduate, but I didn't really think about the hours when he asked. I just wanted to be involved. You can see the smile on their faces when we play. That's what this is all about."
Stevenson is joined on the team by senior Tariq Romain, who is also the Blazers' starting point guard on their varsity squad.
Their involvement with both teams has created a sometimes hectic, albeit rewarding, schedule for the backcourt mates.
"They're in their season right now and it's really hard to coordinate practices," Kilcup said. "We weren't going to have any during the basketball season. After that first game I haven't seen happier boys. They asked for us to have more practices."
In addition to Stevenson and Romain, the Timberline Unified basketball team consists of Michael Barth, William Bastien, Ryan Benson, Peyton Borchardt, Maddy Brown, Jay Carlton, Innocent Desmond, Makenna Hansen, Madison Douglas, Michael Hong, Xavier Johnson, Michelle Kempton, Katie Metzger, Cadence Monti, Keshara Romain, Keashawn Rudolph, Sassy Stanek, Natalie Stark, Michaela Warden, Joel Webber, Maddy Welling and Ashley Wilson.