On the evening of January 27, five teenagers will stand before family, friends, and strangers and share their personal stories in hopes of becoming Thurston County's Youth of the Year. They will talk about what Boys & Girls Clubs of Thurston County has meant to them, the opportunities they've been given and what they have learned.

"The stories that these children end up telling are so impactful. We'll probably have tissues on the tables just because it really does showcase what impact the clubs are making," Shawna Bruce, Communications and Events Manager for the organization, tells me. It will be their evening, their time to shine, but is the result of hard work by many different people – volunteers, staff and the kids themselves – involved with this organization.
For the past fifteen years, the non-profit Boys & Girls Clubs of Thurston County have helped thousands of kids become more successful in their lives. Olympia was the last capital city in the country without a local club. But, thankfully, a former Youth of the Year saw the need and made the club a reality.
While many may think it's just a fun after-school program, there is so much more they offer for youth in our community. The non-profit opens their doors to anyone ages five through eighteen for a variety of services, and you don't need a lot of money to participate. Although they encourage kids to attend as often as possible, it's really up to the individual needs of the kids and their families.
Executive Director Katya Miltimore tells me their goal is to retain kids from elementary age all the way up through high school. That way, they can make the biggest impact on their lives. "It's really looking at some of these foundational things that we can do for our community. I strongly believe that investing in children is one of those key things that we can do," she explains. One way Boys & Girls Clubs invests in kids is by teaching them real-life skills in their teen years. Whether it's how to write a resume, what to say in an interview or simply taking them on a college tour, the club wants to prepare area youth for the real world.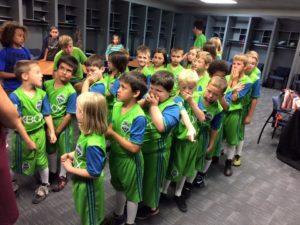 "Just knowing that they're getting the support that they need is pretty amazing. It just kind of warms your heart, knowing that you've made a difference, even on the administrative end," says Shellica Trevino. She is the Director of Operations for the Boys & Girls Clubs of Thurston County and has been with the organization for almost fifteen years. She loves to watch the changes that take place within the kids as they reach their teen years.
"I think they learn at a very young age that there is help out there and they want to reciprocate and give back to the other kids at the club. I think that's huge, and full-circle, to hear them talking about wanting to mentor other kids," Trevino explains. It's these teens she and other staff encourage to apply for the Youth of the Year Award. "It's really an amazing way to honor our outstanding club members for their character and leadership achievements over the course of the past year. This is our way of saying, 'Hey – we notice, we recognize what you've done.'"
Anyone ages 14 to 18, within Thurston County, can apply to become the Youth of the Year, but applying is just the first step. Trevino says multiple kids from each of the county's five clubs apply before a board of staff members narrows it down to five finalists. Next comes speech practice, essay writing and really taking the time to figure out what Boys & Girls Clubs has meant to them.
"They share how they feel about the world right now and what they see in the future and how they can contribute," she shares. "It's more than just a selection process, it truly is a program."
The culmination of the 2017 program happens on Friday, January 27 with the selection of Thurston County's Youth of the Year. After this event, the winner will go on to compete in state and potentially the national competition. Thanks to a great collaboration with South Puget Sound Community College, the winner will receive a two-year tuition waiver at their school, and the other finalists receive a $1500 grant.
Miltimore explains how SPSCC is often a great fit for kids who have gone through the program. "They create these really close relationships with staff. It's very personal. And, community college is much the same way," she explains. "The professor to student ratio is so much smaller and so I think it's a great environment for our club kids to transition into to continue receiving that wrap around support." Miltimore adds that many Youth of the Year kids go on to work in the club in some way. "There is just so much potential with this organization and it's already doing such a good job for the community. It's very exciting to see what's ahead."
If you would like to attend the Boys & Girls Clubs of Thurston County Youth of the Year event please go online and RSVP here. The evening is open to the public and staff says it's a wonderful way to see what the club is all about. This year it will take place at the SPSCC campus in Lacey and starts at 5:30 p.m. with refreshments and an opportunity to meet the finalists. This year's finalists are Na'Taya Holmes representing Tenino Club, Lilli representing Fairchild AFB, Johanna Chhay representing Olympia Club, Emily Todd representing Lacey Club, Alizabeth Ashton representing Rochester Club and Kiana Gonzales representing Tumwater Club.