During the early days of Curtis Lenz's freshman year at Rainier High School his mom made a request.
She didn't care what sport her son elected to participate in, just as long as he picked one.
"She just wanted me to be active," Lenz said. "I wasn't doing anything, so I did it to make her happy."

The fall sports season was already well underway which meant Lenz needed to decide what he was going to do in the winter.
"Basketball was definitely out," said a laughing Lenz, who was still a growth spurt away from reaching 5-feet in height before his freshman year. "That didn't leave me many options."
One of the remaining choices was wrestling, something Lenz tried for the first time ever the previous year. It wasn't to his liking.
"When I wrestled at middle school it was so bad," Lenz said. "I didn't even want to wrestle that year (in eighth grade), but for some reason that's what I ended up picking as a freshman. I wasn't wrestling because I wanted to which makes it so much harder. It's tough being out there when you love doing it. It's really difficult when you don't want to be out there, but I guess it kind of grew on me."
Four years later and the kid who opt to wrestle merely by default is now one of the state's best 106 pounders.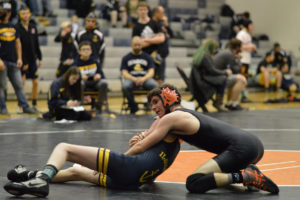 "You really don't see it that much. Usually kids that are there (wrestling) want to be there," Rainier coach Chris Holterman said. "When they don't want to be there they don't last very long, but Curtis is a unique kid."
Currently ranked as the top 106-pound wrestler in the 2B classification by the Washington Wrestling Report, Lenz is in the midst of a stellar senior season.
He kicked the year off with a pair of tournament titles, winning the Ocosta Invitational and the Iron Sharpens tournament at Bellevue Christian with both championship match victories coming by pinfall.
Ask him what his record is and he "doesn't have a clue," but he will mention his two defeats, one of which occurred in the finals of the Sgt. Justin Norton Memorial tournament in Rainier where he lost to the top-ranked 106-pound wrestlers in the 1A classification.
It's the losses that push Lenz more the triumphs.
"That's the talent you're going to see at state. If you breeze through your competition you're not getting better," Lenz said. "The goal this year is just to improve on what I did last year."
This is a sizable mission considering Lenz is coming off a junior campaign which included a 2B District 1 championship and a fourth-place finish at the state tournament.
"If it's just third place, that's better than fourth," Lenz said. "Obviously, winning state is the ultimate goal for everyone. That would be crazy, but I've just tried to get better every year."
It's a significant change in attitude from when he first put on the Mountaineers singlet as a freshman. Back then, wrestling at 113 pounds, Lenz was just trying to fulfill his mom's bid.
"It was rough," Lenz said. "Coach (Holterman) said I could drop down and wrestle at 106. I just thought why would I do that?"
He was losing, and figured what difference would it make what weight class he dropped a match in?
But his appreciation for the sport was a slow burn. While others would turn in their gear long ago, Lenz stuck things out and midway through his sophomore year he made a strange discovery.
"It didn't happen at once, but I started to like wrestling," Lenz said. "I decided to come back the next season and I started winning more matches. It's not like it just hit me and I realized I liked it. I was just getting better at it. It was not sudden. It was a slow realization."
Lenz went from wrestling in the 113-pound weight classification to 106 pounds as a sophomore. He hasn't left the division since, piling up plenty of victories along the way.
"He told me he had to do something so he picked wrestling. I'm not really sure why, but it worked out great for us," Holterman said. "He's just a class act. He's really calm and mellow, but a great leader. He's the silent leader, but the kids all look up to him."
Lenz and his Mountaineer teammates closed out their home slate on January 17. They have one more regular season meet before heading to the sub-regional tournament on February 4 and regional tournament on February 11.
Lenz plans to once again be one of the few advancing to the state championships at the Tacoma Dome on February 17-18.
"It's starting to wrap up. It's getting to the interesting part of the season," Lenz said. "I go out there and it actually means something now. It could be my last time wrestling here. It definitely gets me going."