Robert Ott, a blind entrepreneur, is a Thurston County transplant originally from New Jersey. To get to know Robert, however, you have to say the name of his hometown like a brash, confident East Coast native. Drop the "New" and say "Jersey" just like they do in the movies.
Ott, in his late forties, is blind as the result of an accident that occurred when he was 21-years-old. He went from being a martial arts champion and instructing students in martial arts schools, to being unable to drive a car, live independently, or use his greatest skill—communicating with people from all walks of life.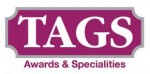 "It was like taking away a fish's ability to swim," Ott says.
Ott decided that he was not going to sit around and, as he says, "twiddle his thumbs." He was friends with a young man who suffered a debilitating injury due to football. The two attended a state vocational rehabilitation institution. Not only did the school teach people how to become independent members of a community, it did more. It matched disabled people with vocations that worked in concert with their strengths.
That fish got the chance to swim again.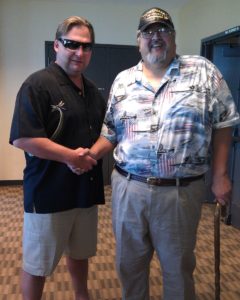 Ott was trained and licensed as a food service vendor. He was a perfect match for the provisions of the Randolph-Shepard Program. First enacted into law in 1936, amended in 1954 and again in 1974, the Randolph-Shepard program is associated with a federal law that requires priority be given to blind people in the operations of vending facilities on federal properties. As described by law, vending facilities include cafeterias, snack bars, and automatic vending machines, or, in the case of Robert Ott, award-winning cafes. The original act, now over 80-years-old, recognized that being visually-impaired did not mean being unable to work and thrive. Over the years, states, counties, and cities got on board and advertised Request for Proposals (RFP) for federal funds to hire blind vendors. The program grew and is now in place in 48 states.
For states to receive federal funding to implement vending facilities, they must demonstrate a need, locate a site, and find a blind vendor to take charge of the contract. In 1995 Ott received the call from the Western Regional Center of the National Oceanic Atmospheric Administration in Seattle. He packed two gym bags, put all the money he had in his pants pocket, and arrived in Seattle with the name, Modern Day Café, ready. He had never run a café before or fed 900 federal employees daily. Robert Ott loved every minute of it.
"The first decision I made was to improve the quality of coffee we served. This was Seattle after all," he grinned.
For ten years Ott not only managed the Modern Day Café, but he also developed the itch to share how he felt empowered and that he believed others could achieve the same success. He eventually started his own catering company, and he began speaking at conferences. He also wrote a book, Certain Victory, an homage to the Pil-Sung Martial Arts' principle for surviving tragedies. As he talked to Wounded Warriors, he shared a special understanding with them.
By 2004 Ott's café was a huge success in Seattle. It made him think that perhaps there were other contracts available. He wanted to stay in the Northwest, so he started researching upcoming RFPs. There was a contract available just 60 miles south of the Modern Day Café. It was the opportunity to enact the Randolph-Shepard Act once again and support the third largest US military site in the country. The contract was with Joint Base Lewis-McChord.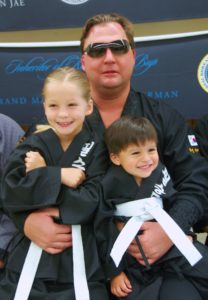 After a grueling round of presentations, interviews, and tense times, Ott, now president and chief executive officer of Certain Victory Food Services, found himself in the business of feeding soldiers. Ott supervised hundreds of employees and 20 separate eateries across the base. To his delight, Ott's contract with Joint Base Lewis-McChord was renewed after a successful round.
"Running a business isn't just about getting to success," Ott comments. "It always needs fixing, correcting, rebuilding."
Ott currently lives in Olympia and is actively involved in his two children's lives. In another contract opportunity this time the state came to Robert Ott. They asked him to consider the opportunity to be the owner and operator of the food services for Office Building 2, where the Department of Social and Health Services is located (also called OB2). Because he lives just minutes from the café, it was not a difficult decision. When he was asked what he was going to name the new café, Robert Ott remembered his son's nickname, "Bobby J." Ott said it was an instant fit—Bobby Jayz Cafe.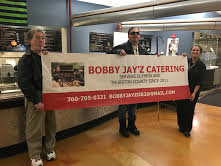 Ott's assistant, Ashley Starke, has worked for Robert and his two children, Savannah and Bobby, for a year. "Robert is a great guy. I enjoy working with him. He's always up for adventure, a character, too," she laughs. "He's inspiring. He is very inspiring."
Ott reflects on his journey as a successful entrepreneur, "I've said this before, and it is true each time. For some people, seeing is believing. Not that I don't miss my sight, but I've come to learn that believing is seeing."
For more information on the Business Enterprise Program for the sight-impaired, review the information at the Washington State Department Services for the Blind.