Alex Pribble, Brandon Kenilvort, David Granucci and Mike Hayward are Saints.
Before they were fitted for their halos, however, they were all Pirates.
Pribble, the Saint Martin's University men's basketball head coach, Kenilvort, a senior captain for the Saints, and Granucci and Hayward, two assistant coaches on Pribble's staff, share a unique connection.

All are graduates of Sir Francis Drake High School – a school located in San Anselmo, California with a strong basketball tradition.
"It's definitely a big basketball school," said Kenilvort, a 6-foot-6 forward whose uncle, Steve Kenilvort, was also a Drake grad and a 1986 draft selection of the Golden State Warriors. "We didn't have too many D-1 guys there, but we've had a lot of guys going on to play in the next level. We had the guys who always put in the hard work and hustle."
Pribble and his fellow Drake Pirates are now incorporating their alma mater's blueprint at SMU, and the results in Lacey have been extremely successful the past two seasons.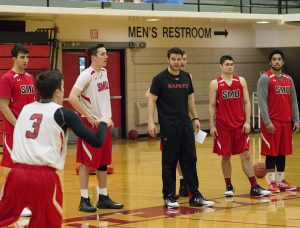 "We're trying to build a culture here that is similar to what we had at Drake," Pribble said. "This is a program where we need to have a little chip on our shoulder. Every time we step out on the court we have something to prove. That's what happened at Drake. Those guys were hustlers. They had an underdog mentality, and it's something we want our program here to have."
The Saint players don't have to look very far for inspiration as their coach could be the poster boy for such grit and determination.
Initially a walk-on at the University of California, Berkeley, Pribble twice earned Cal's Hustle Award (2005 and 2006) and was a three-time Pac-10 All-Academic selection – accomplishments that hardly went unnoticed within the Drake community.
"I remember the first time I went and talked to the varsity coach at Drake High School and there was this big poster of Coach Pribble on the door," Kenilvort said. "I remember seeing him play when I was in elementary school. I thought he was a god. There's this YouTube video of him hitting a game-winning shot over our rival. I've probably seen the video about 15 times."
So when Pribble reached out to Kenilvort to gage his interest about playing at SMU, the decision to come to Lacey ended up being relatively easy one to make.
"That actually did make it a lot smoother for me because I knew what to expect coming into it," Kenilvort said. "We all actually played for the same coach in high school, so I knew what the culture was going to be. You can see the enthusiasm they bring to this program."
Each of the four actually grew up watching the other one before them play. While Kenilvort watched Pribble, a pre-teen Pribble caught Granucci games and Granucci remembers being in awe of Hayward, who went on to play at the University of Washington and was Pac-10 freshman of the year in 1988.
"When I came here I just felt like I was coming back to the Drake Pirate family," said Granucci, who was a standout at San Jose State University. "It's nice when we sit down and talk basketball. We all have the same philosophies. We have the same ideas about what we feel it takes to be successful."
"The word I use is trust. In this business when you can trust the guy to your right and the guy to your left, whether it's on the court or on the bench, it goes a long way," Pribble said. "The (high school) connection is a fun thing, but the important part of it is the trust."
A year before Pribble arrived, the Saints limped to a 6-22 record – the program's fifth consecutive losing season.
In his first year at SMU the team went 15-13 overall and won nine games in the Great Northwest Athletic Conference – the most since 2009 – but ultimately missed out on making the GNAC tournament, which was held at Marcus Pavilion.
"It was very painful to watch people play on our home court and we weren't in the playoffs, especially considering how we were playing towards the end of last season," Kenilvort said. "We had blown out teams that we had lost to earlier in the year. We beat a nationally ranked team and still didn't make the playoffs."
A year and a half in and that Pirate mindset has already started to take over as the Saints are right in the thick of it in the GNAC, sitting just one game out of second place through the first six conference games.
"We had no seniors last year. We're an older, more mature team. We aren't making the same mistakes," Kenilvort said. "Every time we go into the gym we're battling, we're scrapping. Everyone has a chip on their shoulder."