Change is all around us.  The marching clock brings transitions and resolutions. But some concepts are timeless, like the ever-elusive American Dream. However you define it, generations have worked toward security and prosperity under our country's founding promise of freedom.
For Saint Martin's University Professor Robert Hauhart, Ph.D., J.D., the American Dream is more than a vague concept. He recently completed a new book entitled Seeking the American Dream: A Sociological Enquiry.
Having joined the University faculty in 2006, Hauhart teaches sociology, criminal justice, legal studies, and English. For the past few years, he and fellow Professor Jeff Birkenstein, Ph.D., who teaches English, have offered an interdisciplinary class on chasing the American Dream. In tracing the idea from its inception through politics, religion, literature, history and sociology, Hauhart discovered that "the idea had tremendous vitality; it had legs," and the idea for a book was formed.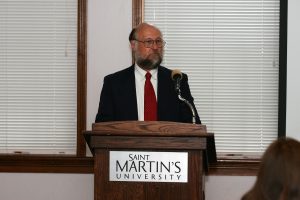 "Out of that I felt like I just had to write this book," he explains. He approached an editor he'd met during a sociology conference. "Seeking the American Dream" was released in April 2016 and will be used in classes in early 2017. This widely praised work will be presented at the 88th annual meeting of the Pacific Sociological Association in Portland, Ore. in April 2017.A second book is in the works. Included are topics that spring from many current issues, trends and experiences.
Hauhart is aware that "there is a great deal of anger and divisiveness" in our current political climate and it can be difficult to build or find a sense of self.  His aim was to study how people make choices about who they are or want to be in these turbulent times.
While examining both past and present, Hauhart and Jessica Flores, a Saint Martin's 2012 graduate in criminal justice, worked with populations across the region. One of their focuses was on homeless youth and young adults in the Olympia area.
"Homelessness is a major national problem. Olympia is simply a microcosm of the nation as a whole in facing the issue. Our research examined a 'silent minority'—those who stand outside, or below, the mainstream world of regular employment and conventional lifestyles, even those which have experienced economic stress, like the white working class," says Dr. Hauhart.
"The homeless are truly silent in terms of politics because they do not vote in high numbers and they are numerically small," he continues. "What the 2016 election showed, however, is that a populist advocate can mobilize those who are otherwise silent and this model might be applied to the homeless in a city like Olympia."
"It was intriguing to learn that, to so many, a major aspect of the American Dream simply means to feel no discrimination in their personal pursuits and life journeys," says Flores who also sees a need for homeless advocacy.
"I can't speak for the rest of America, but on the streets of downtown Olympia, those without an influential voice seem to have bolted their feet down into the concrete without hope – hope of having an impact on their circumstances, hope of making a difference in society, hope of setting a dream high enough to risk failure of achieving it," she describes.
"Through this research, I have learned that not lending an ear to others can kill dreams and cause complacency," Flores says of society's inclination to ignore the disadvantaged. "This is detrimental to social well-being. Olympia's street locals do not wish for monetary gain or economic success; most would feel achieved if they could make a difference in the world, starting with their community. Our street community is a treasured group of individuals who do not seek personal gains, but rather desire to make positive contributions to society. As a collaborative group, we need to engage with these individuals and pull the diamonds out of the rough."
These weighty issues are something they hope to address in the future. "If Jessica and I have the opportunity to pursue this further, our book would focus on the potential for political consolidation around an issue—homelessness—that has little obvious appeal since it addresses a disadvantaged group with no political clout or influence," says Hauhart. "How this happens is an important story to understand.
"This research has inspired me to pursue questions about how Americans navigate American society—thus, questions of how they decide who they wish to be/become (one part of the American Dream).  In Spring 2017, I will be leading a team of 14 undergraduates to conduct interviews across the South Sound with a broad stratum of everyday Americans sampled by occupation, gender, age and race/ethnic heritage to answer these questions. The results will be reported in a book contracted to be released in 2018," Hauhart adds.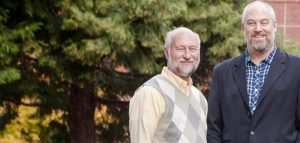 Hauhart is a Midwesterner who moved to the East Coast for schooling and out West in 2005 to teach. In addition to teaching at Saint Martin's,  Hauhart is also the creator of the Saint Martin's University Harvie Lecture Series, which works to to "raise awareness of social justice issues within the community and to honor the work of Robert Harvie, Ph.D., former professor and chair of the department of criminal justice at Saint Martin's." There are typically four lectures per academic year. The next lecture in the Harvie Lecture Series, which is free and open to the public, will take place on Friday, February 24, 2017 at 4 p.m. in Harned Hall, Room 110 on Saint Martin's University's Lacey campus.
"Seeking the American Dream" is available online as an ebook or through your local library. Hauhart is happy to answer questions or field inquiries at rhauhart@stmartin.edu.
Sponsored