Everyone needs insurance, it's just one of those things you can't go without. But when it comes to choosing which company and agent to meet your needs, the answer isn't always easy. With many different options available, the task can seem more like a chore, often opting for the lowest price. However, price shopping might not always be the best choice says local State Farm Agent Melanie Bakala. "We're trying to help people realize there are some other things that insurance agents can really help with," says Bakala, indicating that insurance is about so much more than just price.
Bakala says she originally got into the insurance field after working in marketing at a local bank for close to 16 years. She was planning to stay until retirement, when the economic crash of 2008 hit, and she saw the bank wasn't going to make it. "I gave my heart and soul to somebody else and didn't have control over the success." With a recent marriage and some breathing room, Bakala was able to explore other career options, and the insurance industry stood out. "I met with the recruiter from State Farm and from the second I sat down with her I knew this is the seat I'd be in," she says.
Before a prospective agent is even granted an interview, State Farm requires all potential agents to write a business plan and pass various tests. But Bakala says it's worth it to be with a company that has such strong brand recognition, is financially secure, and offers endless opportunities. It wasn't so much about making a lot of money, but rather controlling her own income she tells me. "What you put in is what you get out."
In 2010, Bakala opened her Shelton State Farm office when an opportunity became available. Although it wasn't her hometown of Olympia, she says she enjoyed the close-knit community and it allowed her the freedom she was craving. She was quickly successful. Within just five short years, Bakala was able to grow her company to include a second State Farm office in Lacey's Hawks Prairie community. The doors opened in January 2016. "I'm very excited to be back in Thurston County and just to have this opportunity to grow as a business owner and entrepreneur. It's absolutely changed me in terms of how I run my business."
Bakala says as a business owner she's able to do things she couldn't before. "I love the fact that I get to provide career opportunities for people. I really feel like I'm looking for diamonds in the rough. It's finding people who see this as an opportunity. People who want to maximize the opportunity." Even though all her agents earn an hourly wage, they have unlimited earning potential. And she says she is always looking for good people for both her offices.
However, that's just the first thing Bakala loves about running her own business. With a marketing background, working in insurance allows her to use these skills by finding creative ways to interact with the community and grow her brand. Her company participates in everything from the Tumwater Artesian Brewfest to her Community Bucks Program, which donates to local non-profit organization when people come in for a free, no-obligation quote. Because she's only one person, Bakala encourages all her agents to be active in the community as well. It's not always easy to get people to shop around for insurance, so Bakala tries to be a name they will remember when they are ready to make a change.
Bakala stresses that meetings with her customers aren't always about insurance policy details but often starting difficult conversations that many people don't really want to have. "If things don't go as planned, if there's a speed bump, like a car accident, we want to be sure your car is covered. If something happens to your house, we want to make sure that's covered. If somebody doesn't walk through the door, how does the family move on? If you're sick, or hurt, or can't work for a year, what's that going to do?" Bakala says often they send clients to other insurance companies because they can't best meet their needs. "If we're not the right fit for a customer, then we're not going to do it. It's all about doing the right thing." That's also why Bakala makes sure to grow her company with agents who truly care about their clients and want to put people in better situations.
Sometimes, all that means is actually explaining policy details to her clients. "It's rewarding when you explain something and the person says 'no one has explained this to me before," she says. Although price is very important, there's so much more to insurance policies and Bakala says you need to make sure you know your coverage before an emergency hits. "You can insure your laptop for a few dollars per month, with no deductible. Why wouldn't you? But no one knows that, so it's our job to tell people how these things work."
"I take great pride in how my company has set this up, in putting us in a position to really be there immediately when our customers need us the most. That's what we are really all about," she says.
Whether you're shopping around for insurance or not, Bakala has these words of advice for everyone. "If there's one thing I can encourage people to do, whether it's with me or their current insurance company, is to go through your policy. Take ten or fifteen minutes and just slow down and ask about things. Understand what you have. You need to make sure it's going to work for you when you need it."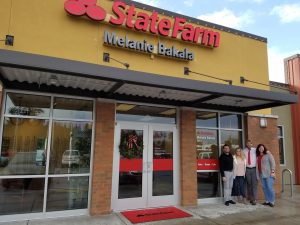 Melanie Bakala – State Farm Insurance Agent
2539 Marvin Road NE in Lacey
360-972-7905
821 West Railroad Avenue in Shelton
360-426-2428
Sponsored