Submitted by Westport Winery Garden Resort
Westport Winery had its biggest wins to date at the 2016 invitational Wine Press Northwest platinum competition. The winery's first double platinum medals were awarded to Jetty Cat Red and Bordello Blonde. 
Jetty Cat, a blend of Cabernet Franc, Cabernet Sauvignon, Syrah, Merlot and Malbec is described as "Wall Street rich and ultra-luxurious, with a bit of attitude." The winery suggests this wine be enjoyed in their restaurant with an appetizer of Italian Sausage Stuffed Mushrooms and the song Cat Scratch Fever by Ted Nugent. This wine benefits the Harbor Association of Volunteers for Animals (HAVA).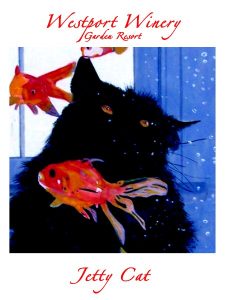 Bordello Blonde, a blend of 80% Gewurztraminer and 20% Riesling harvested from Red Willow Vineyard in the Yakima Valley AVA, is said to be "Sexy and soft, as she goes with anyone and anything." This wine is well-paired with the winery's signature corkscrew rotini with Cougar Gold cheese sauce topped with fresh, locally caught Dungeness Crab and their house made brown-butter croutons. This wine benefits the Aberdeen Museum of History and enjoyed with the song Bad Romance by Lady Gaga.
Smoky Nor'wester, Swimmer, Charterboat Chick and Surfer all earned platinum medals.
Smoky Nor'wester is a blend of Cabernet Sauvignon, Merlot, Cabernet Franc and Syrah that is described as having "Maserati intensity, like a good spanking." On the winery's menu, it is paired with their 'Shroom Steak and the song Life's Been Good To Me So Far by Joe Walsh. This label benefits Museum of the North Beach in Moclips. It was also named Red Blend of the Year at the 2016 New York International Wine Competition.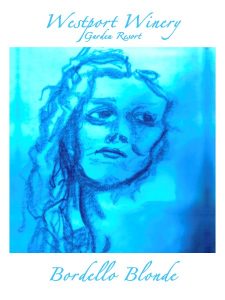 Charterboat Chick is "An elegant, smooth and classic red fruit aria" crafted from 77% Cabernet Sauvignon and 21% Syrah from Discovery Vineyard in the Horse Heaven Hills AVA along with 2% Petite Sirah from Olsen Estate in the Columbia Valley AVA. It is best enjoyed with a Farmer's Favorite Burger while enjoying I Don't Miss A Thing by Aerosmith. This wine's label features a photo of winery co-founder Kim Roberts when she was a salmon boat captain and benefits the Westport Charterboat Association.
Surfer is "The Edgar Allen Poe of wine, dark, brooding and intense." Made from Discovery Vineyard Syrah, this wine boasts a photo of winery co-founder Blain Roberts as a nationally-rated surfer in the 1970s. No wonder it's paired with their bakery's Maple-Bacon-Bourbon Granola Bar and the song Pipeline by the Ventures as it benefits South Beach EMS. 
Swimmer, a blend of 74% Petite Sirah and 26% Syrah (from Olsen and Discovery Vineyards, respectively) is described as "A tattooed biker wine, muscular and dangerous." It's paired with the winery's Bubba Burger with their signature bacon jam and the song Born to be Wild by Steppenwolf. With a childhood photograph of Director of Winemaker Dana Roberts on the label this wine benefits the Grays Harbor Children's Advocacy Center.
In 2016 Westport Winery was selected as one of the top twenty most admired wineries in North America by Winery & Vineyard Management Magazine. It was named 2011 Washington Winery to Watch by Wine Press Northwest. They have been voted Best Winery by King 5 Evening Magazine six times. They were named the Best Washington Family Business Silver Medal winners in 2012, received the Grays Harbor Environmental Stewardship Award in 2015, and were name Best Winery, Best Wine Shop, and Best Boutique Winery for 2016 by South Sound Magazine. 
Family-friendly Westport Winery Garden Resort, is located on the corner of Highway 105 and South Arbor Road halfway between Aberdeen and Westport. The resort (including the restaurant, bakery, nursery and gardens) is open daily from 8 a.m. to 7 p.m. Westport Winery TASTING @ Cannon Beach, is located at 255 N. Hemlock. The Oregon tasting room is open daily from 11 a.m. to 6 p.m. For more information or reservations call 360-648-2224.