One of the best things about writing for ThurstonTalk is getting to interview people whose unique gifts and contributions help to make our community such an amazing place to live, work and play. One of those people is local actress, Amy Shephard.

Amy caught the performing bug early. Her father was a professor of acting and directing in the Theater Department at WSU and, later, California State University, Monterey Bay. Her mother had a degree in costuming and worked at Northern Arizona University. "Performance has always been a huge part of my life," she says. "It began within my family, and as I grew up I found I had an aptitude for dance, singing and acting, and so chose to pursue the performing arts in study and as a career."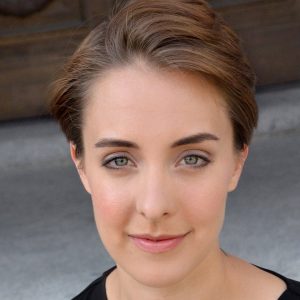 For Shephard, it's about more than applause though. "Everything I do, I'm just trying to connect with as many people as possible," she says. Art, she insists, is not always about being seen. It's not about being in the spotlight. Working behind the scenes, creating opportunities for herself and others is a real focus for Shephard. She sees theater as a conduit for making connections between people.
"My first experiences on stage were dance recitals that I performed in as a child. When I was onstage, I felt electric and alive. As an adult, it's one of the few places I feel most immediately present because when you are onstage you live in the moment," she says.
After earning a bachelor's degree from The Evergreen State College in 2009, Shephard moved to the United Kingdom to pursue a Master's Degree in Applied Theater from the University of Exeter. Her course work helped shape her approach to acting and the theater in general.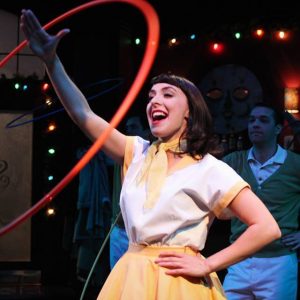 "Applied Theater" is the use of theater and drama in non-traditional settings, often times with marginalized communities. Theater can be used as a tool and to address and process a wide array of topics including social and cultural policy issues like public health, education, housing, social welfare, and juvenile and criminal justice. "I was drawn to the idea of using theatrical theory and principal as an agent of change and education," says Shephard.
As a student, she worked on Applied Theater projects in a variety of settings including prison programs and with veteran populations. Working as a facilitator for diverse groups, she discovered a new application for her actor's skill set. Through improvisation, playback, and other techniques, it's possible to help people connect and have more effective interactions with one another. Theater, she discovered, can be an agent for social change.
Since returning to Olympia, Shephard has been a standout performer in local productions. In 2012 she landed one of her dreams roles, the Baker's Wife, in a production of "Into the Woods," a collaboration between SPSCC and Saint Martin's University. She has also been a featured performer at Harlequin Productions and the Olympia Family Theater (OFT) on multiple occasions. She is a firm believer in the importance of local theater.
"The first time I was paid a working salary to act was Harlequin Production's 'A Christmas Survival Guide' in December 2012," she says. "I was extremely nervous, but it also gave me great confidence that I had the skills and abilities necessary to perform at such a high-quality theater. I look back on that show now and think of how far I've come."
Yes, it would be wonderful to land a role in Seattle, but for now, the benefits of living and working in Thurston County keep Shephard here.
"You really have a chance to get to know people and work with many of them again and again," Shephard says. "For me it's more intimate, and I believe that the performing arts need to have strength not just in the big cities but in the small towns to show how the art form truly contributes to people and communities everywhere."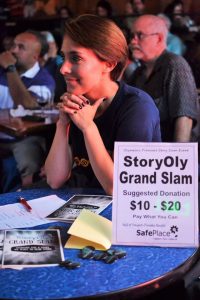 To help make ends meet, Shephard works part-time as a front-of-house manager at The Washington Center for the Performing Arts and as a Legislative Civic Education Tour Guide for the state. The theater job is a natural fit, but the Tour Guide position gives her the opportunity to wear both her actor and Applied Theater hats. Working from a basic script, she often has to improvise and use her facilitation skills to keep groups entertained and on track.
Meanwhile, between paid acting gigs, Shephard has created some opportunities for herself. She has become the go-to choreographer at Harlequin. She has also served in that capacity for OFT, Marshall Middle School, and Open Road Productions.
As a producer, one of her latest ventures, together with Elizabeth Lord, is the wildly successful Story Oly, a story telling event that happens the third Tuesday of every month at Rhythm & Rye in downtown Olympia. At Story Oly, community members are invited to tell their stories to a live audience. Now in its second year, story tellers at the first year culminating event in September performed to a sold out crowd, and attendance shows no signs of waning.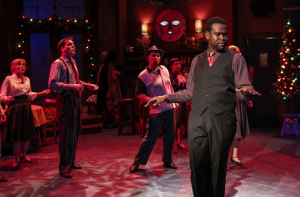 A budding playwright, an interactive musical mystery, Fishnapped!, that Shephard wrote with Andy Gordon and Daven Tillinghast will be produced by OFT in the spring. She will serve as the choreographer for that production. In addition, Shephard works as an instructor during the summer for OFT theater camps for children.
"It takes a tremendous amount of commitment, energy and discipline to be a working performer," says Shephard. "It is very difficult at times but also extremely rewarding. Through my training, I developed an attitude that no matter what I was doing, I would give it 100% of my abilities, and if I struggled in areas, I would continue to train and grow throughout my artistic career. That is something I still do. I still take classes or attend workshops. I can always hone and refine my skills. I don't like to get complacent."
Whether she's performing or working behind the scenes, Amy Shephard believes theater is vital to a healthy community. "It gives you a feeling of belonging and a platform to express your deepest and truest self through your movement, character or dialogue," she maintains. Her dream is to continue to grow theater in this area. Whether that means producing a Fringe Theater Festival (one of her dreams) or just encouraging more people to get on stage to tell their stories at Story Oly, she isn't sure yet. Whatever it is, she wants to build connection within our community.