With a roster featuring plenty of new faces, South Puget Sound Community College men's basketball coach Aaron Landon believes it's going to take some time before his team's identity fully surfaces.
While the on-the-court familiarity between the players continues to be developed, Landon, however, is willing to admit one thing right now.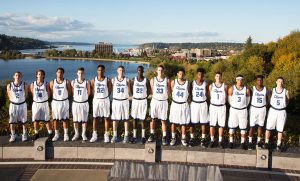 "We're going to be a fun team to watch," said Landon, who enters his fourth year with the Clippers. "We're going to put up a lot of points. We're going to get out there and run, and shoot a lot of 3s. It's going to be exciting."
The excitement has seemingly increased with every passing season under Landon's watch.
During his first season at SPSCC, Landon finished with a 2-22 record. The Clippers have already matched that win total this season, having won their first two games in convincing fashion. South Puget Sound opened the new season by whipping up on Concordia University Club, 108-63, before going on the road and knocking off Olympic 91-72.
The early success is a continuation of last year's breakout season for Landon's Clippers.
The team went 22-7 overall and 11-3 in Northwest Athletic Conference West Division play. The Clippers ended last year with a flurry, winning its last five regular season games, including a 70-67 win at division champion Lower Columbia before advancing to the NWAC tournament as the West's No. 3 seed.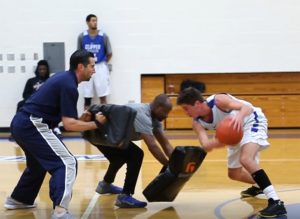 South Puget Sound's season came to an end last year in the first round of the conference tournament after losing to eventual champion Spokane, 90-74, in a contest that was actually tied at the half.
"Those last five games (of the regular season) last year we were really playing the type of basketball we want to consistently be playing around here," Landon said. "Everything started to click for the program. The guys coming back this season know what it takes to play at that level. They know the work they need to put in for us to accomplish our goals. We just want to carry that momentum over to this year."
Headlining the list of returners is sophomore shooting guard Dez Stoudamire, who is coming off a freshman campaign where he averaged 21 points a game, good for eighth in the NWAC, with a career-high 41 points coming against Skagit Valley.
The 6-foot-1 Stoudamire struck for double-digit points in 26 of the 28 games he appeared in last year, surpassing the 20-point mark 14 times.
"Dez is a specialist. We know what he is – he's a great shooter, so we need to put him in a position to be successful shooting the ball with great efficiency, " said Landon.
Stoudamire opened his quest for a conference scoring title in a big way by putting up 32 points against Olympic.
One aspect that should help the Clippers' backcourt this year is the addition of two point guards to the roster in River Ridge graduate Kobe Key and Luke Chavez.
"We really didn't have that true point guard last year," Landon said. "This year we have two with very different styles."
Chavez, at 6-3, opened the year with back-to-back six assists games, while Key, an all-state player during his senior year who helped the Hawks to the Class 2B state tournament, dished out eight assists in his first career start against Olympic.
Key is joined by fellow local freshmen Wes Reynolds, a graduate of North Thurston, and Nolan Black, a 2014 Olympia grad.
Both have made an immediate impact for the Clippers as the 6-6 Black has started the first two games at forward and Reynolds came off the bench in his only appearance so far this year against Olympic, scoring 11 points and pulling down a team-high seven rebounds.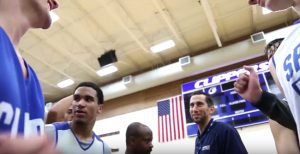 "I want to see all the local Thurston County kids come here," Landon said. "My first year we only won two games so it was tough to get players to notice us. Winning helps, of course, but if you don't have that four-year scholarship locked up, we want them to know this is a great option. This program will prepare them, both athletically and academically, for that next level."
The Clippers will begin its West Division schedule at home against Green River on January 11.
The regular season runs through March 1 with the NWAC Basketball Championships beginning March 9.