In their quest for a college athletic scholarship, there's something Timberline High School athletes Jaelen Bush and Erik Stevenson never forgot.
That's their grades.

Both Bush and Stevenson, two of the three returning starters on the Timberline Blazers' boys basketball team, have been offered athletic scholarships from several Pac-12 Conference teams. Bush, a sturdy, 6-foot-7 pogo stick, has numerous offers in football. Stevenson, a deadeye shooter with the speed and hops to finish a fastbreak with a dunk, will be playing basketball in college on a scholarship.
And even in their quest to be the best in their sport, neither one let that quest eclipse the classroom. Bush has a 3.97 GPA. Stevenson's cumulative GPA is 3.7.
"I just knew colleges aren't going to want to offer me or recruit me if I have a terrible GPA," Stevenson said when asked how he was able to keep a balance between studies and athletics. "I just stick to it. I have to have the grades to go where I want to go."
Last year as a junior, Bush's perfect 4.0 cumulative GPA was spoiled when he got a B in a calculus II class. Whether he's coming home late on the bus from a road game or having a late practice, Bush, a three-sport star, always makes sure he gets his homework done.
"My focus has always been on academics actually," Bush said during a recent practice. "I think in high school is when I actually started to play sports more seriously."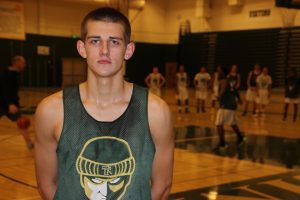 Besides being all-league and all-academic, Bush and Stevenson have followed another similar path. They're both in running start, taking classes at South Puget Sound Community College. When they graduate from high school – Bush this coming June and Stevenson in 2018 – they'll both have their AA degree. They've got grades and game. Bush, as a three-year starter, is the role model Blazers coach Allen Thomas cherishes. Bush's work ethic on the court and in the classroom is a perfect, follow-me example.
"For me, Jaelen is someone I can rely on and to do the job no matter what the situation. He's someone I can trust," Thomas said. "Also he's someone who is a mentor for a lot of our younger guys who are coming up in our program."
Stevenson is all business, whether he's on the court or in the classroom.
"He's so focused on what he needs to do," Thomas said. "He's not only competing on the court. He's competing in the classroom, too."
It's not that Bush doesn't like scoring a basket, swishing a turn-around jump shot. But what runs this 6-foot-7 center's motor on the basketball court more than scoring points is blocking shots. Defense, not offense, is his priority.
"Ever since my freshman year it's always been stay strong and be big in the paint and don't let people shoot over you," Bush said. "And get the rebound and kick it out."
Bush's willingness to accept a diminished scorer's role – he averaged eight points a game last year – says a lot about him.
"I think he's not a 'me guy.' It's all about the team," Thomas said about Bush. "He's just trying to do his part in order to continue to win, and so I think he has understood over the course of time, in order to see that big of a picture at the end of the road, that he's going to have to take a smaller role in order to get there and master that role."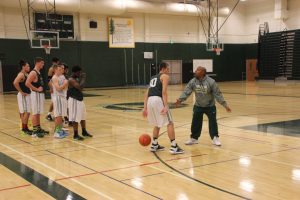 By not focusing on his ego, Bush is another example for his teammates.
"I think he's embraced it and it's rubbed off on the other guys," Thomas said. "Because if they can see him being selfless then it's a lot to be that way, too."
But Bush discovered something last year. Whenever he or his cousin, Jarryn Bush, scored 10 points, the Blazers won.
"I think that's what we'll aim for this year," said Bush, who is leaning toward signing with Oregon State University.
Bush figures he'll probably have to score a little more now that his cousin has graduated. But Stevenson can pick up the scoring slack. He's a basket in the waiting. Last year as a sophomore, Stevenson averaged 19.7 points, scoring a season-high 31. In his first high school game as a freshman, he scored 16 points and he averaged 10.7 points that season.
But while Stevenson is a scoring machine, he doesn't go to sleep when he's on defense.
"You can't score without the ball," said Stevenson, who plays basketball year around and plays on a top AAU team. "You've got to get a stop. You can't win without defense. I could score 50 points, but if my guy scores 51 we lose. You have to do it on the defensive end."
Over the years, Stevenson, who has played on club teams since he was in fourth grade, has learned something from basketball.
"As long as you just work hard, set your mind to something and be dedicated, you can get it done," Stevenson said. "I was doubted a lot when I was younger for being one of the smaller kids. It just motivated me to work hard. Working hard got to me where I am now."
Just like Bush and Stevenson, senior guard Tariq Romain has bought into the importance of playing tough defense.
"Defense is where you win games," Romain said.
With lots of depth – Thomas figured his rotation could be 10 players deep – the Blazers will again put up full-court pressure from the opening tipoff.
"My role is to play tight defense," said Romain, who has been offered a basketball scholarship to North Idaho College. "We play tight defense the whole game. We don't let up."
It's that hustling defense and pass-and-shoot offense that makes these Blazers playoff contenders again this season.