Realtor cars lined the street out in front of three new homes at Rob Rice Homes' Steilacoom Ridge, where tents were set up recently for the community's first Brokers' Open.
It was a grand celebration in Lacey that drew more than 100 real estate brokers from the South Sound Region, not just for the amazing lunch of hot chili, warm corn bread muffins, Gotti Sweets cookies and prizes, but because they wanted to see for themselves the community and homes that are causing such a buzz.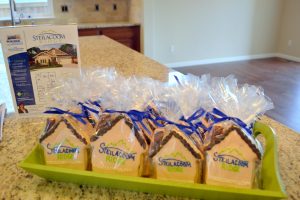 "We showcased our fabulous Rainier plan, with its 2553 sq. ft. and 3 bedrooms, 2.5 baths, a large bonus room, plus an amazing kitchen," says Christina Janis who, with Lucia Arroyo, represents Rob Rice Homes at the community. "Next door, brokers viewed a 1942 sq. ft. luxury Redwood rambler and the hugely-popular master-down Spruce plan, with 2445 sq. ft."
Along with Realtors Christina and Lucia, Rob Rice Homes staff, superintendents, workers, and even the builder himself were on hand to welcome guests and answer questions about the new, exciting community.
Local Builder Explains Steilacoom Ridge Attraction
"Steilacoom Ridge is a great location," remarked Rob Rice who explained he bought the property in 2004 and has worked on its development for the last 12 years. "You can be on or off I-5 in 5 minutes. There are many amenities coming to Lacey with the Gateway project and there is great shopping just 10 minutes away. Yet, it is quiet out here…you are not living next to some busy road."
The location also conveniently neighbors Pierce County and Joint Base Lewis-McChord.
"We are the most northern plat in Thurston County and are close to the Pierce County border at around the Nisqually bridge," the local builder said. "Here, we are about as far north as you can get."
The area's convenience has been an attraction for Rob Rice home buyers for many years.
"Everything we have built around here has sold," Rob said as he pointed to the hill out beyond the new community. "We started building my project up there at The Ridge in the late 1980s and it was successful."
Part of his success is that the Best of South Sound builder consistently responds to what buyers look for in floorplans, especially hard-to-find ramblers and downstairs master plans.
Though he currently offers 6 options for homes with a downstairs master plan, Rob now sees the need to add another.
"Everyone wants a downstairs master. I am meeting with my designer to work on a pure rambler plan, with everything on the main floor, no bonus rooms upstairs similar to the Juniper (1732 sq. ft.) and the Redwood (1942 sq. ft.). It will be something in between those two at around 1850 sq. ft. for both Steilacoom Ridge and our community at Campus Estates."
Another reason for the new plan is that Rob Rice cares about the long-term value of his neighborhoods and wants to avoid monotonous streetscapes.
"People don't want to live on a street where every house is the same. If there was a plan in one location and someone wanted the same house next door, we can't do it. In the long term, that is not good for home values."
And though ramblers have a larger footprint on a lot, Rob says that lots at Steilacoom Ridge are conducive to them.
"Relatively speaking, there are generous size lots here, averaging close to 5500 sq. ft., a bit larger than what you typically see. If they were inside the Lacey city boundaries, the lots would be, on average, 4500 sq. ft. We've got a little more depth to work with on some of these lots. With a rambler plan, that difference is huge. You can get a lot more house in there."
Broker Response to Steilacoom Ridge
"We have no ramblers" was a frequent comment from Pierce County's Better Properties brokers whose office attended the Brokers' Open. Sue Larsen, owner and designated broker of the DuPont office, noted a lot of buyers age 55 and older want them.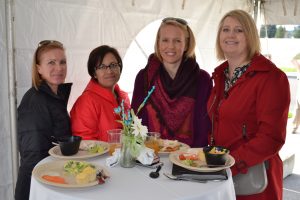 Jana Ross from the same office said she has clients that want a rambler and will probably need to drive south to find them. "Most people really don't want to move farther north or go in that direction because of the traffic and they like the Lacey community."
Kevin Burke noted that the new community location is ideal for the military because it is so close to the access gate for Joint Base Lewis-McChord off Mounts Road.
Patty Campbell, whose husband is retired military, noticed the beautiful designer backsplash tile and was amazed that the special features are included in the price of the home.
"Everywhere else, everything's an upgrade," Patty said.
Comments from other attendees reflected the overall response to Steilacoom Ridge.
Jim Williams, a former construction company owner, and soon to be home inspector remarked, "I have seen and done work on a lot of homes, and I know Rob Rice builds the best home in the area."
Guy DuVall of John L Scott in Olympia wrote a note soon after the Brokers' Open, "Thank you all at Rob Rice Homes. You build wonderful homes in beautiful communities."
Open House hours at Steilacoom Ridge are Friday through Tuesday from 12:00 – 5:00 p.m. at 634 Mandee Street in Lacey.
Learn more about Steilacoom Ridge at Rob Rice Homes' website.
For more information, please contact Christina Janis at Christina@RobRiceHomes.com or call 360-888-2295 or contact Lucia Arroyo at Lucia@RobRiceHomes.com or call 360-489-7478.
Sponsored