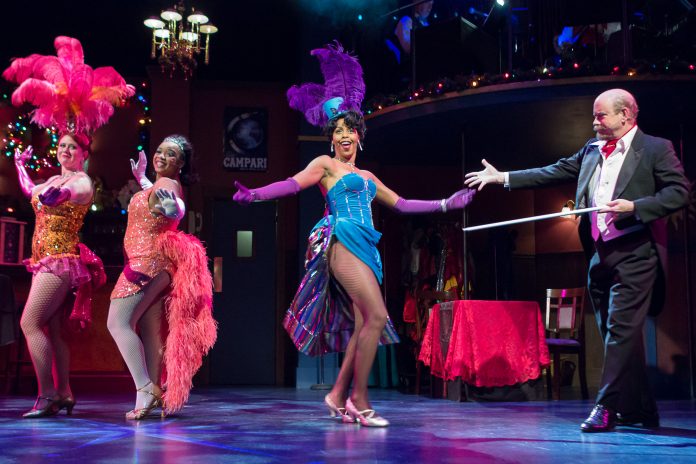 Magic is literally being pulled out of the hat during the all-new Harlequin Production's Stardust. This year's episode, called Christmas Enchantment is laced with music, dancing and holiday energy to delight the whole family. The breakout starlet of the production is newcomer Rose Star (possibly spelled Starr, she won't say)."She's impossibly cute," explained Scot Whitney, Managing Artistic Director, as well as adorable and snuggly. It's hard to resist a four-month old white rabbit. Of course, Rose is accompanied by a magician. What holiday antics are unfolding at the Stardust Club in Manhattan? Rose joins a cadre of talented singing actors who have banded together for the latest installment of the Stardust series. Discover the mystery as you tap your toes.

This is the 21st Stardust show – yes, they're all different. It's 1960, and JFK has just been elected. The music selections will be familiar to many of us. "The interesting thing about that period is the songs that were popular were a mix of early rock and roll, naive soul, country western and jazz," said Whitney. Add in a few crooners, and it's a wonderful collection of styles. Yes, there's dancing, too – after all, it's a holiday show.
Many people look forward to attending Stardust as part of their holiday traditions. I'm a Harlequin subscriber, so I'm guaranteed a seat every year. It's one evening during a busy holiday time that I simply sit back, breathe and let the best parts of the holiday season wash over me. The electricity of a live show is one of my favorite experiences.
You might not realize that each and every Stardust is an original production written especially for this community by Olympian Harlowe Reed, a pen name for someone dear to Harlequin. Linda Whitney, Artistic Director, takes the helm and directs. Bruce Whitney, Music Director, has spent the past months arranging at least two dozen songs for the musicians and singers. He reprises his role as Nikolai Feyodorov.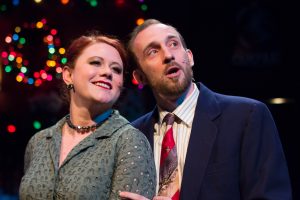 There's another newcomer to the show – James Dean. That's his name. Two Harlequin veteran actors Christian Doyle and Maggie Ferguson-Wagstaffe heard him singing one night at the China Clipper. They encouraged him to audition. Now you can see Dean on stage. How's that for a little Christmas enchantment?
Productions don't happen by magic and talent alone. It takes money. Here's a special shout out to Olympia Federal Savings, which has been a steadfast supporter of Harlequin and sponsor of Stardust for all 21 years.
Back to Rose the rabbit. In a Dickens-type twist, the once orphaned rabbit will get to participate in the run of Stardust, and then be placed permanently in her forever home. Lucky bunny, her family is waiting for her. In the meantime, the Harlequin Stage Manager is her ward.
Add a significant measure of pure entertainment to your life by attending this year's installment of Stardust Christmas Enchantment. "It's a feel good and really wonderful, wonderful show," gushed Mark Dresner. A magician and magic history buff, Dresner helped tweak the magic segments and fell in love with the entire show. Our town is wildly fortunate to have this level of quality theater right downtown. You don't have to navigate I-5, and parking is free in the evenings and weekends (and even more often during December). For even greater pleasure dine out at one of the many restaurants nearby.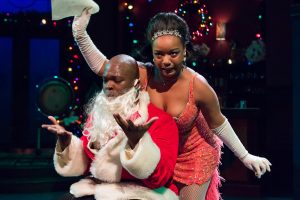 Stardust runs Thursdays – Sundays through December 31, but then that's the end. You'll hope for a longer run, but the next show opens in mid-January. Single ticket sales are brisk. Why wait? Allow yourself to be enchanted. Bring a friend and take a trip to 1960. You don't need a time machine, just a ticket and a lift to downtown Olympia.
Get your tickets here. You can also read about all the shows for the 2017 season.