Growth is the golden carrot many businesses continually reach for, the marker of success, the indicator of achievement. However, when growth occurs too quickly, or without a cohesive plan, it can often spell disaster.
DuPont-based Alliance Enterprises knows a bit about growth. The 35-year-old software company started with just an idea by a handful of friends who knew they could grow a business in the expanding technology sector in 1981. Through the years, as they evolved, owners Rick and Lisa Gifford were mindful of managing where they were, and where they were going.
In 2008 they found themselves at a crossroads, ready to expand but also stretching themselves thin. Their next chapter needed to be managed carefully.
"In 2008, we reached a point where we needed to make changes that would allow us to reach new heights," Lisa shares. "That's when we brought in Chris Pieper as our CEO. He brought in systems that aligned everyone within the company so we could scale and grow the business."
When Pieper joined the team he brought insights and experience gained during the founding of ABC Technologies, the management of its growth to a $30 million business, and its eventual sale. He also ramped up several other startups into healthy enterprises. Pieper brought to Alliance the idea of growing teams of people and working together toward common goals that would give everyone a stake in the company's success.
Today, Alliance Enterprises is on the Inc. 5000 list, a Microsoft Rising Star Partner of the Year winner and is growing in a sustainable and manageable way. On December 8, Lisa Gifford and Chris M. Pieper will share what they have learned at a free business luncheon entitled, Managing a Growth Organization.
Any business, no matter the size, experiencing challenges related to company growth will take away real, tangible strategies and ideas that could resolve or reshape issues that may have surfaced at their organizations.
Gifford and Pieper know first-hand that while businesses aspire to growth, it also brings complexity and uncertainty. Rapid expansion can result in needed changes to day-to-day operations. Leaders likely will need to delegate responsibility for some parts of the business letting go of each decision so they can focus on bigger picture areas that have a greater impact on the company's future. However, it can be challenging to let go of the reins.
Pieper and Gifford will share stories from their own experiences of developing startups into high-growth companies, and they'll facilitate discussion with participants.
"Growth is obviously a good problem to have but it also brings a whole set of new challenges," says Pieper. "At my former company, I hit a wall when I realized I couldn't do everything myself. I had to create systems to develop teams I could trust and enable us to scale."
Small business leaders managing companies with a handful of employees up to about 200 people are a perfect fit for this event. These businesses are typically creating useful products and services that truly impact their communities. They are also the ones who struggle the most as they grow.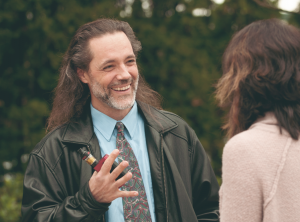 Like John Conner, a local business owner who helped Alliance hone its goal achievement software, called MyObjectives. Conner's company, Phoenix Vapor Café, had grown rapidly along the west coast. Too rapidly, it turned out.
"Everyone said to grow. And we did. We had nine stores up and down the west coast and we simply collapsed under our own growth," says Conner.
He pulled back, restructured his business using MyObjectives to help manage his growth. "We are keeping everyone on the same page now. We can see the whole company at a glance, when something is done or when someone needs help," says Conner.
And, the results are showing. Conner reports better profits, a more productive work environment and stronger collaboration.
Alliance Enterprises has had multiple "growth moments" of its own during its 35-year history and at each critical juncture, Alliance's leaders have made decisions and directional adjustments to both protect the integrity of what they had built as well as to expand into new areas.
One extremely important growth moment occurred late in 2008. Shortly after Pieper was hired he implemented a system of team scorecards across the company, a way for the company to rally around the things that would matter most to the company's future success. In the early days they used basic spreadsheets as the tool.
Rick Gifford, company co-owner and software engineer, took the idea and built the MyObjectives software platform. MyObjectives launched publicly in 2015 after several years of internal use and beta testing. It's being used by dozens of businesses that are benefiting from the solution, which includes gamification and real-time scorecards that dynamically track the progress of teams.
Pieper and Gifford's anecdotes about successes and missteps along the growth journey will have attendees from all sectors of business – finance, technology, retail, non-profits, health care, etc. – nodding in solidarity. And perhaps learning some new perspectives that they can use at their businesses.
"We've been a part of the South Sound business community for over 30 years and we really care about the people here. This event is really about sharing our story, sharing these growth moments that have shaped our company into what it is today, and listening to other business leaders share theirs," says Gifford.
Struggling with how to manage your business growth? Looking at the next era for your business and hoping to manage the growing pains? Register here for the December 8 luncheon and learn how to grow smart.
Managing a Growth Organization
December 8, 11:30 a.m. – 1:30 p.m.
Tacoma Golf and Country Club
13204 Country Club Drive SW, Lakewood
Sponsored