"Innovation distinguishes between a leader and a follower."
– Steve Jobs
On December 8, decision makers, community leaders, business owners and creative thinkers will all gather at the Little Creek Casino Events Center near Shelton for the 2016 Regional Economic Forecast and Innovation Expo. The purpose of this day-long meeting is to focus on innovative business practices and trends in the regional economy.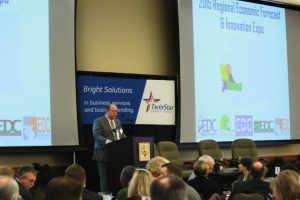 The event is a partnership between the Thurston Economic Development Council, Lewis Economic Development Council, Pacific County Economic Development Council, Economic Development Council of Mason County and Greater Grays Harbor, Inc with the goal of collaboration and inspiration. "Many parts of business spill over county borders, impacting us throughout the area," says Rachel Baldwin, Thurston EDC's marketing and events manager. "Partnering makes us all stronger, supporting businesses and growth cycles within the region."
The Thurston EDC expects between 350 and 400 attendees at this year's event which includes keynote speakers, a panel of experts, breakout sessions, breakfast and a sit-down luncheon. Each portion of the day is carefully planned to help set the economic stage for our region in 2017.
In its eighth year, the event showcases cutting edge technologies, innovative services and broad reaching strategies to help our region stay economically viable and competitive. The day will start over breakfast, setting the stage for in-depth discussions on a wide variety of areas that impact economic growth. Topics range from the impacts of the military sector on our local economy to marijuana revenue and STEAM initiatives in higher education to innovative manufacturing, reaching leaders from all sectors of the economy.
The small-group breakout sessions planned for the day will enable attendees to seek areas that apply directly to their business growth and development needs. In addition to the areas mentioned above, the Expo has several new topics for breakout sessions. "For the first time, part of our breakout sessions will focus on workforce integration and how to reach traditionally underserved employment markets," says Baldwin. "In this session, businesses will get the opportunity to learn about working with ex-offenders to find meaningful employment. This session will also discuss a newly created internship pipeline to help displaced workers who are being retrained at local colleges find internship opportunities with local businesses."
Presented by TwinStar Credit Union, the conference includes a dynamic keynote address by national economist Dr. Bill Conerly. "He's kind of a big deal if that's what you are into," laughs Baldwin. Charismatic, interactive and animated, Conerly's keynote isn't what you think of when you picture an economics forecasting lecture. "He's really entertaining. He doesn't pull punches or sugar coat the message, but instead provides rich, in-depth content that people can connect with," Baldwin says. She also noted that Conerly will highlight the impact of the defense sector on local economies, a big factor in our region with our large military and retired military community.
In addition to the sessions and speakers, the Exhibition Hall will be open throughout the day for attendees to meet with representatives of regional businesses from a wide range of industries throughout all five counties. Booths will include innovations being used successfully, emerging technologies benefiting businesses and products and services to help our region stay competitive in the ever changing global marketplace.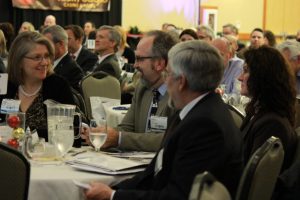 "This year, the expo portion of the event is the biggest it's ever been," says Baldwin. "We have a lot of different types of exhibitors including an increased number of colleges and universities." Highlighting the importance of education as a component of economic growth and viability is key for Baldwin and all the regional EDCs. By including more information on programs from local colleges, Baldwin knows attendees will learn about different routes for business owners, and their employees, to reach the next level. "Learning about what businesses need is the best way for educational institutions to craft their curricula to ensure the jobs of our community can be filled by the incoming workforce."
With a low ticket price of $69 per person, or $500 for a table of 8, and a new central location in Shelton, organizers hope to see more attendees than ever from around the region collaborating throughout the day. Registration includes the full agenda, breakout sessions, expo hall, as well as breakfast and lunch.
There are still a few spaces for exhibitors. If you are interested, contact Rachel Baldwin at 360-464-6040 or rbaldwin@thurstonedc.com or visit the Regional Economic Forecast and Innovation Expo website for more details.
To register for or sponsor this event, please visit regionalinnovationexpo.com for more information.
2016 Regional Economic Forecast and Innovation Expo
Thursday, December 8, 2016 from 8:30 a.m. to 2:30 p.m.
Little Creek Casino Events Center
91 W State Route 108 in Shelton
Sponsored