Autumn brings celebrations but—all too often—also a spike in medical emergencies. Emergency room doctors warn that "While medical emergencies occur throughout the year, the winter season and its related overindulgence [are] a pivotal time for preventing emergencies by listening to our bodies."
"People can sometimes confuse a serious heart condition with acid reflux or heartburn—especially around the time of holiday feasting—because the symptoms are similar. Heart-related deaths increase by 5% during the holiday season. Fatal heart attacks peak on Christmas, the day after Christmas, and New Year's Day, according to a national Circulation study," continue the researchers.
While sobering, these statistics are improved when family, friends, and bystanders are trained in CPR. "When a person has a cardiac arrest, survival depends on immediately getting CPR from someone nearby," reports the American Heart Association. "Almost 90 percent of people who suffer out-of-hospital cardiac arrests die. CPR, especially if performed in the first few minutes of cardiac arrest, can double or triple a person's chance of survival. If you are called on to give CPR in an emergency, you will most likely be trying to save the life of someone you love: a child, a spouse, a parent or a friend. Seventy percent of out-of-hospital cardiac arrests happen in homes. Unfortunately, only about 46% of people who experience an out-of-hospital cardiac arrest get the immediate help that they need before professional help arrives."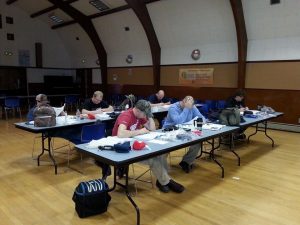 Give your loved ones a fighting chance by signing up for classes with Pacific First Aid Training. Certified instructors, like owner and trainer Deana Kyle, teach life-saving American Red Cross skills to novices and experts of all ages.
"Formally a volunteer fire fighter with two different fire departments, then a barber instructor, I discovered my passion for instructing and wanted to combine the two elements. After receiving my National Registry of Emergency Medical Technicians certification (NREMT) in 2011, I joined the American Red Cross as a volunteer Health and Safety Instructor, and was hired as a staff instructor within a few months," explains Kyle.
Kyle opened Pacific First Aid Training in 2016 to teach South Sound residents across our region. "I cover most of the South Puget Sound and am certified in Lay-Responder (work place), Basic Life Support for the Healthcare Provider, Wilderness Remote First Aid, Emergency Medical Responder, and both Lay-Responder and BLS Instructor Training. I have instructors in Snohomish, King, Pierce, and Kittitas counties, and partner groups Ready2Rescue covering Idaho and Montana, and an American Heart Association partner in West Coast Emergency Response, that also offers event medical staffing."
Other coursework deals with babysitter training, Bloodborne Pathogens, Epi-Pen Auto Injectors, and asthma inhaler use.
Many classes take just one session but more intensive courses can run up to seven days. Offerings are taught days, evenings, and weekends at multiple locations. All classes provide two-year certification except for bloodborne pathogens which is good for one year.
A long-time Thurston County local with four grown children in the area, Kyle has helped train such local businesses as Cardinal Glass, WSECU, the Washington State Department of Retirement Systems, Bethel School District, Rainier State School, Newhalem Fire Department, Bremerton CERT team, and soon ABSCO Solutions.
No one can predict if or when a medical crisis may arise, but knowing the basics of CPR and other lifesaving skills can insure your holidays remain healthy and happy for years to come.
Interested in bringing Kyle and her team to your club, group, or business? Reach out by calling 360-701-4984, emailing deana@pacificfirstaidtraining.com, or via social media. Their website at www.PacificFirstAidTraining.com is still a work in progress but on Facebook you'll find news on upcoming clients, tips on recognizing medical emergencies, and five-star reviews.
Sponsored