Submitted by Thurston County Public Health and Social Services
"Be safe in your home in an emergency."
Historically, Thurston County winters include wind storms, flooding, power outages, and sometimes snow. Winter is just around the corner, and now is the perfect time to begin planning for winter storms. Are you ready for a disaster or emergency at your home? If the answer is "no," now is the time to get started.
Start by putting together an emergency kit for your family and pets. Make sure you have enough food, water, and supplies to get by for at least 72 hours or longer if you live in a more remote area. Web sites like Ready.gov, the Red Cross and FEMA provide recommendations for assembling an emergency kit. If putting together a disaster kit is too much to tackle at one time, try following this 24-week preparedness calendar.
We suggest that you have a number of ways to communicate with loved ones during an emergency; Texting or using social media to reach family, friends and even emergency responders may be your best or only options when the usual phone communications are disrupted.
Make hard copies of important documents such as medical records, contact information and prescriptions, or store them on "the cloud" or a flash drive that you can access at any time. If you do store documents electronically, make sure that you have a back-up power supply for your computer, tablet or phone.
Spend some time learning where to get information within our area during an emergency. This may include signing up for alerts from local emergency management, radio and government services via Twitter or Facebook.
While we may think home is the safest place for us during an emergency, there are some preparedness efforts and guidelines to plan for that should include the following items:
Home Healthcare:  If you rely on a medical device that is battery-operated or power dependent, have a back-up plan. Talk with your medical provider to identify locations where you can receive treatment in an emergency.  Ideas may include having an extra battery or contacting your nearest Fire Department or Emergency Management Office. You can also make a medical plan.   
Food safety during power outages: Keep refrigerator and freezer doors closed during power outages; an unopened refrigerator will keep food cold for about 4 hours. Throw away any perishable food that has been reached temperatures of 40° F (4° C) or more for 2 hours or longer, or that has an unusual odor, color or texture.
Heating your home during a power outage: Think about safe ways to heat your home if the power is out. Remember that your chances of freezing to death in your home are small, but some methods of heating your home can lead to fire, asphyxiation, or carbon monoxide poisoning. Whatever way you decide to heat your home in an emergency, make sure it is approved for indoor use before the power goes out.
Ensuring your good health: Have a list of your doctors, pharmacy and other medical providers, as well your health history, a list of your allergies, and copies of your insurance cards. You can take pictures with your cell phone of all of these things, as well as your prescription vials, and store them on an internet cloud to access them easily and from anywhere. If you take medication daily, be sure to have an emergency supply on hand.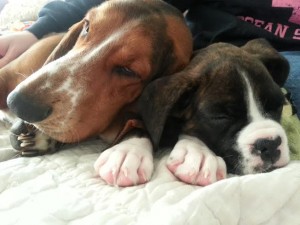 Ensuring the safety of your pets: Are you ready to support your pets during an emergency? The Humane Society of the United States recommends that pets wear a collar and an up-to-date ID tag to increase your chances of being reunited if your pet gets lost. They also suggest putting a basic disaster kit together for pets. This includes food and water for five days, medications and medical records stored in a waterproof container, leash and carrier. In past disasters, many people have chosen not to leave their homes because pets are not allowed at shelter locations. If you plan on staying with your animals during an emergency, be prepared to care for yourself and your pet. More tips for pet safety can be found here.
Taking care of each other: The uncertainty of a disaster or an emergency can stress each of us. Involve your whole family in preparing for an emergency by talking to your children and family members about your plan and practicing it ahead of time. Doing this will help you reduce some of the worries that occur during a disaster.
There really is no better time than the present. Please, take the time now to ensure that you and your family are prepared for a disaster.