All living things eat (in their own fashion!) but like humans around the holidays, they don't always get the proper nutrients. While we can have Tums, vitamins, and New Year's Resolutions, your home's trees and shrubs sometimes need a little extra help.
Studies from the University of Minnesota explain that "Trees require nutrients to live and thrive. When one or more of these nutrients are deficient in the soil, the tree will not reach its full landscape potential, will be more susceptible to disease and insect problems, and will have a shorter life than a similar, well-fertilized tree. Trees in urban and suburban environments are often under high stress conditions due to low moisture availability, soil compaction, physical damage, nearby construction, and competition from turf and nearby trees and shrubs."
Scientists suggest running a soil test to determine the minerals lacking from your yard. But there are simple, observational clues as well: minimal new shoot growth, discolored foliage, and your ground's fertilizer history.
The capable professionals at Olympia's Spring-Green Lawn Care know the importance of regular root feeding. Owner Mike Bell and his team understand our local climate, soil structure, weather patterns, and native plant species.
"At Spring-Green, we know how important your trees and shrubs are to you and the value of your home," shares Bell. "We often forget that our landscape plants need a balanced diet of nutrients to remain healthy. Most trees and shrubs are planted in low fertility soil close to buildings and streets, starving them of essential mineral elements that they need. In most cases, the plants that we purchase at the local garden or home improvement center are not native to where we live and plant them."
With services including lawn fertilization and weed control, tree and shrub care, and other necessities like pest control, irrigation system maintenance, and aeration, they can address any and all of your yard's many needs.
"To make sure the plants will continue to grow and prosper, they need to be fed at least once a year and late fall or even winter in the Pacific Northwest is a good time to do so," explains Bell. "Deep root-feeding fertilization provides small trees and shrubs with needed micronutrients and fertilizer. Tree and shrub roots will continue to grow into winter. The roots will absorb a good deal of the fertilizer that is applied; what fertilizer is left, if the ground freezes, will be available for the plant the following spring."
This process is done by injecting a "fertilizer solution into the top 3 to 9 inches of soil in a concentric pattern around the base of the tree out to the drip line (or outer reach of the branches). For smaller shrubs, make one injection for every foot of shrub height or width," says Bell.
Using this precise pattern insures that vitamins are successfully absorbed as "The Drip Line is a plant's dinner table…[and] coincides with the area where the plant is growing tiny terminal feeder rootlets which absorb moisture and nutrients from the soil. When you apply fertilizing nutrients to a plant, it is essential that you put them within reach of the feeder rootlets, or your offering will be leeched away and mostly lost."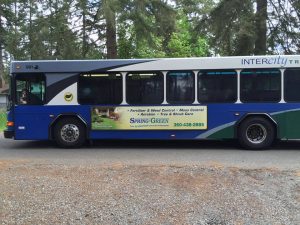 Spring-Green can provide root feeding year-round, provided the soil isn't frozen at the time. Give them a call at 360-438-2885 or 877-438-2885 with questions about lawn, tree, and shrub care options, service packages, and discount programs. They serve homes and businesses within Thurston, Lewis, Pierce, and southern Mason counties and have the happy testimonials to prove it. Follow Spring-Green Lawn Care on Facebook for tips, tools, reviews, and specials. Laughs Bell, "Your trees and shrubs will appreciate the attention!"