Kyler Nygren figured he was just too small to be a running back.
At 5-foot-7, 155 pounds, Nygren, a senior on Black Hills High School's football team, doesn't exactly fill the definition of "big."

"We were generous when we said 155 pounds," said Kirk Stevens, the head football coach at Black Hills High School for three years.
But a scale and a measuring stick only tell part of the story. It can't measure Nygren's heart, his guts and his determination. And, according to Nygren's stats, he's got the heart and grit of a giant. In Nygren's first game at running back since grade school, he rushed for 195 yards and three touchdowns.
And he only carried the ball six times, averaging 32 yards per carry.
"Kyler's quickness is special," Stevens said.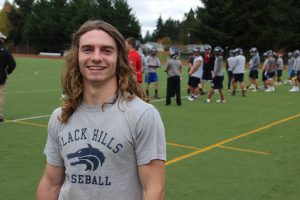 Sure, the measuring tape and the scale said Nygren was too small. But Black Hills' fans know better. When Mark Melendez, the Wolves' starting running back coming into season, was lost with a torn ACL, Black Hills' shot at the playoffs suddenly seemed iffy. But Nygren's quick feet and big heart kept the Wolves right on track for the playoffs.
"They needed a guy, so I figured I give it a shot," Nygren said.
Now, Nygren is a two-way starter, playing defensive back and (gasp) running back. With the running game patched because of Nygren and an aggressive, hard-working offensive line, the Wolves are playoff bound, playing at Hockinson on Friday in the first round of the 2A playoffs.
Nygren's overcoming story isn't unique to this no-quit Wolves team. Ethan Loveless knows something about gritting it out, too. In the first game of the season and playing against Timberline, Loveless took a shot to the hand, breaking his thumb. But rather than hang it up, Loveless did the unexpected. He's continued to play, not missing a snap.
With doctor's approval and added padding around his casted thumb on his right hand, (he's right handed), Loveless has started at defensive back, not missing a snap.
"I love football," Loveless said. "I just want to play all the time. I felt like I could. My legs were 100 percent. I could move."
And that commitment says so much about Loveless. Actually, football isn't even his best sport. Baseball is the sport of his future. With a 3.9 GPA, getting only one B on his report card, he's the true definition of student-athlete. When his high school days are over, he'll be chasing fly balls in the outfield for some Pac-12 team. Even though he hasn't even played his sophomore year yet in baseball, he's already being recruited by the University of Washington and Oregon State University.
But Loveless couldn't skip football. It's just not in him.
"He's an absolute competitor," Stevens said. "He loves to compete. He loves to play. He loves the process of practice – all those things. He likes being part of the team and being in that atmosphere. Not playing, that would have been devastating to him."
Stevens has had players get hurt in the past who also played on the school's baseball team.
"And they've said well I'm just going to get ready for baseball," Steven said. "And they turn their gear in."
Not Loveless.
And like Loveless, Austin Daisa knows about that commitment to winning. Except Daisa's experience is less painful. Daisa, a senior and two-way starter on the line, has foregone a haircut, letting his hair grow. Last year during a seven-game win streak, Daisa skipped the barber, growing a fluffy fro.
"It was just superstitious," Daisa said. "Guys didn't want me to get it cut."
Opponents, linemen either trying to block Daisa or get past him, have also noticed Daisa. And it has nothing to do with his bushy hair. At 6-foot-2, 300 pounds, Daisa is a terror in cleats, an opponent's nightmare.
"Other coaches talk about him and say he's almost unblockable," Stevens said. "He's our best offensive lineman, as well."
Daisa is a mix of power and speed. Combing his best bench press, squat and clean, Daisa has lifted 1,200 pounds combined for the three lifts.
"He's quick off the ball and he's strong," Stevens said. "He's tough to stop."
For Stevens, this is his third season as the Wolves' head coach and 21st season with the team. Stevens is the only coach who has been with the team since the school opened in 1996. What keeps him coming back isn't just the scoreboard and the challenge of putting together a winning team. It's also the life lessons his players learn coming to practice and working hard in games.
"I think every one of those guys has played hard," Stevens said. "So, they're seeing that hard work pays off. It's that lesson in life."
And the hard work doesn't always result in a victory.
"Bad things happen," Stevens said. "It's how they recover and what they do. And every one of them has faced diversity in the past or currently. Yet none of them has let that hold them back."
It's a lesson about persevering that will apply to life's journeys, wherever that may take his players.